BJP today expressed confidence that it will again come to power in 2019 by winning more seats in the Lok Sabha elections. It alleged that the opposition does not have a leader, a policy or a strategy and their only agenda is to stop Prime Minister Narendra Modi.
Addressing the BJP's national executive meeting in New Delhi today, Mr. Modi gave new slogans of Ajeya Bharat, Atal BJP.  Briefing reporters, senior party leader and Union Minister Ravi Shankar Prasad informed that the Prime Minister said that the Congress is not fighting on the issue but on lies and their falsehoods must be refuted.
Mr. Modi also question the opposition's alliance saying it does not have leader and ideology. He also alleged that no one even small parties are ready to accept  the leadership of the Congress.
The Prime Minister said, for the BJP  power is not an instrument of sitting on the chair but it is to work for the people.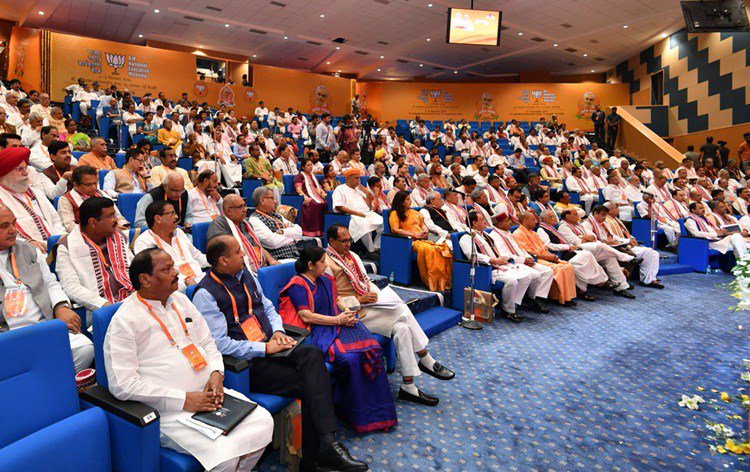 In its political resolution called Vision Document, 2022, passed in the National Executive in New Delhi today the party also accused of opposition of being desperate and only doing negative politics.
Briefing the media, senior party leader and Union Minister Prakash Javdaker said, the people don't stand by those who bring negativity in politics. He said, under Prime Minister Narendra Modi's leadership the government has vision, passion and imagination for the development of country. He said, the political resolution also talked about making new India by 2022 which will be free of poverty communalism, castism, corruption and terrrorism.
Mr. Javdaker also said, in the last four years the situation of internal security has improved significantly as compared to the previous regime. Mr Javadekar said, terrorism in Jammu and Kashmir has come down and the effect of Naxalism is also shrinking day by day.
The resolution also spoke about NRC issue related to Assam and said, the government is not against the citizen of the country but infiltration. The Minister said, in the last four years the government has accomplished several works for the welfare of people.
Mr Javdaker said, the BJP has expended its base in the country under the leadership of Mr Modi and Party President Amit Shah and now it is ruling in 19 states. Prime Minister will address the valedictory session this evening.