Leaders of various opposition parties led by Congress president Rahul Gandhi kick-started Monday with the country-wide protest against rising fuel prices from Rajghat. Gandhi, soon after his return from the Kailash Mansarovar, reached Rajghat and paid his tributes to Mahatma Gandhi. The Bharat bandh began after Gandhi offered holy water from the pilgrimage there.
Then the Congress president, accompanied by AICC general secretary Ashok Gehlot, senior Congress leader Ghulam Nabi Azad and other opposition leaders, started the march towards the Ramlila Maidan. Chief of Loktantrik Janata Dal party Sharad Yadav, Congress general secretary Ambika Soni and senior Congress leader Ahmed Patel also joined the march.
Azad said people across the country were joining hands to protest againt the rising prices of petrol and diesel. "In Delhi too we are getting together under one platform and are starting our protest from Rajghat," he said.
Twenty-one opposition parties are supporting the Bharat bandh, besides a number of chambers of commerce and traders' associations. The party has demanded that petrol and diesel should be brought under the GST, by which oil prices could drop by about Rs 15 to Rs 18. Petrol and diesel prices set new records Sunday.
Speaking at Jantar Mantar at the site of the protests over the rise in fuel prices, former prime minister Manmohan Singh said the Modi government has done a number of things that were not in the interest of the nation and has now crossed all limits. "The time to change this government will come soon," Dr Singh said.
Leaders of various opposition parties led by Congress president Rahul Gandhi kickstarted Monday's country-wide protest against rising fuel prices from Rajghat as part of the 'Bharat Bandh' call given by the party. Singh also urged opposition parties to shed their differences and unite to save democracy in the country.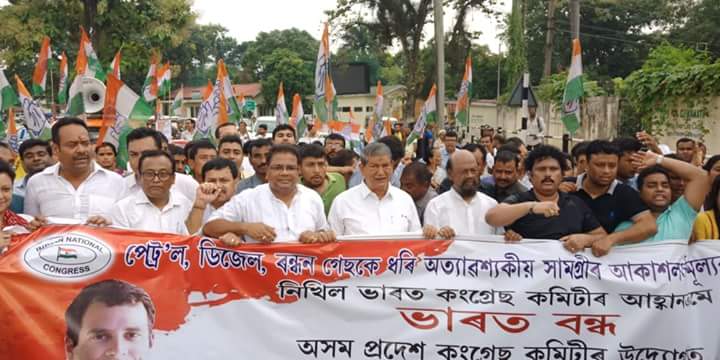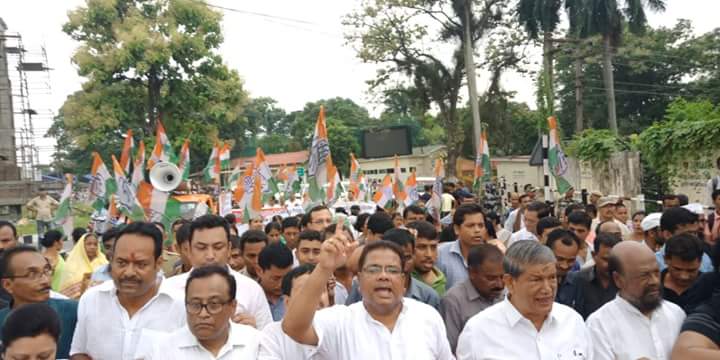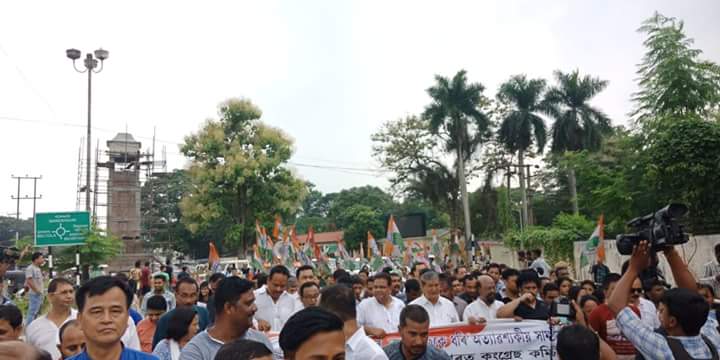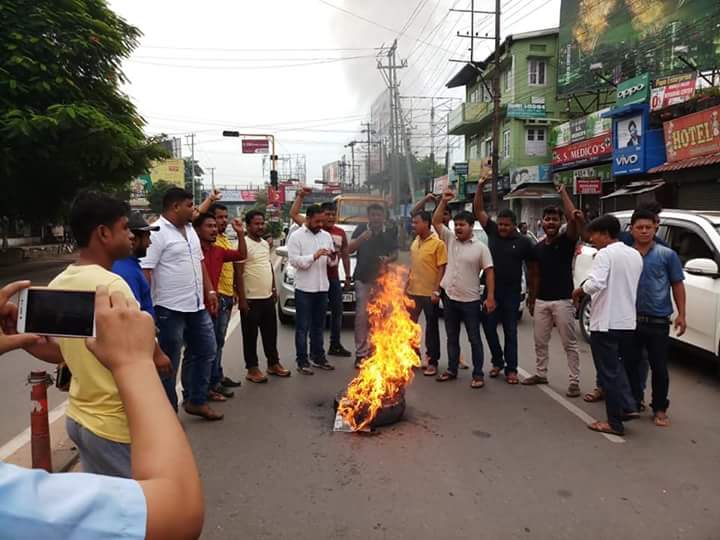 Patna, Loktantrik Janata Dal workers carry a motorbike on their shoulders to protest against fuel price hike.
 Delhi: Sonia Gandhi and former prime minister Manmohan Singh join Congress-led opposition parties supported bandh protest against fuel price hike. Also in the image is (from L to R) NCP chief Sharad Pawar, Congress president Rahul Gandhi and LJD's Sharad Yadav. Rahul cut short his Kailash Mansarovar yatra to participate in the Bharat bandh today called by the Congress and supported by 21 opposition parties to protest rising fuel prices.
Fuel prices continued its northward march on Monday with petrol and diesel being sold at Rs 80.73 and Rs 72.83 per litre in the national capital. The petrol and diesel prices saw a hike of 23 and 22 paise per litre respectively in Delhi. On the other hand, Mumbai is affected most with the hike as petrol and diesel are being sold at Rs 88.12 and Rs 77.32 per litre.
In Mumbai: Services on the city's lifeline, the suburban trains, were crippled in Andheri today with Congress workers staging a rail roko.
In Odisha, Congress workers blocked a train at Sambalpur while protesting along with other opposition parties in the morning.
Karnataka: Bus services of North Eastern Karnataka Road Transport Corporation are not operational today due to the 'Bharat Bandh'.
The Karnataka government has declared a public holiday today for schools and colleges in Bengaluru as a precautionary.
In Telangana also, Congress workers are holding protests in Yadadri Bhuvanagiri district's Bhongir and Musheerabad bus depot in Hyderabad, against the fuel price hike.
The East Coast Railway Zone has cancelled 12 trains including the Bhubaneswar-Howrah Jan Shatabdi Express and Bhubaneswar-Visakhapatnam Inter City Express.
Security was heightened in various parts of Pune in view of the Bharat Bandh announced by the Congress Party against the hike in prices of petrol and diesel under the present dispensation. MNS workers have vandalised a city bus.
AAP has joined the opposition-led bandh. Senior Aam Aadmi Party leader and Rajya Sabha MP Sanjay Singh and Rajya Sabha MP Manoj Jha were present at the protest at Jantar Mantar along with other opposition leaders.
Senior party leader Dilip Pandey said unrest against the Narendra Modi-led government is growing and the opposition cannot remain silent to the plight of common man affected by issues like fuel price hike, corruption and unemployment.
In Delhi, offices were opened on time and official work was not affected at the Delhi Secretariat due to Bharat Bandh, an
Rediff.com