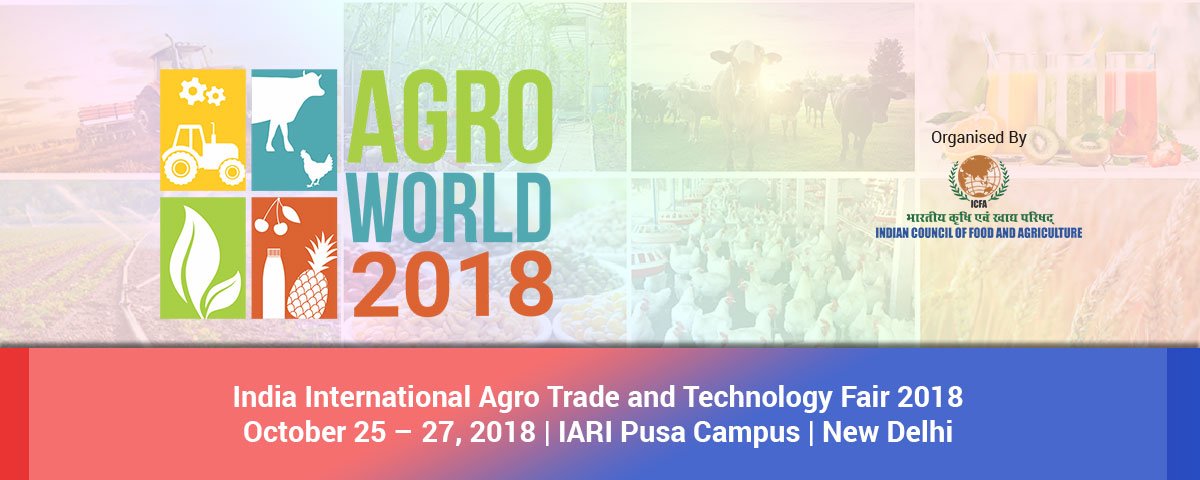 Dear Naresh Kumar Sagar
Indian Council of Food and Agriculture is hosting one of the world's largest agro events, AgroWorld 2018 from 25 – 27 October 2018 in New Delhi, supported by the Ministry of Agriculture, Ministry of Food Processing and the Ministry of Commerce. The three daylong event organized at sprawling IARI campus with 40 pavilions, is packed with large number of events, including six large progressive farmers conventions, ten conferences and forty business sessions.
Global sales of pesticides have exceeded $ 48 billion and India currently account for $ 4 billion of the entire plant protection market. However, the market for pesticides grows at the rate of nearly 8 to 10% per year and is expected to reach $ 5 billion by 2020. Synthetic pesticides are increasingly been replaced by bio-pesticides. Bio-pesticides are expected to occupy half of the pesticides market by 2050.
Agriculture continues to be the principal economic activity of the rural India, which is 60% of Indian population. In recent years with growth in agriculture, aggressive role of banking system and massive funding to agriculture under various Governmental schemes, rural India has witnessed the spurt in purchasing power. Wider reach of media and telecommunication services is providing information to rural consumers and is influencing their purchasing decisions for quality products in a significant way.
AgroWorld 2018 aims to showcase India to the world bring the world closer to India for agro and food technologies, trade, investments and partnerships with farmer at the center stage. The event is packed with several value adding parallel events for launch of new programs, products and technologies, CEOs Round Tables, India Agribusiness Awards and several farmer focused activities and events, including large exhibition of agro products and technologies and rural life style products.
AgroWorld 2018 thus offers humongous opportunities for interaction and collaboration – Business to Business, Business to Government, and Business to Farmers and Consumers. It will provide a congenial platform for national agro stakeholders, rural institutions and over 1 Lac progressive farmers from all over the country to participate and share their experiences.
Given the magnitude and scale of the program and the important rural market potential for your company, we wish to invite you to partner with the event as sponsor and large exhibitor with a dedicated pavilion. Please check outwww.icfa.org.in/agro-world for prompt updates. I will be happy to discuss further with your team and facilitate participation.
Thanking you and looking forward to a line of confirmation.
Thanks & Regards
CP Shoran
Executive Director
INDIAN COUNCIL OF FOOD AND AGRICULTURE 
214-217, B-Wing, Naurang House, KG Marg, New Delhi-110001
Ph: 011-41501465 | Fax: 011-23353406 | Mobile:+91- 8448482485
ed@icfa.org.in |  www.icfa.org.in