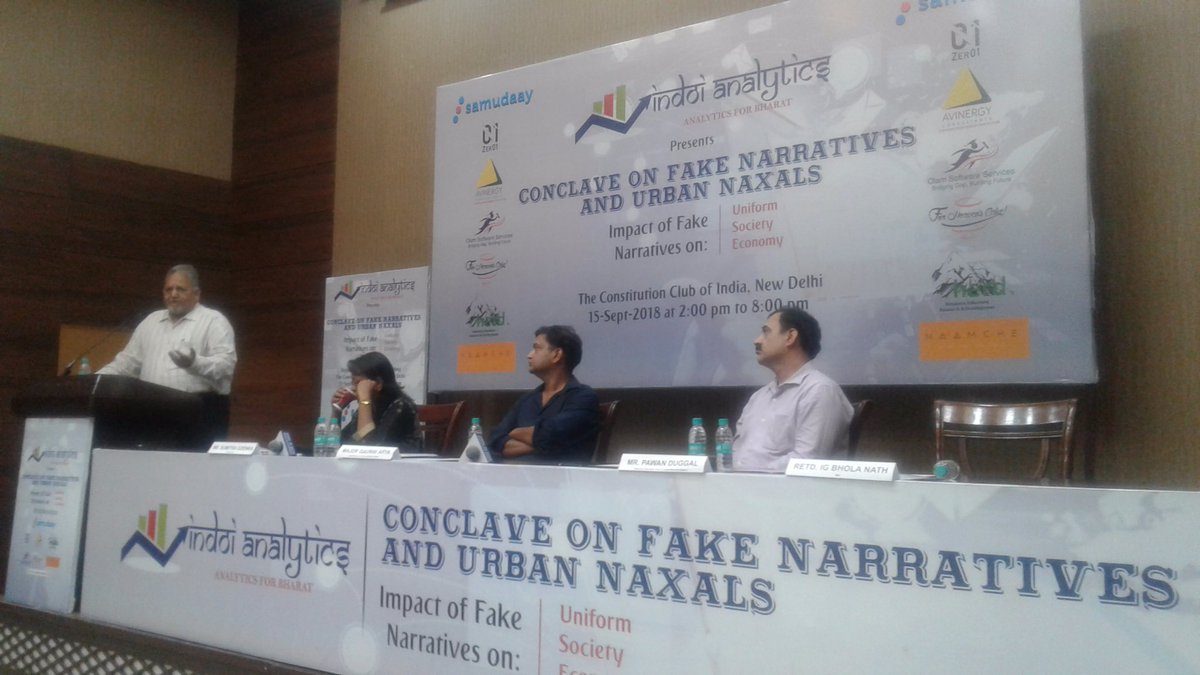 With most of Indian channels and print media are speaking for majority and right party in most noisy and irrational form which demeans the standard of media and is short of media landscape of local, regional, city or national,  international format,  further  to call them the drum beaters for the sake of channels gain shall not be an overstatement.
However few print and TV channels are maintaining their grace as all are not
Conclave on Fake Narratives and Urban Naxal. Many conglomerate formed together gather and held Seminar with low attendance most of the speakers blamed the media Sycophants for nation mess but supported the National development.
Those with mastery on professionalism in one subject in  most public speak talk in arrogance with comedy of errors. Surprisingly documentary turned authors this he explains Naxal, the left Maoism which a tool by dragon to use in time of decaying its own economy which dragon imparts to decaying Pakistan economy is oldest tale known to all university students in early seventy  entrenching at Borders or in our national fabric is not filmy turned author  his first Narratives or  his nationalism some research  brought to others or awakening by his book his folly.
Naxal 50 year old menace tried in Nepal and in India in more than 250 districts trick of dragon to keep crisis intact.
Also in  neighbour countries the dragon when she was in deep economic crisis spread the canard tool to weaken his borders with Maoist philosophy stake.
A nation with rampant corruption grend,  lust at its at apex solely attracted by West infallible its intelletuals are knows drums beaters  help to weaken their nation Arundhits style to halt India progress is not new but vintage sinister design.  With new coin urban Naxal, actually are the literate ideologues to propel  abject poverty ridden class like kankhya style to defame nation.
Sordid story not ends when subject enters to galvanise one set and demean another set, the neo literate or rich toof are indulging in same sinister with foreign funds in think tanks to stupify    ignorant, with aid to spread can Ards with  the religious belief, Or spiritual  or practice  is not new phenomenon.
With new generation this Conclave is lesson with one or two speaker steal the thunder inculcalte spirit of roboust patriotism but most of us ready commodity on sale on few paltry gains black sheep not amongstus but within us we comforts loving not workaholic shall be always remain worst creature inspite of best intellect at us as we not respect others work and dignity of labour not missing but demean. Our education  brings  the young lots to rots.
Media need has to run in NGO's form the CSR conglomerate need to run in various beats as it's dimensions is too big the MSME portal looks too tiny for this vast and rich nation.
Please do acts instead of attacking media the fourth pillar.