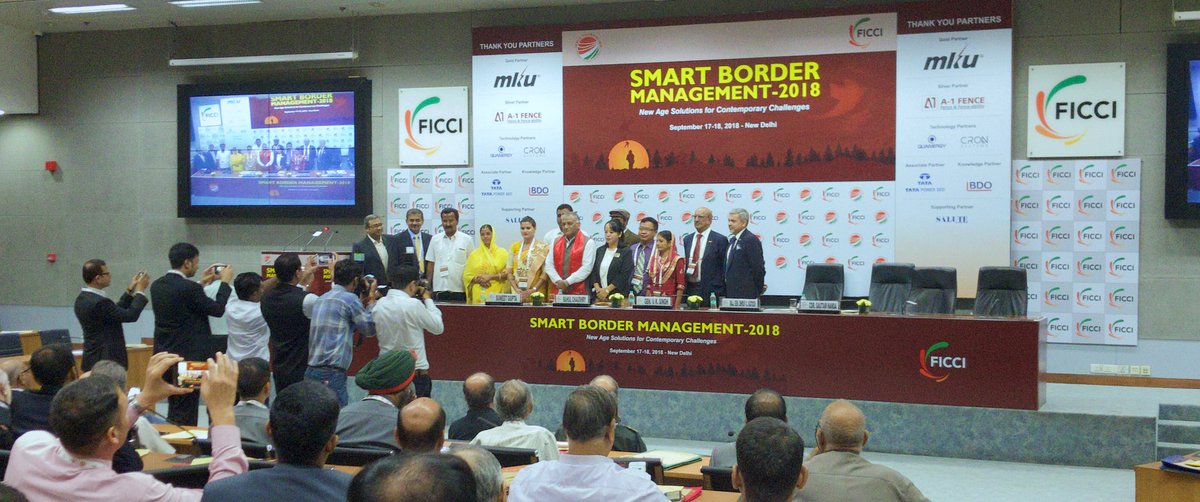 Indian borders which were not fenced till mid eighty find now barbed wire bing made more smarter as the security was gripping to close the borders and were not getting the best available lining to fill the open borders until security personnel at Pakistan desk  asked this question in our parlour. With smart barbed wire fencing as is the terms which is across LoC border guards with various gadgets.
Several of India's neighbours are today more economically open and pushing for more Indian market access. The ball is in Delhi's court to deliver on these expectations and use connectivity to foster economic integration. Indo-China Border, Arunachal Pradesh – This disputed border region requires a significant presence of Army. But difficulty lies in the poor connectivity, it's varying weather conditions, heavy rainfall & overall a tough geography. It's the Indian Army, overcoming all hindrances. India's first 'smart fence' pilot project inaugurated by Union Home Minister @rajnathsingh along the Indo-Pak border at the #BSF  Headquarters in Ploura, Jammu today.Sensors like Thermal Imager,Underground Sensors,Fiber Optical Sensors, Radar & Sonar wl be mounted on diff platforms like aerostat,tower & poles as part of smart fence. Smart fencing uses a nums of devices for surveillance,communication & data storage.
September, 2018 (C) Ravinder Singh ravindersinvent@gmail.com
At latest Border Management event it was revealed Villages along Indians Border are facing problems of Connectivity with district and state capitals Can't Export Their Produce, missing Basic Amenities like Housing, PDS Foods, Schools, Healthcare, Electricity, Water Supply, Sanitation, Roads, Telecom & Broadband and Jobs etc.
This is SIMPLY Unacceptable because to access Basic Amenities Indians go across the border and Border Security is Compromised –Smuggling and Human Trafficking operations thrive when These Are The Main Source of Income of Border Villages.
Cost of Providing These Amenities is only a 'Fraction of Losses Caused by Smuggling and Human Trafficking'.
Healthcare, Electricity, Potable Water Supply, Roads, Telecom & Broadband are Common to Civilians as Well as Border Security Forces. GoI to release enough FUNDS to provide these Amenities in Border Villages. GoI should incentivize Locals serving in Forces or Civil Jobs in Cities to return to homes post retirement – 50% Border Area Pension Allowance.
Advanced CCTV Detection & Tracking technologies can be Adopted For Prevention and Management of Crimes in Cities Like Delhi.
Delhi Police don't itself to BE MONITORED by CCTVs and Thus either Disable CCTVs or Not Properly Maintain them – are not used for Crime Management.
Mobile Delhi Police on 20,000 Bicycle – CCTV Integration
30% of Delhi Police Force has to MOBILE to Prevent Crimes – CCTV technologies are available to Track Vehicles – Almost Every Crime in Cities Involves Motor Vehicles – Use of Technology can cut CRIMES by 80% to 90% – Delhi Police can deploy about 20,000 Officers on Street Patrol.
Reliable CCTV Management by Private Companies who may SELL VIDEOS to VICTIMS of Crime as Revenue Model – can inexpensively provide Crime Prevention Monitoring.
Remote Controlled FIRING TECHNOLOGIES ARE FORCE MULTIPLIER are available which can Minimize Border Encounter Casualties i.e Archer Gun which can fire 40 Rounds in Quick Time could have Minimized Casualties in Kargil War by 80%, and Won Kargil War in 10 days. India should invest in Force Multiplier Technologies.
Change of Specifications than Buying In-Production Military Hardware leads to 'Delays in Procurements & Increased Cost of Procurement and Impact Forces Capability.'
Ravinder Singh, Inventor & Consultant, INNOVATIVE TECHNOLOGIES AND PROJECTS
Y-77, Hauz Khas, ND -110016, India. Ph: 091- 8826415770, 9871056471, 9650421857
Ravinder Singh* is a WIPO awarded inventor specializing in Power, Transportation,
Smart Cities, Water, Energy Saving, Agriculture, Manufacturing, Technologies and Projects