Sagar media inc : The presidential election has changed the configuration of politics and and opposition leader  has to take over as the will of the people to give new dimension to the political situation to this tiny island nation.
The Maldives' strongman President Yameen Abdul Gayoom has conceded Sunday's election to his challenger. Yameen said at a news conference televised live from the capital, Male: "I know I have to step down now," AP reports. The Election Commission released provisional results earlier on Monday, which showed that long-serving lawmaker Ibrahim Mohamed Solih had won with 58.3 percent of the vote. Solih's win was unexpected, and opposition party members had feared that Yameen would rig the vote in his favor. Since his election in 2013, Yameen has cracked down on political dissent, having jailed rivals and Supreme Court justices.
Presidential Election :Maldives' opposition Maldivian Democratic Party candidate Ibrahim Mohamed Solih has declared victory in the country's presidential election. Maldivians vote for change. Solid win for the combined opposition candidate Ibu Solih over Yameen. Result could mean a new day for Delhi tweets suhasini.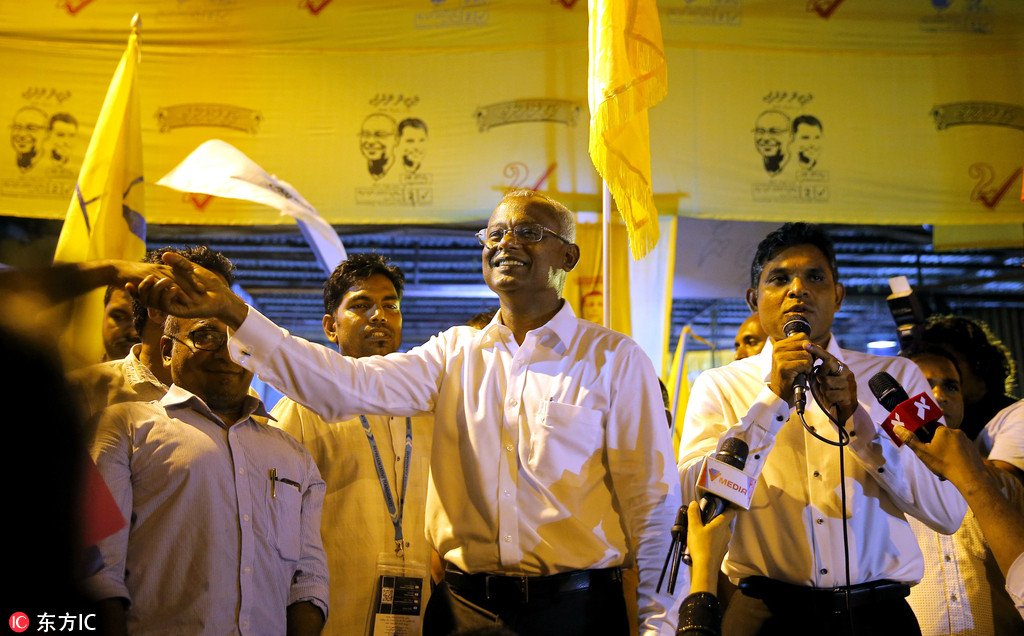 "This is a moment of happiness, a moment of hope. This is a journey that has ended at the ballot box because the people willed it." #Maldives' opposition Maldivian Democratic Party candidate Ibrahim Mohamed Solih has declared victory in the country's presidential election