UAE T20x OPENS UP BIDDING PROCESS FOR ITS FIVE EMIRATE FOCUSED FRANCHISE TEAMS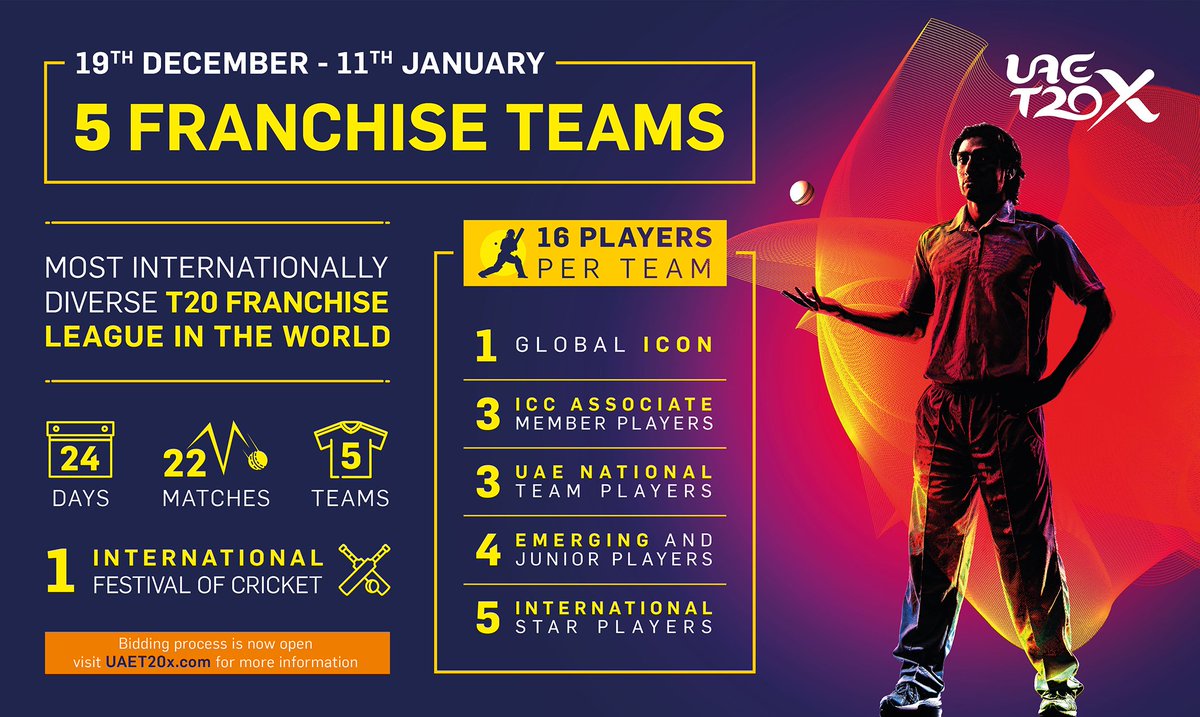 Dubai, United Arab Emirates. Thursday, 27 September 2018: UAE T20x has today opened up the bidding process to potential franchise owners, enabling investors to buy into five teams. The announcement signals the first time local or international investors have been able to own a UAE sporting asset.
The league, which was initially announced in July, has already attracted the attention of bidders from different countries, many of whom are high-profile franchise collectors wanting to leverage the commercial opportunities associated with owning a team in the UAE's biggest cricket league and to build a global sporting brand with roots in a country that already boasts a huge cricket-mad fan base.
Franchise bidders will be given the option of buying a ten-year license for one of the five teams, which will be fronted by a global Icon Player. To date, UAE T20x has revealed three of its Icons, which include South African all-rounder David Miller, big-hitting Jamaican Andre Russell and England's one-day legend Eoin Morgan.
The league also boasts AB de Villiers – widely regarded as one of the greatest white ball batsmen of all time – as its Global Ambassador, adding even more star power to the cricketing royalty who have registered to play in the inaugural tournament. Franchise owners will have their chance to select the best of the best from the talent pool during the UAE T20x auction and draft, which is scheduled for the beginning on November.
UAE T20x CEO Salman Sarwar Butt said: "We are extremely excited to finally open up the bidding phase of our league, which has already garnered a lot interest from experienced franchise owners and investors from all over the cricketing world. We believe this is down to the truly international nature of our product – which is not only an exciting commercial proposition but a clear point of difference to the other franchise leagues in the market."
UAE T20x will make its debut from 19th December – 11th January with its five franchise teams competing in a 22-match format to be played over 24 days. Building on its unique international development agenda, the league's teams will feature a squad of 16 men, including six international star players, four emerging and junior players, three ICC Associate Member players, and three UAE national team players. No other T20 competition has been established with these developmental goals at their core, and no other event will showcase such a wide array of international talent- making franchise ownership a powerful commercial proposition for bidders.
From 26th September potential franchise buyers can formally register their interest and download the Invitation to Tender (ITT) form with the league's licensed owner OPI Sports though the UAE T20x website www.uaeT20x.ae.