Today Nation pays homage to two of its greatest sons: Mahatma Gandhi and Lal Bahadur Shastri.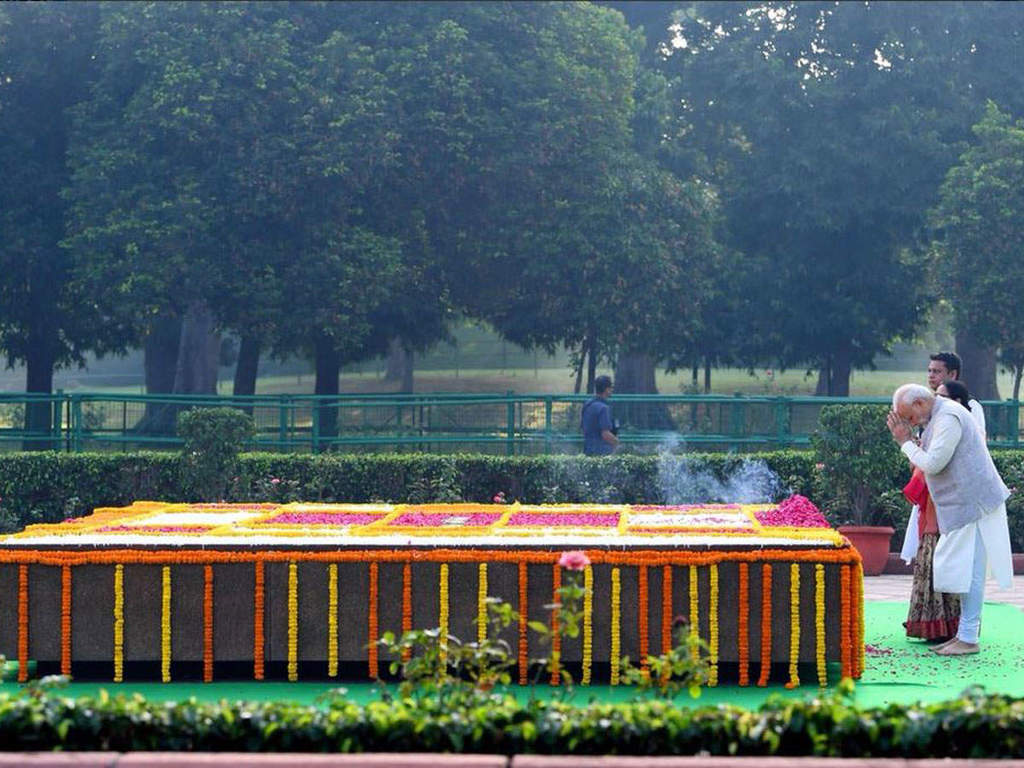 PM Modi pays tribute to Lal Bahadur Shastri on his 114th birth anniversary Earlier in the day, the Prime Minister paid tributes to Mahatma Gandhi on his 149th birth anniversary. Vice President @MVenkaiahNaidu pays homage to Father of Nation Mahatma Gandhi at Rajghat, #NewDelhi, reports media.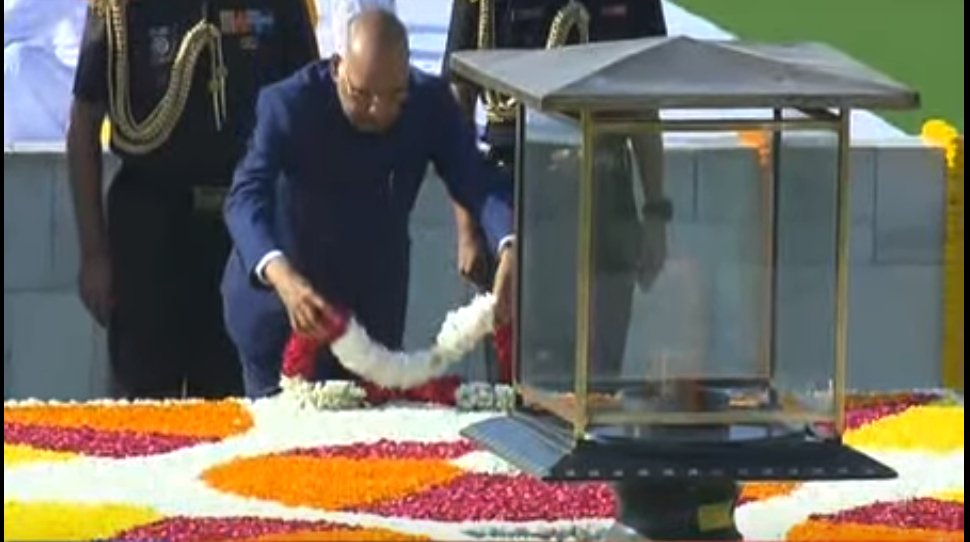 Nation pays homage to Mahatma Gandhi on his 149th birth anniversary today. President Ram Nath Kovind, Vice President M Venkaiah Naidu, Prime Minister Narendra Modi offered floral tributes to Father of the Nation at Rajghat in New Delhi this morning. A Sarva Dharma Prarthana Sabha was organised at Rajghat on this occasion.
UN Chief said, eliminating open defecation must be central to efforts to improve sanitation. He cautioned that open defecation poses a serious threat to children, contributing to diarrhoea and to malnutrition and stunting which have a lifelong impact.
Mr Gutteres said, Mahatma Gandhi was ahead of his time in hygiene. He said, India is leading in building safer and more resilient societies which are the overarching goal of the Agenda 2030.
The day also marks the launch of 150th-anniversary celebrations of the Mahatma Gandhi. Mahatma Gandhi International Sanitation Convention is also being organised at Rashtrapati Bhavan to mark the occasion.
Prime Minister Narendra Modi and UN Secretary-General Antonio Guterres will address the concluding session of the 4-day convention today.
United Nations will celebrate Gandhiji's birth anniversary as International Day of Non-Violence. The UN General Assembly had on 17 June 2007 voted to establish 2nd October as the International Day of Non-Violence.
In a message, UN Secretary-General António Guterres said, at a time of protracted conflicts and complex challenges, Gandhiji's philosophy of non-violence remains an inspiration.
He said Gandhiji's commitment to human dignity can light our path when the world is striving to achieve the Sustainable Development Goals, ensure gender equality and leave no one behind.
Mahatma Gandhi's popular quotes and bhajans resonated at the Chaoyang Park in Beijing today as people from all walks of life gathered to commemorate the 149th birth anniversary of Mahatma Gandhi.
A cultural team from the Indian Embassy sung Gandhiji's most popular bhajans and quotes were recited by the Chinese school children.
The statue of Gandhiji carved by China's acclaimed sculptor and artist Yuan Xikun was installed in the park in 2005, providing an opportunity for all his admirers to pay homage.
Prime Minister Narendra Modi and United Nations Secretary-General Antonio Guterres are now taking part in the Mahatma Gandhi International Sanitation Convention that concludes in New Delhi today.
The convention, which began on Saturday, is being organised by the Ministry of Drinking Water and Sanitation to mark the beginning of the 150th birth anniversary celebrations of Mahatma Gandhi. The convention also coincides with the fourth anniversary of the launch of Swachh Bharat Mission.
Speaking on the occasion, the UN Chief congratulated Mr Modi for giving priority to sanitation. He said Clean India will be a befitting tribute to Mahatma Gandhi. Mr Guterres said, to reach the Sustainable Development Goals, there is an urgent need to tackle the issue of sanitation as is being done in India.
He said India is an example of how political will and commitment can help achieve safe sanitation. In her address, External Affairs Minister Sushma Swaraj said, singers from 124 countries have sung Gandhiji's favourite hymn Vaishnav Jan which will be released today.
Fifty-three Ministers of Sanitation from around the world and more than 160 international representatives from 68 countries are participating in the convention.