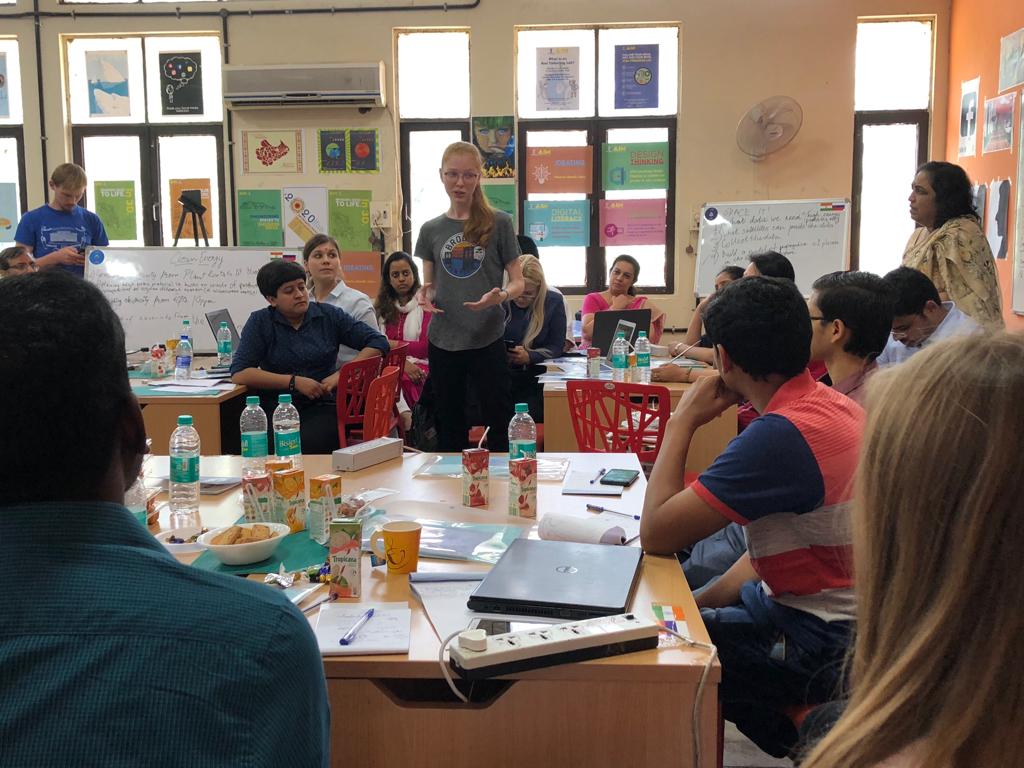 National conclave brings together key stakeholders in education, skilling and employment ecosystem to expand socio-economic opportunities for young people
New Delhi, 1 October 2018: NITI Aayog in partnership with UNICEF India, today, took the lead in catalysing a national partnership of committed stakeholders – Yuwaah! – to expand socio-economic opportunities for India's young people, especially those from marginalized groups.
This initiative comes close on heels with the launch of the global partnership – Generation Unlimited – at the UN General Assembly to get every young person into quality education, training or employment by 2030. UNICEF's Executive Director Henrietta Fore, along with NITI Aayog CEO Amitabh Kant, led the national consultation of key stakeholders in the education, skills development and employment/entrepreneurship ecosystem to support the realization of aspirations and opportunities for India's 253 million strong adolescent population.
Ravi Venkatesan, Former Chairman of Microsoft India and Cummins, and the recently appointed UNICEF Special Representative of Young People, will lead the way forward in enabling high-level outreach, partnerships and scaling innovations for young people.
Yuwaah! brought together key stakeholders from the Government of India, State Governments, private sector, Civil Society Organizations, UN agencies, supporting partners, solution providers, educators and young people. The national partnership outlined challenges, aspirations and solutions to build productive life and work capabilities, and economic opportunities, for those between 10 to 24 years of age, especially from the most vulnerable sections.
A one of its kind initiative, the partnership provides a mechanism to listen deeply and actively to young people's voices, ideas and aspirations. It gathers evidence to co-create solutions with the young people and build gender responsive solutions. Ahead of the national conclave, UNICEF and partners organized six state level consultations, where solution providers, private sector and government representatives came together to listen to address the challenges and aspirations voiced by young people, including those belonging to the most vulnerable sections of the society.
"Nothing about us, without us. We as young people are responsible for our own future. We understand or challenges, so we need to figure out solutions for our common goals of education, skills and employment," said Vibhu Sharma, a young person from Delhi, who was participating in the conclave.
A strategic long-term partnership, Yuwaah! aims to enable sustained and coordinated investments to co-create solutions for learning (including alternative and flexible learning programmes), life and employability skills, career guidance and employment opportunities (including entrepreneurship). The target of the partnership is on adolescents and young people in school (25 million), out of school (20 million) and in institutions (4 million).
"What we need is to unleash the entrepreneurial spirit in India, especially encourage women entrepreneurs.  Gender parity is essential for our growth" We will be supporting 500 innovation labs in the next three years, unleashing the entrepreneurial spirit of India", said NITI Aayog CEO, Amitabh Kant.
The current workforce in India is 480 million, of whom 93 per cent (446 million) are employed in small, informal-sector enterprises. More than 60 per cent (288 million) are employed in rural India. In addition, 90 per cent of India's workforce has received no formal skills training. In the next twenty years, India's current population of 444 million children will enter the working age. India will have a huge task to equip these adolescents with marketable skills.
Yuwaah! aims to support this massive exercise by bringing together key stakeholders to recognize, design and implement solutions to expand employment and entrepreneurship opportunities for education, skills, decent jobs and sustainable livelihoods – that are accessible to all.
"Despite significant progress for children in their first decade of life — through reduced child mortality and increased access to primary school — tens of millions of adolescents in India are not getting the support that they need through their second decade of life. And this is especially true for girls, migrants, children with disabilities, and those belonging to historically disadvantaged communities," said Ms Fore during her interaction with young people at the consultation.
In addition to this, Ms Fore also recognized three big opportunities in India: scaling-up flexible education options; expanding social-protection programmes; and supporting young people supporting other young people.
Over 60 adolescents and young people from various parts of India, including from the most marginalized groups Dr. K.P Krishnan, Secretary, Skill Development and Entrepreneurship; Ms Rina Ray, Secretary, School Education and Literacy; Dr. Amarendra Kumar Dubey, Secretary, Ministry of Youth Affairs and Sports, along with representatives from the private sector, UN agencies and civil society organizations were present at the occasion.