H I G H L I G H T S  by Ambassador Ashok Sajjanhar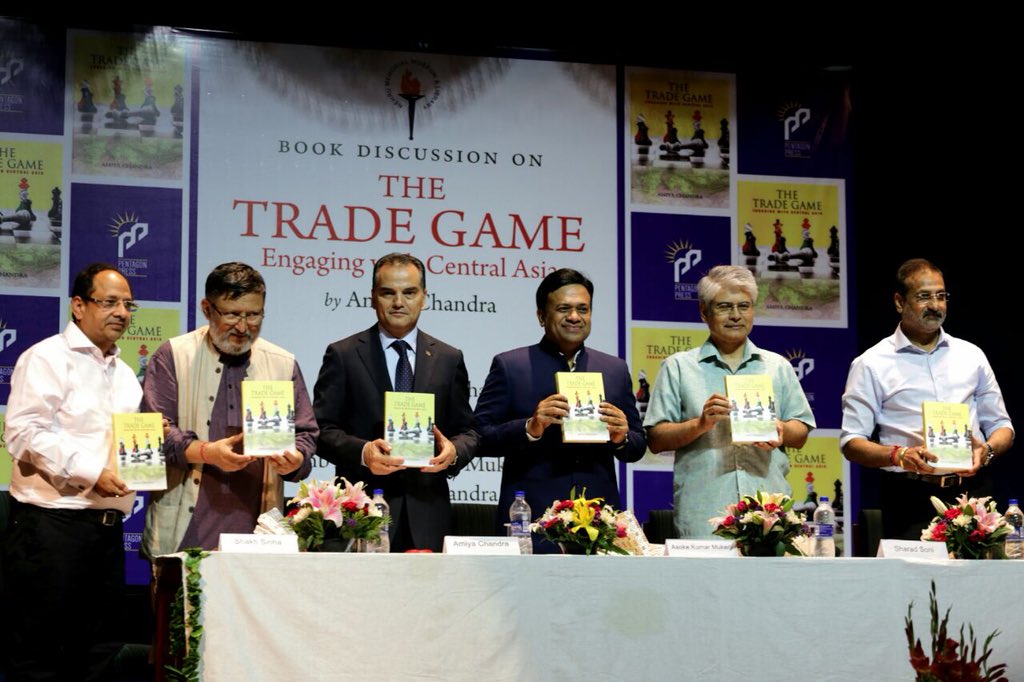 Political Developments
Economic Developments
Political Developments

Kazakh President Nursultan Nazarbayev visited Turkey and held several Meetings with his Turkish counterpart President Recep Tayyip Erdoğan. The two leaders also held a joint press conference. In his speech, Erdoğan said that meetings were productive and five agreements were concluded. During the Turkey-Kazakhstan Investment Forum in Ankara, more than 20 documents worth approximately US$2 billion were signed. Nazarbayev congratulated Erdoğan for adopting the Presidential system. He recalled that bilateral trade was US$1.9 billion last year which they were aiming to raise to US$5 billion in near future. Agreements on defence, economy and agriculture were signed between the twogovernments. The two countries inked 22 agreements totaling around US$1.7 billion in various sectors including machinery, chemistry, food, transportation and mining. Turkish investments in Kazakhstan reached US$3.2 billion and after Russia and China, Turkey comes third in the number of foreign companies in Kazakhstan. Current regional issues were also discussed.
Trial of a woman Sayragul who had worked in an indoctrination camp in China's western region of Xinjiang has put fate of minority Muslims under spotlight of international media. Beijing's attempts to suppress flow of information about its over-policed Xinjiang province – where security forces are locking up, among others, ethnic Kazakhs visiting or returning to China from Kazakhstan – has come into focus after a Kazakh court ruled against deportation of Sayragul to China. Sayragul made a plea during trial not to be handed over to China, claiming she could face the death penalty for revealing existence of political "re-education camps" for ethnic Kazakhs in the country.
International Atomic Energy Agency and Russia signed an implementing agreement on transportation of low-enriched uranium (LEU) and equipment necessary for functioning of IAEA's LEU Bank inKazakhstan. IAEA will bear costs of acquisition, delivery, and maintenance of LEU. It will also bear costs of importing and exporting LEU and costs of payment of taxes, duties and charges. Kazakhstan will bear costs associated with direct storage of IAEA's LEU, including payment of electricity and heating supply fees etc.
Kazakhstan sentenced a man to three years in prison for inciting hatred on social media after he took a swipe at President Nazarbayev and called for forcible overthrow of government by distributing leaflets.
Human Rights Watch has said that at least 258 people in Kyrgyzstan have been convicted of possessing extremist material since 2010. More than 500 new cases were initiated in past three years. The law has been amended twice to make it harsher, first by outlawing mere possession rather than distribution and then by setting mandatory minimum sentences. Kyrgyzstan's ethnic Uzbeks have been marginalised by successive governments since inter-ethnic clashes in 2010. They are under-represented in, and frequently intimidated by, the security services.
Head of anti-Terrorism Centre in Commonwealth of Independent States warned that Daesh was planning to establish a "caliphate" in Central Asian countries. In a meeting of counter-terrorism chiefs of security and intelligence services of CIS, he said that Daesh militants "are also trying to activate sleeper cells" in the area.
Uzbek President Shavkat Mirziyoyev has relaxed restrictions on religious freedoms as part of his campaign of liberal economic and political reforms. An Uzbek imam has however been sacked after urging Mirziyoyev to lift a ban on personal religious symbols such as women's hijabs and beards for men. This reflects limits of newly-proclaimed tolerance in the country.
Sharp disagreement has appeared between Kyrgyzstan and Turkey over a network of schools that Turkey views as havens for state sabotage and even terrorism. Kyrgyzstan is reluctant to succumb, even in face of increasingly strident demands from Ankara. For Kyrgyzstan, as alarming as push to take over so-called ''Gulenist'' schools, is a reported list of 13 arch-Gulenists the Turks supposedly handed to local authorities; Ankara is said to have demanded their extradition immediately.
Tajikistan stated that it has decided to indefinitely postpone building the railroad linking it withTurkmenistan via Afghanistan. It said the plan is no longer feasible because of improvement in ties with Uzbekistan. This took Turkmenistan by surprise. Stretch of railroad linking Turkmenistan and Afghanistan was opened in 2016. Turkmenistan had hoped that 88-kilometer line would be extended east to Tajikistan, Kyrgyzstan and China.
Kazakhstan and Uzbekistan are likely to jointly build a satellite. This will provide services not only to Kazakhstan and Uzbekistan but also to other countries in the region. It is proposed to build five satellites for remote sensing.
600 Uzbekistani troops joined 17,000 Tajikistani soldiers and practiced anti-terrorism operations in Tajikistan, 200 miles north of Dushanbe. Troops used not only light weaponry but unmanned aerial vehicles, tanks, armored vehicles, helicopters and mortars.
Kazakhstan announced that citizens of 128 countries, including India, China, Iran and other Persian Gulf countries, will be able to enter Kazakhstan without having to apply for a visa before arrival. Currently, citizens of 64 countries are eligible to enter Kazakhstan without a visa. Kazakhstan is implementing long-term program ''Digital Kazakhstan'' to develop tourism infrastructure and attract foreign tourists.
China has officially handed over a Shaanxi Aircraft Corporation (SAC) Y-8F200W mid-size transport aircraft to Kazakhstan, marking the first time the platform has been acquired by a member of former Soviet Union.
Former Ambassador of Kazakhstan to China stated that there is a rush to learn the Chinese language and 14,000 Kazakhs are now studying in China. Trade between Kazakhstan and China has almost reached US$100 billion. China is Kazakhstan's second-largest trading partner, export destination and source of imports. Several Chinese organizations have extended loans of over US$40 billion to Kazakhstan, making it Kazakhstan's biggest lender. China-Europe freight trains passed Kazakhstan 1,800 times in 2017, a 50% rise over previous year. In addition, the two countries boosted cultural exchanges, with five Confucius Institutes established in Kazakhstan and five Kazakhstan language and culture centers launched in China. China and Kazakhstan have started currency swaps and settlement.
Convicted pedophiles in Kazakhstan are facing chemical castration after the government provided funding for 2000 injections. The process uses anaphrodisiac drugs to reduce the offender's libido and sexual activity. Unlike surgical castration, chemical castration does not remove organs, nor is it a form of sterilisation…………………………………………………………………………………………………………Economic Developments
Islamic Development Bank (IDB) and government of Uzbekistan signed a new partnership strategy for 2018-2021 worth US$ 1.3 billion. Uzbek President noted that cooperation between Uzbekistan and IDB covers projects in several sectors like modernization of road transport, energy and municipal infrastructure, housing construction in rural areas, development of drinking water supply system, health and education, support for entrepreneurial entities and others.
Uzbekistan and Russia signed an intergovernmental agreement on cooperation in construction of first nuclear power plant in Uzbekistan, as well as development of nuclear energy for peaceful purposes and training of personnel. The nuclear power plant will consist of two blocks of "3+" generation with pressurized water reactor of VVER-1200 model and with a total capacity of 2.4 GW based on Russian technologies. The agreement provides for cooperation in design and construction, as well as commissioning and operation of the nuclear power plant.
A South Korean company plans to start production of electric cars in Uzbekistan making it Central Asia's leading manufacturer of electric cars. Total cost of project will be US$2 million, and manufacturing will start by end of next year.
Tajikistan's trade turnover with CIS countries increased by 17.8% for eight months of this year compared to same period in 2017. During current year, Tajikistan's trade with CIS countries totalled over US$1.5 billion.
Turkmenistan completed upgrade of its largest electric power plant which it hopes will help boost exports and eventually allow supplies to Pakistan. Turkmenistan sits on world's fourth-biggest natural gas reserves and was hit hard by plunge in global hydrocarbon prices and is seeking to diversify exports in order to increase its hard currency earnings…………………………………………………………………………………………………………
India-Central Asia Relations

External Affairs Minister Sushma Swaraj made a brief stopover at Ashgabat airport enroute to Russia during which she held discussions with her Turkmen counterpart Rashid Meredov on issues of bilateral interest. She had made a brief stopover at Ashgabat in August, 2018 also during her visit to 3 Central Asian countries.
A Kazakh delegation led by Deputy Prime Minister Askar Zhumagaliyev visited India during which members got acquainted with digitalization projects in India, visited National Informatics Center, where solutions in field of information services and information and communication technologies were presented. Zhumagaliyev met Indian Minister of Communications and Information Technology and spoke about Digital Kazakhstan State Program. He noted significant experience of India in implementation of projects in field of cyber security, development of human capital, biometrics and others. India conveyed readiness to share experience in field of personnel training and expressed interest in cooperation in other spheres also. Indian companies like NASSCOM, NIELT, CDAC, SPTI, EP presented their products. Kazakh side presented the Astana Hub, opening of which will be held on November 5, 2018 and told about prospects for development of innovative ecosystem in Kazakhstan.  Zhumagaliyev sought partnership from both public and private sector in India to help Kazakhstan in its digital journey. He said that India has good experience in implementation of new technologies and Kazakhstan is interested in building partnerships in both software and hardware sectors.
India and Kazakhstan conducted 3rd edition of joint military Exercise KAZIND 2018 in Otar, Kazakhstan for 2 weeks from 10th September, 2018. This provided an ideal platform to both contingents to share their operational experience while also broadening interoperability and cooperation between armies of India and Kazakhstan. Primary focus was to train and equip contingents to undertake joint counterinsurgency and counter-terrorist operations in urban and rural environment under mandate of United Nations. Future editions of Exercise KAZIND are likely to witness a progressive increase in scope and content of combined training.
Development of regional economic cooperation was discussed in Dushanbe at Ministerial meeting ofShanghai Cooperation Organization (SCO) member states. Draft report of the meeting will be submitted to next meeting of SCO Council of Heads of Government in October in Dushanbe.
5th meeting of India-Central Asia Dialogue was held in Samarkand, Uzbekistan on September 13-14, 2018.
Uzbekistan wants to further elevate its ties with India and also take bilateral trade to US$1 billion within two years. Uzbek Ambassador Farhod Arziev said that the two countries are working on more transport corridors to boost trade after India joined the Ashgabat Agreement. Both countries are making joint efforts to bring peace in strife-torn Afghanistan. Uzbekistan stated that India is one of Uzbekistan's key partners not only in Asia but globally as well.
VH Group — the largest poultry conglomerate in India — plans to construct a bio-technical park inKazakhstan, which will include a laboratory for production of vaccines. Total investment in Kazakhstan amounts to more than US$1 billion. Kazakh authorities have expressed readiness to support development of poultry farming and creation of a cluster.
An exhibition "India – Uzbekistan: Dialogue of Cultures" was organized at National Museum to mark the state visit of Uzbek President to India on 30th September-1st October, 2018. The exhibition showcases   original artifacts from National Museum collection which include coins from royal mints of Kushans including coins depicting portraits of Kanishka, Huvishka, intricate manuscripts including miniature paintings from Baburnama etc.
Astana hosted ''The Spirit of Dance'' festival, at city's largest concert hall. Dance groups from 14 countries, including Azerbaijan, Canada, Georgia, Latvia, India, Ireland, Kazakhstan and Uzbekistan participated. Renowned choreographer Sudarshan Chakravorty from India and his team performed in the prestigious festival.
ONGC Videsh Ltd (OVL), the overseas investment arm of state-owned Oil and Natural Gas Corp (ONGC), plans to exit Kazakhstan's Satpayev block after it could not find commercially exploitable oil. OVL had in April 2011 bought 25% of Satpayev block. It paid US$13 million as signing amount to Kazakhstan and an additional US$80 million as a one-time assignment fee to KazMunaiGas, the national oil company of Kazakhstan. Satpayev was OVL's maiden entry into Kazakhstan. Unfortunately, its exploration campaign did not meet with success.
………………………………………………………………………………………………………..(The views expressed are personal)