The 12th Asia Europe Meeting (ASEM) Summit is underway at Belgian capital Brussels.
Vice President of India Naidu was received by Head of Protocol of European Council, Mr. Dominique-Georges Marro at Justus Lipsius Building & proceeding to participate in the First Plenary Session of 12th Asia-Europe Meeting, at the Europa Building, in Brussels, Belgium today.  Vice President of India Mr Naidu had meeting the Prime Minister of Portugal, Mr. Antonio Costa, on the sidelines of the 12th Asia Europe Meeting, at the Europa Building, in Brussels, Belgium today. Also met, His Majesty King Philippe, the King of the Belgians at the Royal Palace, in Brussels, Belgium and  Prime Minister of Greece, Mr. Alexis Tsipras,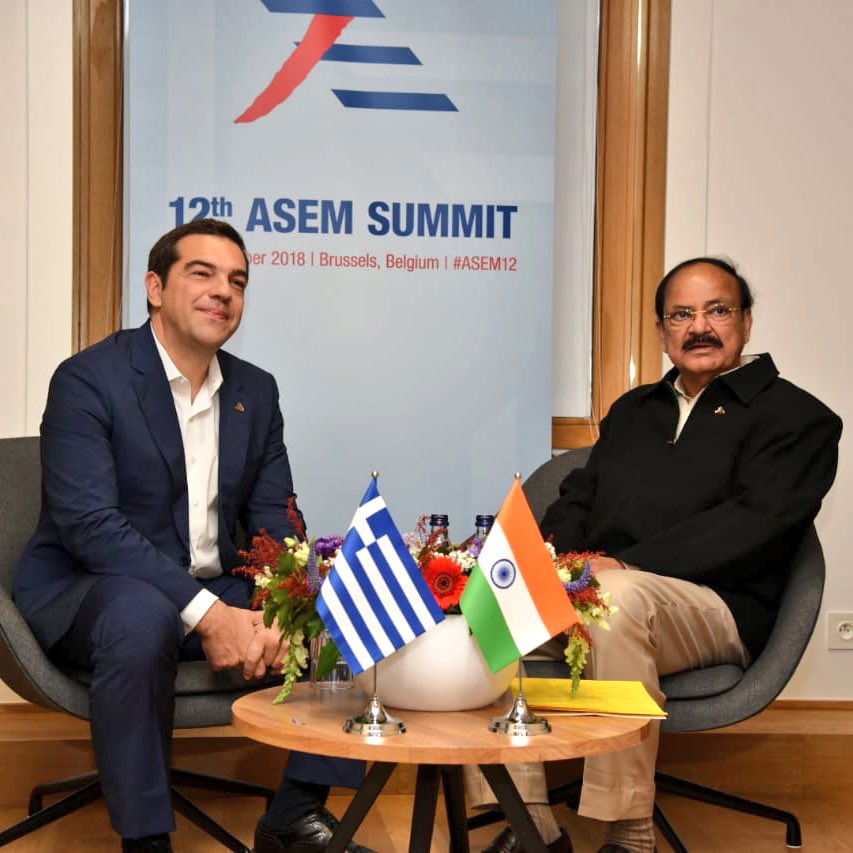 The summit began with the arrival of around 51 Heads of States or Governments from the European and Asian countries including India in Brussels last evening. Vice President M. Venkaiah Naidu who heads the Indian delegation is scheduled to speak in the Session today. He is likely to address on facilitating trade acceleration, EU -India with focus on FTA , Security  cooperation on to curb terror menace. Further build bridges for  technology, skill development cooperation at multi levels, and  in space and defense.
The biennial event with the theme "Global Partners for Global Challenges", is the highest platform for dialogue and cooperation between Asia and Europe in the areas of trade, investment, security and tourism.
Mr. Naidu will also address the Indian Diaspora at Jain Cultural Centre and offer floral tribute at a sculpture of Mahatma Gandhi at Antwerp in Brussels.
He will also hold meetings with prominent NRIs, and CEOs before concluding his tour tomorrow.