In spite of Taliban issued several statements urging candidates to withdraw and voters to boycott what the group calls a "malicious American conspiracy," voting continues.
The killing of a powerful police chief in a highly secure compound in the southern province of Kandahar on Thursday has eroded confidence in the ability of security forces to protect voting locations.
President Ashraf Ghani urged "every Aghan, young and old, women and men" to exercise their right to vote. Almost nine million people are registered to vote in the parliamentary election. Leader Abdullah Abdullah, Afghanistan's second in command that equivalent to prime minister, waited for more than half an hour at a polling center in the Afghan capital as election workers searched for his name on a voter registration list, a live broadcast on Tolo News showed.
Almost nine million people have registered to vote in the parliamentary election, which is more than three years late and only the third since the fall of the Taliban in 2001.
Voting in Kandahar has been delayed by a week following the attack that killed three people, including General Abdul Raziq.
@ashrafghani
I just voted. And I thank the ANDSF, the IEC staff, and the great people of
#Afghanistan
who made it possible to vote despite the risks involved. Today we proved together that we uphold democracy. With casting our ballots without fear we honor the sacrifices of the fallen.
The polling for the Parliamentary elections in Afghanistan begins 7 this morning local time. The elections is being held in 32 provinces of the country except Kandahar and Ghazni provinces.
While the polls in Kandahar province has been postponed for one week following the Thursday attack, while, elections have been postponed in Ghazni province due to disagreements on reducing constituencies and security problems.
There are 250 seats in Parliament, including 10 seats that are reserved for nomads and one jointly for the Sikh and Hindu communities. There must be 68 female representatives, with each province having at least one.
According to figures by the Independent Election Commission (IEC), at least nine million people have registered to vote in the elections. The IEC spokesman Sayed Hafizullah Hashemi said election materials have been sent to all polling centres across the country.
Afghan Army Chief of Staff, General Mohammad Sharif Yaftali, said that that the security forces are ready to ensure the safety of the elections. Security fears have forced the commission to close about 2,000 polling centres.
The Parliamentary poll will be followed by the Presidential poll next year.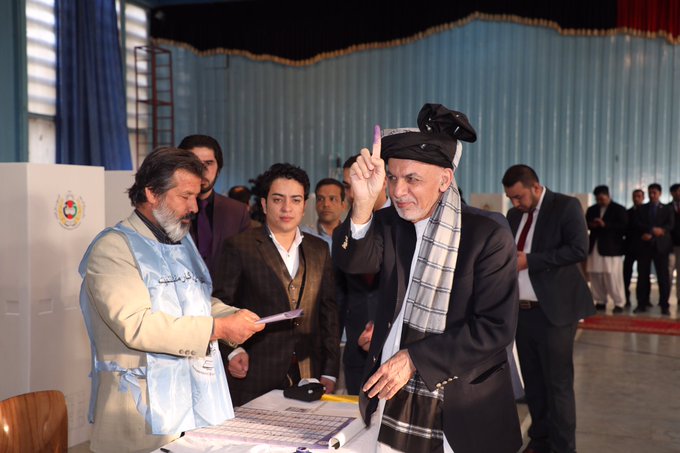 Afghani's in cities are in large number  are in Q to exercise their right. Taliban pulled out in  2001 and Election were slated to be in the early of  2015 but were fixed on 20 the October 2019 for security reasons.
Afghanistan is set to vote in long-delayed parliamentary elections for the third time since the fall of the Taliban in 2001.