US National Security Advisor John Bolton met Russian Defence Minister Sergei Shoigu Tuesday during a visit to Moscow, after President Donald Trump announced plans to withdraw from a nuclear arms treaty.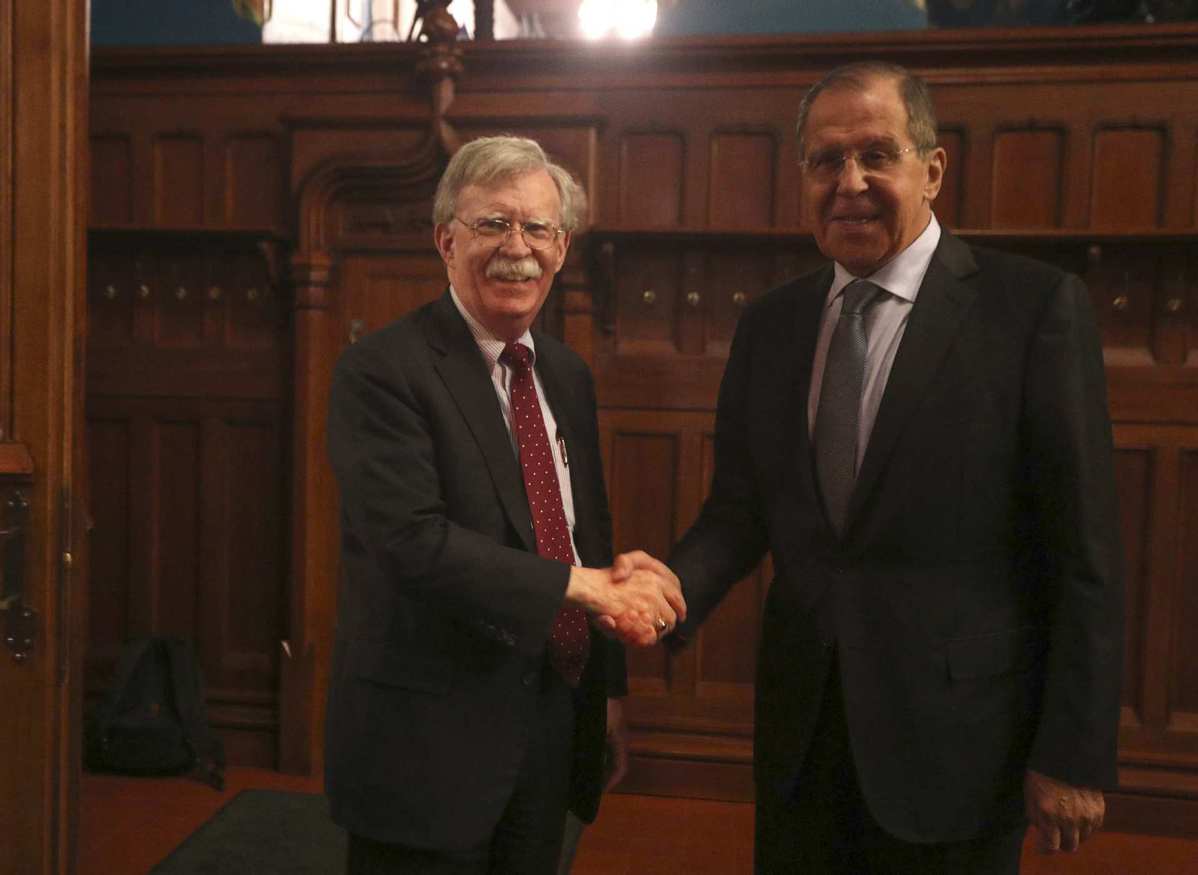 "Today, there are a large number of problems in the world that we could solve through joint efforts," Shoigu said in comments carried by the RIA Novosti agency.
US National Security Adviser John Bolton faces two days of high-tension talks in Moscow beginning on Monday after US President Donald Trump announced his intention to withdraw from a decades-long landmark nuclear weapons treaty with Russia.
Trump's announcement that the United States would leave the Intermediate-Range Nuclear Forces treaty (or INF) brought sharp criticism on Sunday from Russian officials and even Mikhail Gorbachev, former Soviet Union president, who signed the treaty in 1987 with then-US president Ronald Reagan.
Gorbachev, now 87, said Trump's decision to exit the pact is a mistake and would undermine efforts of disarmament.
"Do they really not understand in Washington what this could lead to? Washington's desire to turn back politics cannot be supported. Not only Russia, but also all who cherish the world, especially a world without nuclear weapons, must declare this," Gorbachev was quoted by the Interfax news agency.
Bolton mentioned "strategic questions linked to nuclear deterrence as well as to the solution of major, long-running conflicts."
The minister said the first summit between Trump and Russian President Vladimir Putin this summer had shown ties between the two countries were gradually being reestablished.
Bolton for his part said he had been sent to Moscow with the task of "deepening and strengthening" dialogue with Russia, in comments translated into Russian.
Bolton is expected to meet with Putin later Tuesday.
Trump sparked concern globally at the weekend by saying he wanted to jettison the three-decade-old Intermediate-Range Nuclear Forces Treaty (INF) signed by former US president Ronald Reagan and Mikhail Gorbachev, the last Soviet leader.
Signed in 1987, the INF resolved a crisis over Soviet nuclear-tipped ballistic missiles targeting Western capitals.
In Moscow on Monday, Bolton said the pact seemed to have run its course, accusing Russia of violating the treaty.
Russia rejects the claims and accuses Washington of violations.
US-Russia ties are under deep strain over accusations Moscow meddled in the 2016 US presidential election. The two states are also at odds over Russian support for Bashar al-Assad´s regime in Syria´s civil war, and the conflict in Ukraine.