President Maithripala Sirisena installed Sri Lanka's controversial former strongman leader Mahinda Rajapakse as the country's new prime minister Friday, in a shock move that plunged the island into an unprecedented constitutional crisis.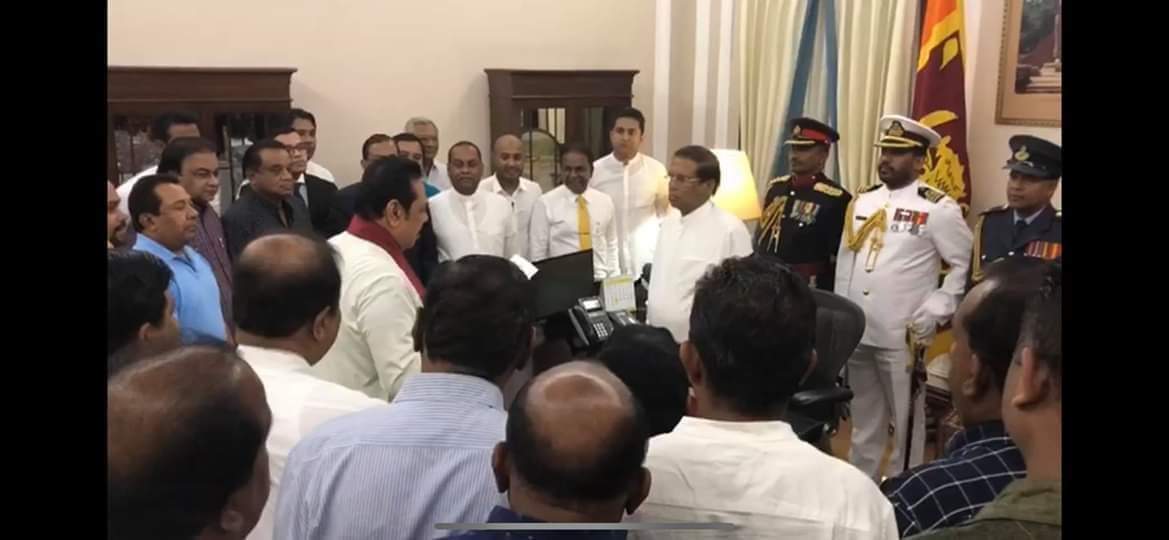 Sirisena's office announced the surprise decision moments after he sacked incumbent premier Ranil Wickremesinghe, despite opponents saying he had no power to do so under the constitution.
Wickremesinghe insisted he was still the legitimate prime minister and would fight his dismissal in court.
"I am addressing you as the prime minister of Sri Lanka," Wickremesinghe told reporters at a nationally televised press conference. "I remain as prime minister and I will function as the prime minister."
The president's United People's Freedom Alliance party had earlier Friday quit the coalition that had governed with Wickremesinghe's party.
Speaking to jubilant supporters outside his Colombo home, Rajapakse called on Wickremesinghe to step down.
Members of Wickremesinghe's party must "respect democracy, respect the country and respect the law", the ex-president said through a loudhailer from a balcony.
Rajapakse loyalists stormed two state-owned television networks overnight — which they regard as loyal to the outgoing government — and forced them off the air.
Video footage from private networks showed police overwhelmed by mobs at the Rupavahini national TV station but elsewhere in the capital streets remained calm.
Rajapakse was sworn in by Sirisena in a ceremony at the president's office before the smiling ex-president headed to worship at a Buddhist temple.
A defiant Wickremesinghe, whose United National Party commands a majority in parliament, said he was calling on speaker Karu Jayasuriya to convene the legislature.
The speaker said he was seeking legal advice and would announce Saturday if he recognises Rajapakse as the new prime minister.
Sirisena won elections against Rajapakse in 2015 on a platform of economic reform and accountability for atrocities committed during his opponent's 10-year iron-fisted rule which saw the bloody end of Sri Lanka's brutal civil war.
Colombo was on the verge of facing economic sanctions from Western nations over Rajapakse's human rights record before his government lost office.
Sirisena's decision to appoint his former foe prime minister threatens the Indian Ocean island nation with fresh turmoil just as it was trying to emerge from the shadow of the civil war.
The legality of the move is disputed after a constitutional amendment passed in 2015 removed the president's power to sack the prime minister.
"The appointment of Rajapakse as the prime minister is unconstitutional and illegal. This is an anti democratic coup," finance minister Mangala Samaraweera wrote on Twitter shortly after the appointment was announced.
The dramatic developments came after deepening disagreements between Sirisena and Wickremesinghe over economic policy and day-to-day administration of the government.