Russian President Vladimir Putin held separate rounds of talks with his Turkish host Recep Tayyip Erdogan and German Chancellor Angela Merkel in the city of Istanbul on Saturday. Putin also had a phone conversation with French President Emmanuel Macron. The multilateral summit, which is the first of its kind, has taken place after a September agreement between Ankara and Moscow that stipulated the creation of a demilitarized buffer zone in Syria's Idlib province, the last major rebel-held territory in the country.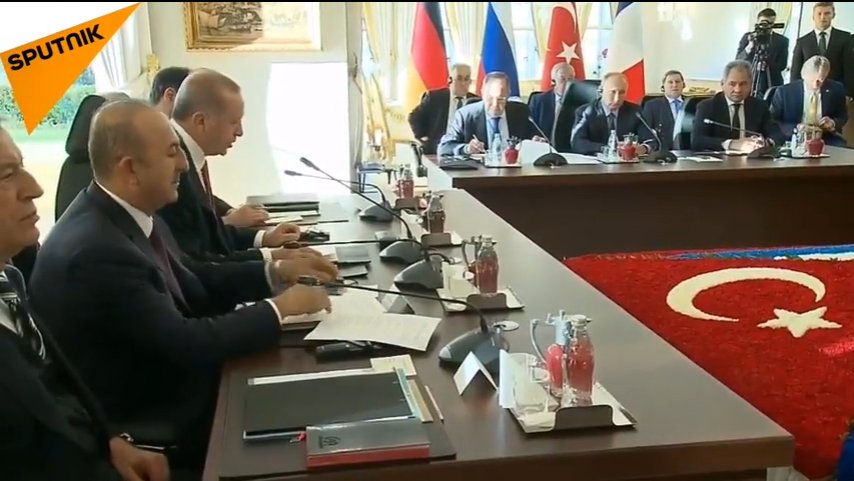 The talks come ahead of the summit on the Syrian peace settlement between leaders of Russia, Turkey, Germany and France. The politicians will be also joined by UN Special Envoy to Syria Staffan de Mistura, and are expected to address issues of the peace process in the country, exchanging opinions regarding the situation on the ground. This is the first major Syria-themed summit since Russia and Turkey agreed to establish a demilitarized buffer zone in Idlib province last month.
The leaders of Turkey, Russia, France and Germany gathered in Istanbul on Saturday to discuss the peace settlement in Syria. They are set to exchange views regarding the situation on the ground and developments around the Idlib buffer zone, agreed by Russian leader Vladimir Putin and his Turkish counterpart Recep Tayyip Erdogan in September.
Under the deal, all weapons and hard line anti-government militants were to be cleared from the area by mid-October. The parties are also expected to discuss the use of chemical weapons in the Syrian conflict.