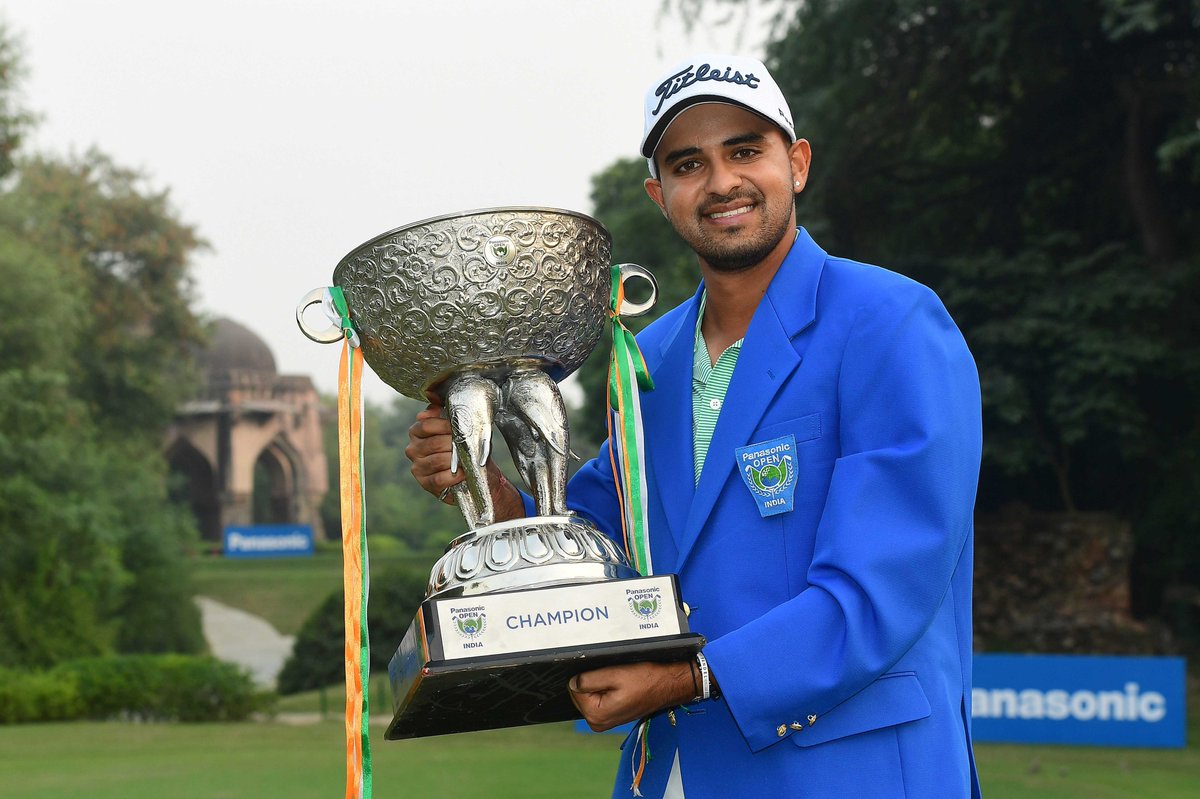 Khalin Joshi breaks victory barrier with a gallant 68 in final round of Panasonic Open India, India's stranglehold continues at event well he must be relieved man, having finally secured his maiden victory in front of a roaring home crowd at the Panasonic Open India in what was his sixth try.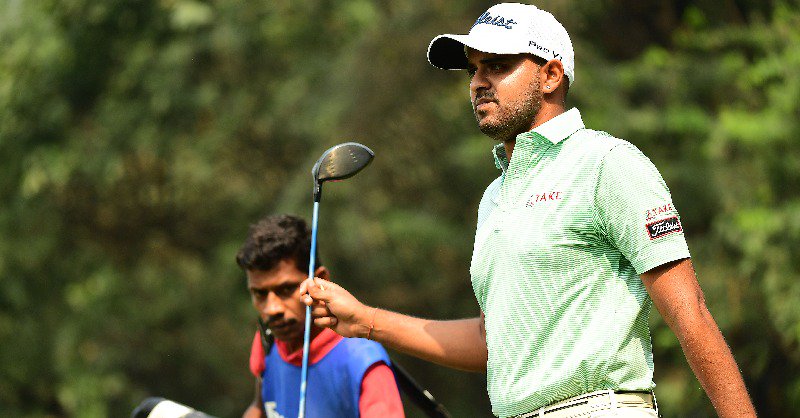 Ajeetesh Sandhu secures tied third, Aman Raj is fifth, debutant Kshitij Naveed Kaul claims tied sixth .
New Delhi, October 28, 2018: Indian golfers maintained their stranglehold over the Asian Tour's Panasonic Open India trophy as Bengaluru lad Khalin Joshi broke the victory barrier at the Delhi Golf Club (DGC) on Sunday.
Joshi, who had been runner-up on the Asian Tour on two previous occasions, produced a gallant final round performance of four-under-68 at the US$ 400,000 event to seal the title with a one-shot margin. His total of 17-under-271 was the joint lowest in the history of the tournament as he equaled Shiv Kapur's record from last year.
The 26-year-old Khalin, the overnight joint leader, also became the seventh Indian to win the tournament in a total of eight editions. Bangladesh's Md Siddikur Rahman, who was the overnight joint leader along with Joshi, finished runner-up at 16-under-272 as a result of his last round of 69. India's Ajeetesh Sandhu came up with a fourth round of 70 to finish tied third at 14-under-274 along with Thailand's Suradit Yongcharoenchai (69).The two other exceptional performances by Indians this week came from Aman Raj and rookie Kshitij Naveed Kaul.
While Aman Raj carded a final round of 69 to post a career-best fifth place finish on the Asian Tour, Kshitij Naveed Kaul, making his professional debut this week, had a dream start to his pro career as he claimed tied sixth place at 12-under-276 courtesy his last round of 68.
Khalin Joshi (71-68-64-68) didn't start the final round as per his expectations as he stumbled with bogeys on the first and third due to a couple of bad breaks, an ordinary bunker shot on the first and a bad lie in the rough on the third.
However, the three-time winner on the PGTI, displayed tremendous grit thereafter to launch a brave fightback. Khalin began to turn it around with a good recovery from the trees on the eighth where he went on to sink a tough downhill 12-footer for birdie.
Joshi, the man with two top-10s on the Asian Tour earlier this season, then quickly followed that up with another birdie on the 10th before striking it rich towards the end with four birdies on the last five holes. Khalin, tied for the lead with Siddikur after 17 holes, became the second new Indian winner on the Asian Tour this year after Viraj Madappa when he sank the all-important seven-foot birdie putt on the 18th for victory.
Khalin's success was the sixth by an Indian on the international level this year. It also accounted for the fifth win by an Indian on the Asian Tour in 2018.
Joshi said, "I have no words honestly. It's a huge monkey of my back.I think I played really well. Kept my nerves and played really solid coming in. The last 4 holes were key for me. All night I was thinking about the 16th hole tee shot because that tee shot has haunted me for a while now.
"You know I am really relieved and really happy. I don't know if it was nerves but just poor decision making I guess, starting off with two bogeys. But I still knew that there was a lot of golf to be played. I was playing well and it was just a matter of time. You know the birdie I made on 8th gave me a lot of confidence that I am not very far away and I got to keep sticking to my game plan, I got to keep playing aggressive. You know like that's all I did. Then again I hit the driver on 18th and I played very aggressive and that's what paid off.
"This year I played very different from the previous years. I have seen many of the pastchampions going for it in 2 on the par 5's. but I have been hitting 3 irons in the past. You know it was just believing in myself and playing aggressive golf. That was key for me this week. On the 18th, I just knew I had the advantage over Siddikur because he didn't have a driver. So I just knew that I had to keep it in play.
"This win means the world to me. Winning anyway was great but winning at Delhi Golf Club was unbelievable. All the spectators and crowd over here were very supportive. I have a bunch of friends over here, hopefully I gave them a good show.
"For me the world ranking points, jumping up in the order of merit in the Asian Tour was key. Going forward and playing as good as I am playing. I have four big weeks coming up after this. I am going to go back work on my game and come back fresh for Hong Kong.
"Just gives me a sense of satisfaction for sure. I have been close a few times, a bunch of my friends have won. All of my close friends have won. I told Rahil at the start of the week that I am leaving Bangalore, I hope I can be the Indian Panasonic Open champion and here I am standing with the trophy. Just very happy with the way I played all week, it has obviously given me a great sense of satisfaction."
Former Indian Open champion Siddikur Rahman (67-66-70-69), who like Khalin made a birdie on the 17th to begin the last hole in the joint lead with him, couldn't make it a second title at the DGC. He missed a 10 footer for birdie on the last hole.
Ajeetesh Sandhu (67-67-70-70), lying overnight third and one off the lead, had a quiet day with three birdies and a bogey. Sandhu was in the joint lead till the 13th but then had a bad bounce with his second shot on the 14th and landed in the bushes which led to a bogey. He couldn't catch up with Khalin and Siddikur thereafter.
M Dharma (71) and Mukesh Kumar (68) finished tied 10th at 10-under-278 to make it six Indians in the top-10.
Karandeep Kochhar (68) and Sachin Baisoya (73) took a share of 15thplace at eight-under-280.
Last year's champion Shiv Kapur (72) closed the week in tied 24th at five-under-283.