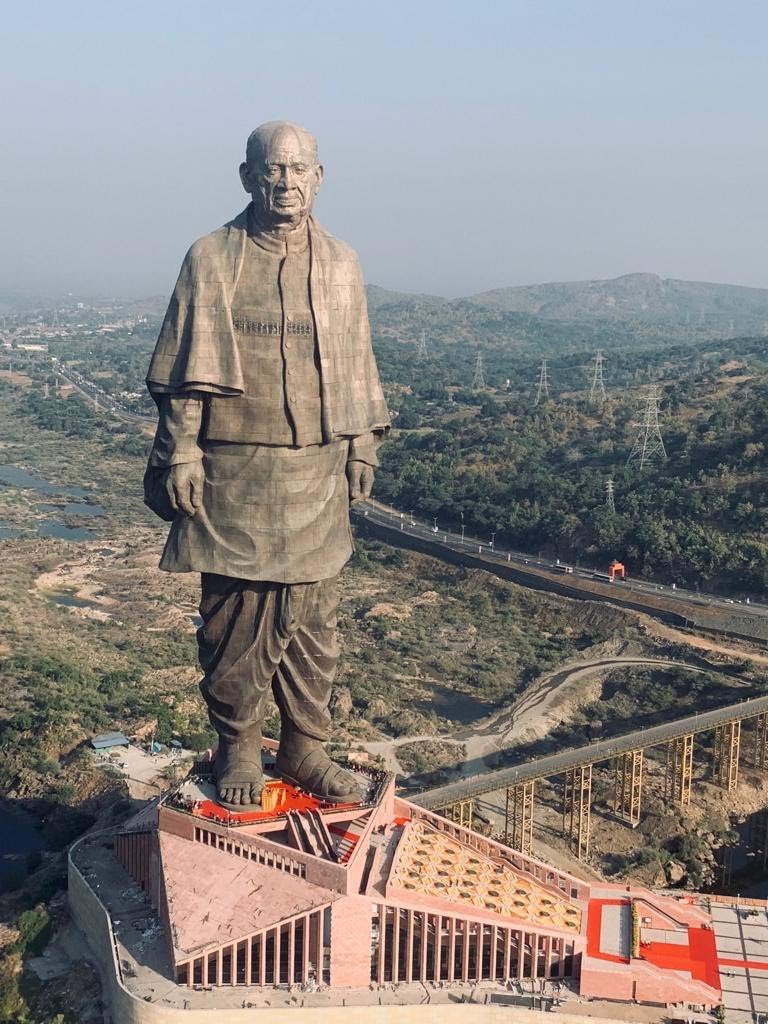 Sardar Patel Dam Plan Cost Rs.1019cr, Statue Rs.2989cr
November06, 2018 (C) Ravinder Singh ravindersinvent@gmail.com
When India can build Rs.2998 Cr Project 'Statue' in 2-3 years on schedule – Public Works of Most Important Category Projects are delayed by 30 Plus years in case of SSP & Yamuna Dams.
Dedicated Freight Corridors & Signature Bridge, Tejas & Defense Equipment are/were delayed by decades.
Original cost of Sardar Sarovar Dam 'Civil Work' was Rs.1,019 Cr in 1987 and project cost Rs.6,406 Cr including Power Stations, Main Canal, Distribution & Rehabilitation.
Rs.62,028 Cr is already spent as on March2018, SSP Project in many ways is not ready and performing.
Irrigation Potential Utilization 35%, Power Reduced to 30%. Only Water Supply through pipelines is fully operational.  
Only 645538 Hectares of 1.8m+ Hectare Irrigation Potential is utilized so far.
Last year 2017-18 a 65 yrs old Pigmy 77 MW Kotla Hydro Station of BBMB produced 508 MU when 250 MW Canal Bed Power Station of SSP produced 562 MU.
1200 MW Riverbed Power Station of SSP produced only 376 MU. Not operated this year.
[Average Narmada Basin Dam Storage for 10 years is 15 BCM Monsoon Filling against 21 BCM Storage Capacity & 34 BCM[28 MAF] Allocation by NWDT.
Not considered Hydro Power Cost – Madhya Pradesh has started Full Use of Its Allocation of Water thus 1200 MW Riverbed Power House is Non Functional]
2018 Peak Summer water supply in 40,000 Cusec canal was just 4000 to 5000 cusecs and substantially less or no water available for Agriculture & Industrial use.
http://nca.gov.in/forms_pdf/status-report/Status_Report_Mar_2018.pdf
Against SSP 1450 MW Capacity, Hydro Power Generation was only939 MU [2017-18] against peak of 5877 MU in 2013-14.
http://www.cea.nic.in/reports/monthly/generation/2018/October/tentative/opm_16.pdf
This year April-October 2018-19 Sardar Sarover Project 1450 MW generation is barely 208 MU compared to 309 MU for same period last year.
There is Zero Generation at 1200 MW Riverbed Power Station due to shortage of water. In 2013-14 it produced 5216 MU. 77 MW Kotla and77 MW Ganguwal Hydro Stations down stream of BBMB produced362 MU and 355 MU respectively.
Bhakra Dam itself produced 2540 MU in 7 months which is low butBhakra storage on Nov01 was 87% so shall make up.
INVENTING INDIA THINK TANK – INNOVATIVE TECHNOLOGIES & PROJECTS
Innovative Energy, Power, Transport, Water, Smart Cities, Manufacturing, IT, Agro Projects & Technologies 
Y-77, Hauz Khas, New, Delhi-110016, India. Ph: 8826415770, 9871056471, 9871711430