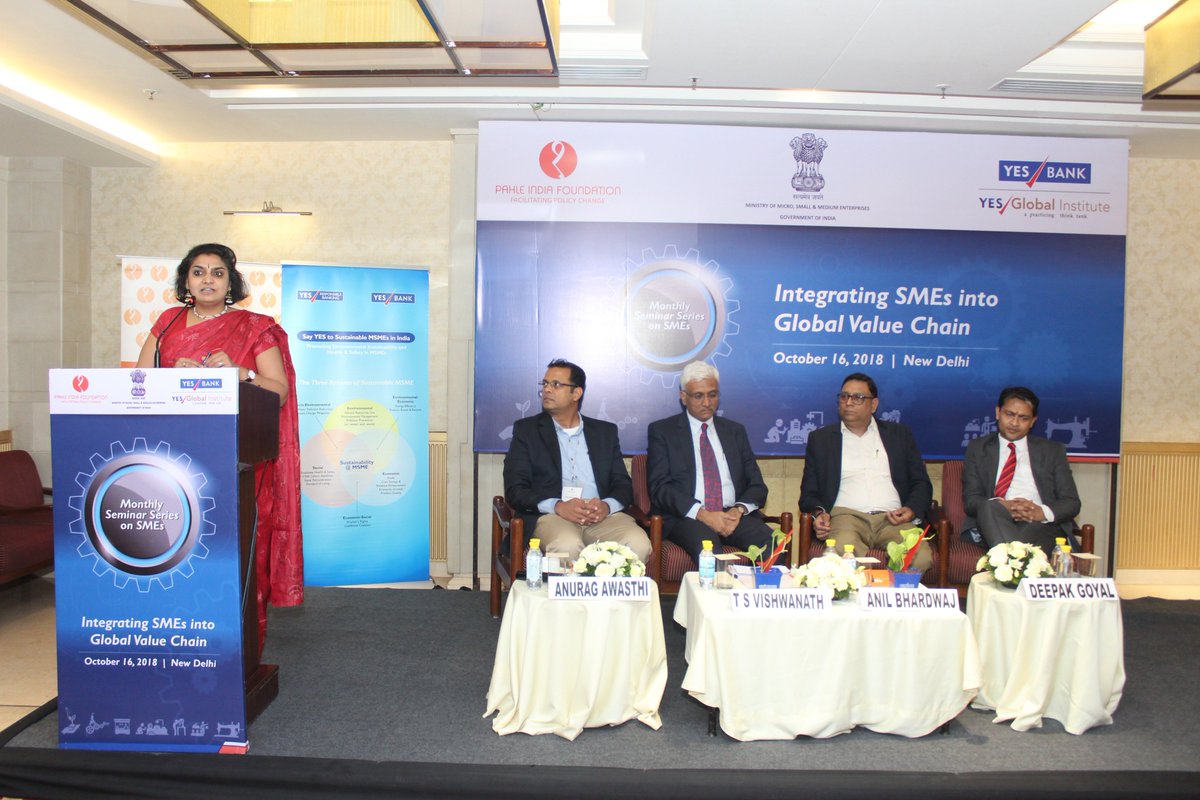 Dear Mr. Sagar
Seasons' Greetings from Pahle India Foundation (PIF)!
We approach the final months of the incumbent government. While the budget for 2019 may only be a Vote on Account, Pahle India Foundation believes that it is an opportune time for the government to review its reform agenda over the last five years and pay attention to any unfinished business that exists.
With this in mind, Pahle India Foundation is organising our 2nd annual pre-budget conference titled "Budget 2019- Appraising Reforms and Unfinished Business" on November 29, 2018, at Tamarind Hall, India Habitat Centre, New Delhi – 110 003. 
Dr. Rajiv Kumar, Vice Chairman of NITI Aayog will be Chairing this session "The Bigger Picture – Infrastructure, Investment and Expenditure". 
We plan to hold four sessions, broadly classified under the themes of macro economy, trade and industry, social welfare, and defence and foreign policy. A detailed document is being prepared in which we have listed all reform announcements made by the government during their term. We have examined all budget speeches, outcome budgets, the PM's Independence Day speeches, Mann ki Baat addresses, Committee Reports adopted by the government, and documents issued by the Ministry of Finance and other line ministries. We have relied on information that is available on the public domain. Having compiled this list, we have graded each reform on the basis of the scale of the reform, the time taken for first action, the current status of the reform, and if it has had the desired outcome based on the stated objective of the reform.
Our preliminary analysis indicates that there have been over 450 reform announcements made by this government. Of these, we find that the government has been largely successful in implementing the majority. However, we have also identified around 75-100 reforms that have either had no follow through, or have not had the desired impact. We are in the process of gleaning this list further.
We hope to submit a comprehensive report that encapsulates our analysis, the discussions at the conference, and the recommendations that would have emerged in order to push policy forward.
In this regard, may we request you to join us at this important seminar. Alternatively, you may also nominate senior officials of your organisation to participate in the same. A line in confirmation of your participation sent to Mr. Anil Kumar, Assistant Manager, PIF, at anil.kumar@pahleindia.orgwill be greatly appreciated. He may also be reached at +91 11 41551498 or at +91 8826408889.
Please find below draft programme for your reference.
We do hope you will be able to accept this request and look forward to hearing from you soon.
Many thanks,
Regards,
Nirupama Soundararajan
Senior Fellow & Head of Research
**************************************************************
Pahle India Foundation
C4/54 First Floor, Safdarjung Development Area , New Delhi – 110016
Phone   : +91 11 41551498
Website: www.pahleindia.org
**************************************************************
Programme
9:30 am onwards
Registration
10:15 am – 11:45 am
Session I: The Bigger Picture – Infrastructure, Investment and Expenditure
 

 

 

 

 

 

 

Chair: Dr. Rajiv Kumar, Vice Chairman, NITI Aayog (confirmed)

Invited Panellists:

Prof. Charan Singh, CEO, Egrow Foundation (Moderator)

Dr. Ajit Ranade, Chief Economist, Aditya Birla Group

Mr. Junaid Ahmed, Country Director, World Bank

Mr. Sujoy Bose, Managing Director & CEO, NIIF

11:45 am – 12:00 noon
Tea Break
12:00 noon –1:15 pm
Session II: Formalisation of the Economy – Trade, Industry and Digital Economy
 
Chair: Mr. Ramesh Abhishek, Secretary, DIPP

Invited Panellists:

Mr. Sunil Sanghai, Founder & CEO, NovaDhruva Capital Private Limited (Moderator)

Dr. Sanjeev Sanyal, Principal Economic Advisor,Department of Economic Affairs, Ministry of Finance

Mr. Rashesh Shah, Chairman, MD & CEO, Edelweiss

Ms. Debjani Ghosh, President, NASSCOM

Mr. Avinash Ramachandra, Director – Public Policy, Amazon

Mr. Sanjay Salian, Co-Chairman, MSME Development Council, ASSOCHAM

1:15 pm – 2.15 pm
Networking Luncheon
2.15 pm – 3.45 pm
Session III: Sabka Saath, Sabka Vikaas – Social Welfare
 
Chair: Dr. Vinod Kumar Paul, Member, NITI AAYOG

Invited Panellists:

Mr. Royston Braganza, Chief Executive Officer, Grameen Capital India Ltd. (Moderator)

Dr. PK Joshi, Director, IFPRI Asia

Mr. Srinath Sridharan, Board of Director, DHFL

Ms. Sangita Reddy, Joint Managing Director, Apollo Hospitals Group

Ms. Sushma Berlia, President, Apeejay Stya Group

3.45 pm – 4.00 pm
Tea Break
4.00 pm – 5.15 pm
Session IV: Fortifying India – Defence and Foreign Policy
 

 

 

 

 

 

 

 

 

Chair: Dr. Ajay Kumar, Secretary, DDP (MoD)

Invited Panellists:

Mr. T. N. Ninan, Editorial Director, Business Standard(Moderator)

Dr. S. Jaishankar, Former Foreign Secretary & President – Global Corporate Affairs, TATA Sons

Air Vice Marshal J. Chalapati, IAF

Mr. Jayant D. Patil, Whole Time Director & Senior Executive Vice President – Defence Business, Larsen & Toubro Limited

Cdr. Ashmeet Sidhu, Head – Naval Systems, Thales India Pvt. Ltd.