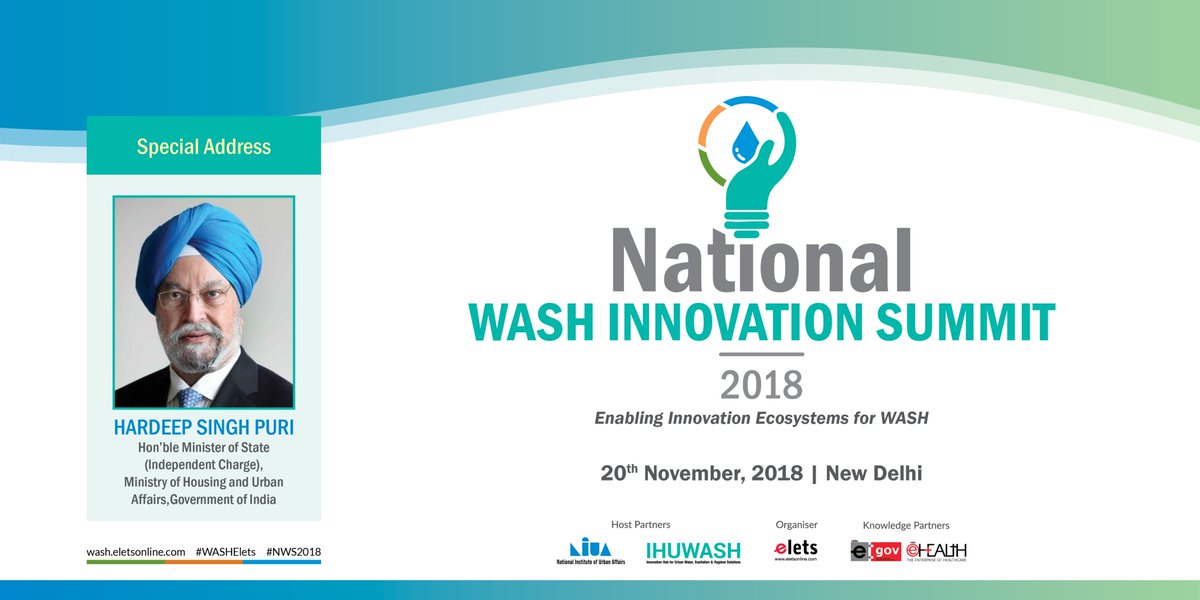 To,
Sir/ Madam
Subject: Join as Free Delegate in National WASH Summit to be held in New Delhi on 20 November 2018 to be inaugurated by Union Urban Development Minister.
We take the pleasure to announce that National WASH Summit 2018 is being jointly organised by National Institute of Urban Affairs (NIUA) and Elets Technomedia Pvt Ltd. The Summit will be held on Tuesday, 20th November, 2018 at The Park, Parliament Street, New Delhi. The theme of the Summit is Enabling Innovation Ecosystems for WASH Solutions.
Shri Hardeep Singh Puri, Hon'ble Minister (IC), Ministry of Housing and Urban Affairs, Government of India has agreed to grace the occasion as the Chief Guest of the Summit.
To achieve universal, affordable and sustainable access to safe drinking Water, Sanitation and Hygiene (WASH) services for all; collaborative efforts from the Government, private sector, institutions and civil society are required.
To develop this ecosystem, Innovation Hub for Urban Water, Sanitation, Hygiene Solutions (IHUWASH) project is being implemented by NIUA in partnership with Ennovent in the cities of Faridabad, Udaipur and Mysuru. The project is supported by United States Agency for International Development (USAID).
The aim of the project is to promote innovative, affordable, sustainable and scalable solutions by developing partnerships. In each city, an enabling ecosystem has been created by building partnerships among urban local bodies, academic institutions in the form of WASH Labs, and private sector engagement through WASH Forums.
To make public and community toilets user friendly, designs for innovative and gender sensitive public sanitation facilities have also been provided. The Summit will bring together key WASH stakeholders, government bodies, civil society, donors, innovators, for supporting, enabling and sustaining innovative WASH solutions.
I am pleased to invite you to join as free Delegate in 'National WASH Summit' to be held in New Delhi on 20 November 2018 to be inaugurated by Union Urban Development Minister
Yours Sincerely,
Dr. Ravi Gupta
CEO and Editor-in-Chief
Elets Technomedia Pvt. Ltd.
For more information, Please Contact – Sourabh Dixit; +91-9971475342, washsummith@egovonline.net;