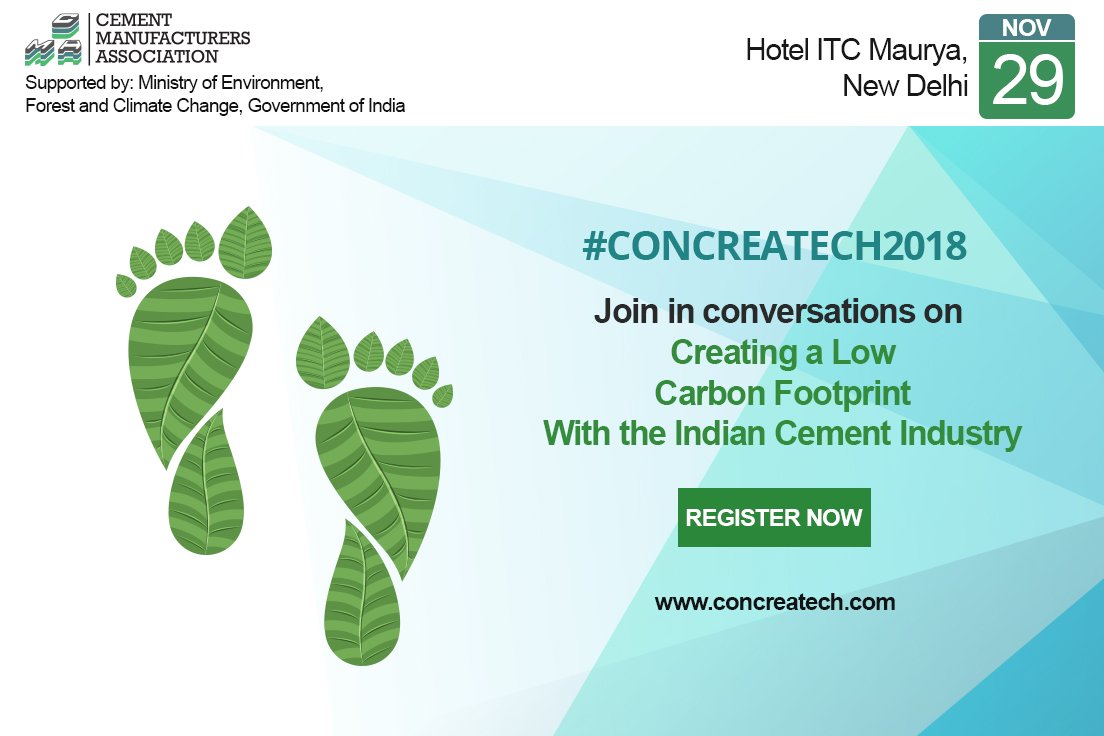 Dear Mr Sagar,
I am writing to invite you to the Cement Manufacturers Conference CONCREATECH scheduled to be held on November 29, 2018, at Hotel ITC Maurya, New Delhi. The Ministry of Environment, Forest and Climate Change, Government of India, is the Supporting Ministry for the CMA Conference. CONCREATECH is our endeavour to nurture discussions on a sustained basis on matters of importance across industries.
Briefly, the theme of the Conference is inspired by the infrastructure imperative of the Nation and the growing realisation towards ensuring sustainable growth. We have designed an agenda that is mainstream and relevant to audiences across industries.
Environment responsiveness, energy efficiencies, circular economy, innovation in building materials, smart mobility solutions in an always on, connected world are the new ideas gaining significance in the changing context to ensure sustainable growth through optimal resource utilisation.
As India readies itself for the next level of cusp of growth, it is more than ever looking at aligning regulatory policies with its global sustainability commitments. Whatever the drivers that are prompting change – internal necessities or external commitments – it is leading to a rethink and reorientation in business, processes and, indeed, the approach to the whole ecosystem.
We feel the need at this juncture for an exchange of ideas and dialogue with policy makers and businesses to comprehend where are we headed — are sustainability models to be the order of the day for business, is industry in India to take the lead in delivering on a nation's global commitments and the emergent innovative ecosystems.
CONCREATECH 2018 receives some of the finest minds and authoritative speakers from the Government of India, Industry and research institutions from within the Country and overseas to lead discussions and provide insights into matters critical to business across industries.
In a format conducive to candid discussion, CONCREATECH 2018 will probe issues of significance to sustainability and business in India. Please visit www.concreatech.com for the latest updates on CONCREATECH.
Participation to CONCREATECH 2018 is by invitation only. It is complimentary but space is limited. I would, therefore, request you to register today at http://concreatech.com/registration/. Should your schedule not be permitting, I would request you to nominate a senior colleague to join us at CONCREATECH 2018.
I look forward to receiving you at CONCREATECH in November 2018.
Best
Aparna Dutt Sharma
—————————————
Aparna Dutt Sharma
Secretary General
Cement Manufacturers Association
NOIDA
Tel +91 120 2411955/57; 24120609
Web www.cmaindia.org