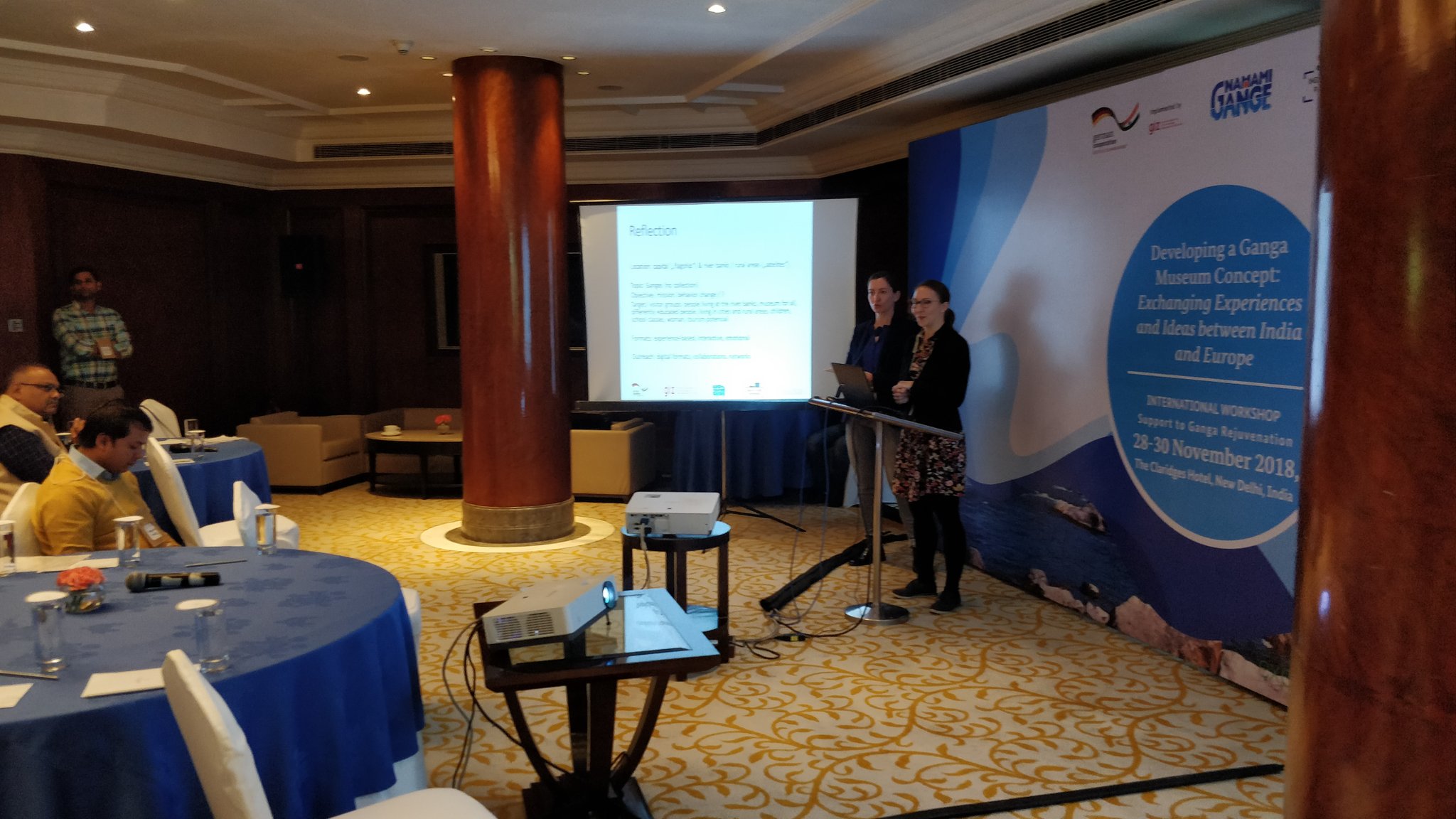 Two Day International Seminar on developing a 'Ganga Museum' held by NMCG in association with GIZ India concludes with a roadmap
A 2-day workshop on "Developing a Ganga Museum Concept: Exchanging Experiences and Ideas between India and Europe" concluded on Friday. NMCG organized the workshop along with GIZ India as a part of Indo German Development Co-operation. During the brainstorming session, global experts from as many as 35 locations brainstormed on the various aspects of the development of the museum.
Speaking on the occasion, Shri Rajiv Ranjan Mishra, Director General, National Mission for Clean Ganga, thanked the international delegation for participating in the brainstorming sessions. The exchange of ideas between museum experts from Europe and India has helped in creating an enabling knowledge ecosystem resulting in several thought-provoking sessions.
He further added, 'In the recent past, we have progressed well in the infrastructure projects, hence, we can focus on other aspects of the river. We have emphasized on public outreach and this can be another important step in this direction. In recent times, we have tried to engage different partners of our mission including River basin management and GIS among others.' He also said, 'setting up of a museum is a time consuming and complex process but we can immediately take up some exhibition components. In fact, the WII under the Namami Gange program is almost ready on a floating museum on Ganga.'
Speaking on the occasion, Shri DP Mathuriya, ED, Technical, NMCG said, he is looking forward to the handbook, which will be created after the completion of the deliberations with clear milestones in place.  
At the conclusion of the workshop Martina said, 'I thank all the participants for having followed the call of Ganga by joining in this workshop and contributing whole heartedly towards its success.'
Mita Chakravarty from Indian Museum, Kolkata suggested to take up cataloguing of museum artifacts on Ganga in different museums starting with Kolkata museum itself. Moumita from Bihar Museum Patna, offered to have a Ganga Exhibition in the museum.
The National Mission for Clean Ganga carries out a diverse variety of works under the umbrella of the Namami Gange Programme which includes sewerage treatment infrastructure, river front development, river surface cleaning, biodiversity conservation and research, industrial pollution abatement, public participation, Ganga Grams, afforestation and Ganga Knowledge Center. As a part of the public outreach activities, the establishment of the Ganga Museum and Interpretation Center has been visualized as a key platform for dissemination of the information related to the river Ganga's history, mythology, contemporary facts, cultural ethos and Ganga rejuvenation.
Participants include Ms. Martina Bukard, Program Head, GIZ India, Ms. Sussane Annen and Katharina Chrubasik from the Rhine Exhibition, Art and Exhibition Hall of the Federal Republic of Germany; Time a Szalia from Danube Museum; Ralf Braun from Haus am Strom (House on the river); Dorit Liebers-Heilberg and Uwe Besse from German Oceanographic Museum Foundation; Shakeel Hossain from The Ganges Exhibition at National Museum; Dr. Mita Chakraborty from Indian Museum ,Kolkata; Dr. Hans-Jorg Czech, Museum of the City of Hamburg; Attila Gyor, Saint Stephen King Museum and Dr. Thorsten Smidt, Museum of Modern German History.