Various exit polls has different results;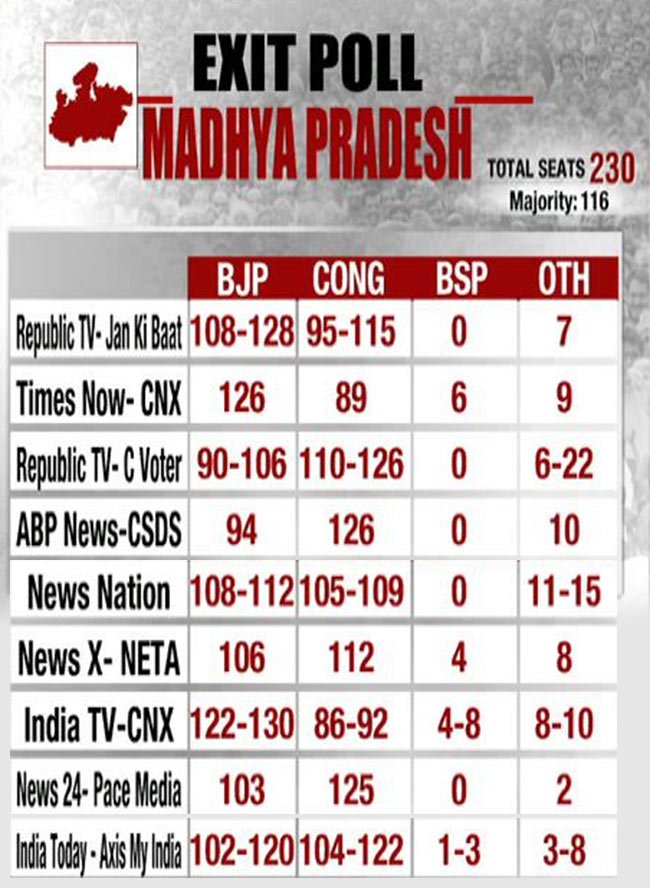 MP CM calls himself 'biggest pollster', predicts BJP win:
As the exit polls predicted a tight race with the Congress,  Madhya Pradesh Chief Minister Shivraj Singh Chouhan on Saturday expressed confidence that the BJP would win a comfortable majority in the assembly election to form a government for the fourth consecutive time
"I am the biggest surveyor (pollster) as I remain in the midst of public all day long. The BJP is set to romp home," Chouhan told reporters after visiting the famous Shree Pitambara Peeth temple in Datia.
He was asked about exit polls predicting a close fight between the BJP and the Congress.
"We have got the blessings of every section of society in the elections and we are on the way to win the polls," he claimed.
The state went to polls on November 28 and results for the 230-member House will be declared on December 11.
"Abki baar, 200 par (this time, over 200 seats)," Chouhan said repeating the BJP's slogan for the MP polls.
"I have come to seek the blessing of goddess Pitambara for the well being of Madhya Pradesh," the chief minister said.
While Republic TV-Jan Ki Baat exit poll gave 108-128 seats to the BJP and 95-115 to the Congress in the 230-member Madhya Pradesh, India Today-Axis said the saffron party could win 102-120 seats as against 104-122 for the Congress.
However, the Times Now-CNX exit poll predicted a majority for the BJP in MP with 126 seats and gave the Congress a tally of 89 seats.
On the other hand, ABP News exit poll said the Congress is likely to get a majority by bagging 126 seats. The BJP, it added, would get 94 seats. — PTI  
MadhyaPradeshElection-MadhyaPradeshElection2018: Shivraj Singh Chouhan rejects exit poll.
Exit poll results 2018: Congress to win in MP, Rajasthan, BJP slightly ahead in Chhattisgarh, TRS likely to retain Telangana
December08, 2018 (C) Ravinder Singh ravindersinvent@gmail.com
Though actual results will give the real picture but Exist Polls indicates Rahul Congress bungling in State Elections – Losing 4 out of 5 seats and majority margin too thin in Rajasthan is only 10 seats out of 199.
CEOs of a Multination Corporation is Replaced when he fails to earn Substantial Profits and Generate Growth but Rahul congress is losing 80% to 90% of Elections for 7-8 years.
It is ROTTEN FEELING when Rahul is SURROUNDED BY Party-men who may have lost 4-5 Elections at state or national level or are in Politics for 4-5 Decades.
Rahuls poll campaign was Pathetic – TARGETTED PM than CM for state elections couldn't find BIG issues for each BIG state where regional and district issues matter.
In a political organization of National Level – political power should be WIDELY distributed not 'Concentrated in One plus few others'.
Farm Loan waiver is common to all states but Rahul Gandhi couldn't find a Single CAPABLE farm leader to SEEK FARMERS VOTES & win the elections.
Issue of EVM Rigging is over 14 years old – in 2005 I exposed how Electricity Meters are rigged to Run Fast – SWITCH to SECURE BALLOTS for Casting of Votes in Elections is,
Ø SECURE – Ballots to have many Security features found in Currency Notes,
Ø Cost nothing practically – Rs.90 Cr to Rs.200 Cr depending on security features.
Ø Counting of Votes may begin within 2-3 hours of end of polling,
Ø We have currency counting machines which could be Programed to Count Ballots,
Ø Elections could be Organized in Single Phase,
Ø Save 30-50 days of Polling Campaign – 5% GAIN in GDP.
Rahul didn't Switch to SECURE BALLOT in Elections.
INVENTING INDIA THINK TANK – INNOVATIVE TECHNOLOGIES & PROJECTS
Innovative Energy, Power, Transport, Water, Smart Cities, Manufacturing, IT, Agro Projects & Technologies 
Y-77, Hauz Khas, New, Delhi-110016, India. Ph: 8826415770, 9871056471, 9871711430