Aam Aadmi Party chief spokesperson Saurabh Bharadwaj issued the following statement on Delhi Assembly silver jubilee year : The silver jubilee of the Delhi Legislative Assembly is a tribute to the residents of the national capital, whose aspirations this August House represents.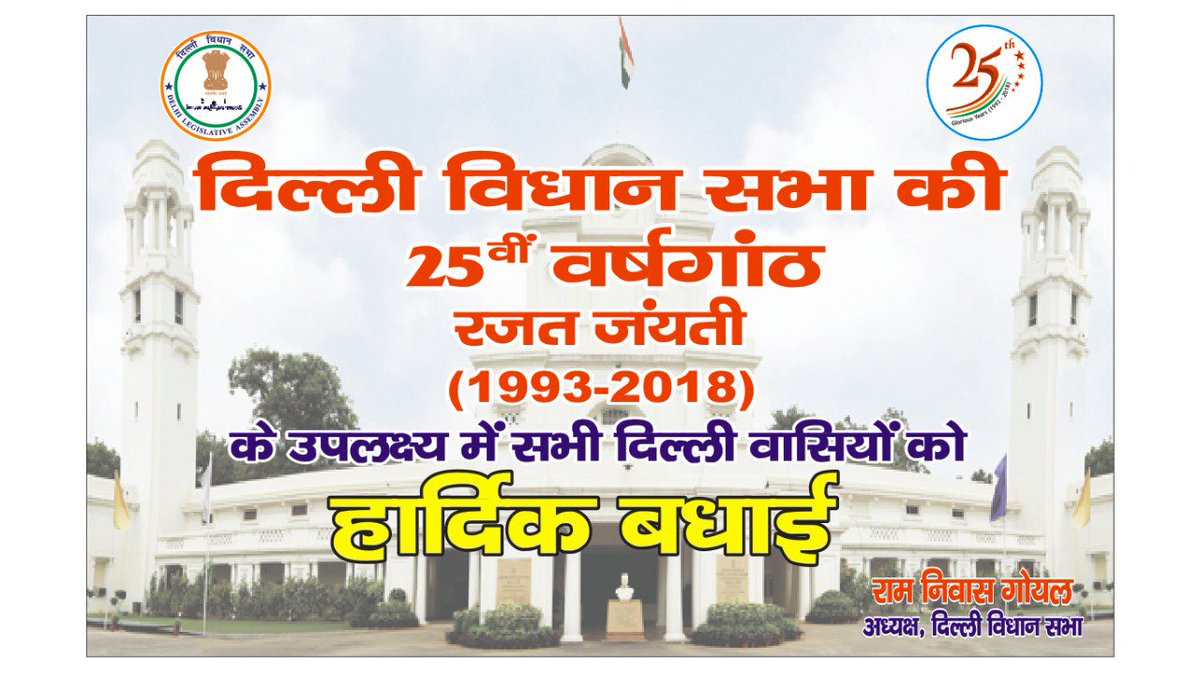 The coming into the existence of the Legislative Assembly in Delhi in 1993 was the culmination of decades of struggle of several individuals and organisations who fought for the rights of the voters of Delhi to be represented through their own Vidhan Sabha.
It was an extraordinary development in the history of the national capital that the Legislative Assembly in Delhi was created through the 69thConstitutional amendment, though the issue of statehood of Delhi remained unfulfilled in this amendment.
In the subsequent 25 years, voters of Delhi have elected their representatives for the Vidhan Sabha six times and the national capital has seen representation of all sections of the society in the Legislative Assembly successfully.
At this juncture, it is important to place on record the petty-minded attempts by some political forces to belittle the successful evolution of the Delhi Legislative Assembly.
It is a cheap tactic that some political parties, including a few non-existant ones, have issued loaded political statements about a non-political commemorative event.
Jealousy and falsehoods unfortunately have become a part of political process in our democracy, but was it necessary to stoop to such low levels on the eve of an event which is a matter of pride for the people of Delhi ?
Some leaders, who have been rendered politically irrelevant and unemployed by voters of Delhi are falsely claiming to have been elected as youngest MLAs, without even having bothered to check records and having remained Speakers for a few months are rendering unsolicited advice to the current Speaker, who has held the post for nearly four years and is one of the eldest legislators in the history of Delhi's legislature.
Others, who were offered the legislative courtesy by the Speaker to hold the Leader of the Opposition, despite the same party having denied that right to the opposition in the Lok Sabha are giving factually incorrect statements.
In our view it is time for the hon'ble Speaker to revisit his decision and review whether such individuals are worthy of the Leader of the Opposition post ?
The two parties, one which barely has any presence in the Assembly and the other, which lives in history, both of whom fail to understand the dynamics of a changing Delhi, which is now truly aspirational and the Assembly represents that progressive change.
These two parties, through their proxies left no stone unturned in defaming the Delhi Assembly through falsehoods and their legislative illiteracy has been repeatedly exposed with courts of law consistently upholding the decisions of the House during last four years.
Now, it is time for the Assembly led by the Speaker to begin a year of constructive programmes to mark the silver jubilee celebrations.