Press conference : Secretary Ministry Environment, Forest & Climate Change, Mr C.K. Mishra brief press on the outcome of 24th session of COP 24–which took place in Katowice, Poland from 2-14 December.
ICCR reports of COP- Paris is the basis of documenting the guidelines to be followed on emission levels.
India put forth Equity issue. On explaing Adoption fund for tec,to come from developed countries to developing nations each country  has to pay to build the corpse fund the issue guidelines to be in action with next meet. 
Global temp to maintain1.1.5 -2 degreeC
Snowing in hill has fog, dew, with no wind keeping foreign particles, choke the NCR region environment and  air.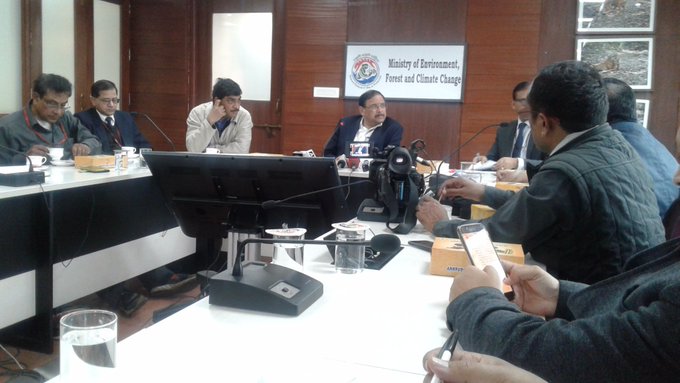 Brief on  Delhi air Quality steps taken as penalty and to restraint construction and industry activities at 6 nodal points in NCR – MCD, CPWD, NHAI asked to restrict construction activities. Further ministry  called for their reports in this prevailing emergency like environment condition and sought action taken in this regards.
Most of complaints filed on ministry environment site the degrading situation in the capital  run in thousands mainly of waste disposal, majority of such complaints attended thereto as per the authorities to media on their query.
Delhi to have 800 new buses and e buses and motor vehical are next Gen -Transport.