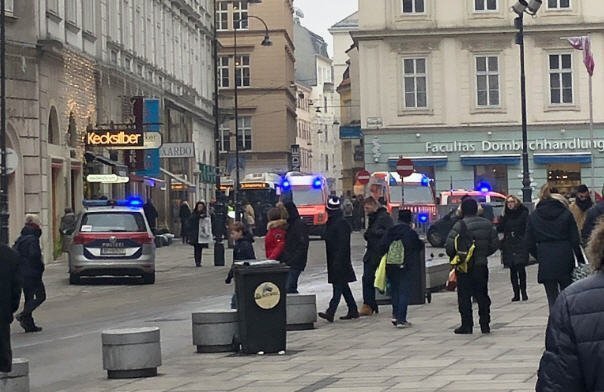 Police said a man fired several shots in the vicinity of a street called Lugeck in the Vienna city's first district at 1:30pm (1230 GMT).
Two people have been injured in a shooting attack at a restaurant popular with tourists in Vienna. Two people with gunshot wounds were found near the traditional Austrian Figlmueller restaurant, located just a few hundred meters away from Vienna's iconic St. Stephen's Cathedral.
Police confirmed the injuries and a manhunt has been launched with police helicopters circling the area to find the shooter.
An eyewitness said about "20 to 30 people suddenly ran into a panic" when the shots rang out.
A police cordon has been put in place and the area has been closed off.
It said that early indications pointed to a "targeted crime". "Following the shooting in the city centre, there are intensive search operations going on throughout the city," police said in a tweet. "There is no danger to bystanders at this time!," it added.
A police helicopter hovered over the city centre near where the two victims were found.
"There were two people lying on the ground, and the third guy was saying: 'Brother, brother!' in a Slavic language," the witness said.
A shooting which left one man dead and another seriously injured in central Vienna on Friday is thought to be linked to a Balkan mafia, police said in a statement Saturday.
"At the moment the crime looks as though it is connected to organised crime in the Western Balkans region," the statement said.
The shooting, which happened at around 13:30 local time on Friday, briefly sparked panic in the historic centre of the Austrian capital, in an area popular with tourists.
The two victims, aged 32 and 23, were part of a group of three men who were shot at by another man shortly after they left a restaurant.
The shooter escaped on foot — not in a car as some eyewitnesses had reported — and has not yet been found.
Police described him as around 30 years old, 1.85m tall and wearing a dark jacket with the hood pulled up.