Modi has out performed Manmohan Singh.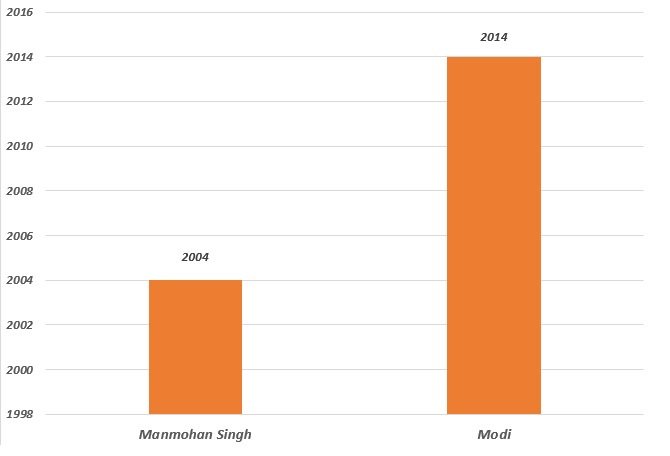 UPA-II NRI Deposits Growth 151% – NDA-II 4 Yrs Figure 21%   
December31, 2018 (C) Ravinder Singh progressindia2015@gmail.com
In this yearend report – though unqualified and uneducated politicians are de-rating Dr. Manmohan Singh performance and control over the government but there is no doubt he was SILENT PERFORMER. Even when India was recovering from Global Recession, Petroleum Prices were Double-Triple of present level throughout – Imports of Petroleum products was half of GOI Annual Budget and there was daily campaign to over throw his government – Government of India was PERFORMING & GLOBALLY RESPECTED.
https://rbidocs.rbi.org.in/rdocs/Publications/PDFs/TABLE%2014693970C22311B4975837273AAE766990C.PDF
Dr. Manmohab Singh rarely met NRIs yet NRI deposit grew by 151% under UPA-II – last 4 years growth is barely 21%.
https://rbidocs.rbi.org.in/rdocs/Publications/PDFs/TABLE469F915A18B9434420B79EDCC46043F457.PDF –
NDA-II Credit growth to Private Sector under Dr. Manmohan Singh was 51% in three years and to Industry was 57% – NDA-II Credit growth in 4 years was 39% only and credit to Industry was less than 2%.
https://rbidocs.rbi.org.in/rdocs/Publications/PDFs/TABLE477BC7DC5CC388454DBBA5C40264A14A9B.PDF
Worse of all credit to Food Processing almost Doubled – 90% in 3 Yrs from Rs.76,841 cr to Rs. 1,46,254 cr but in 4 Yrs under to Rs.1,55,358 or just 6% only.
NDA-II Personal Loans nearly doubled to Rs.19,08,400 cr, 25% of all private sector credit and almost equal to credit to Large Industry or Double of Agriculture Credit.
India didn't invest or NEGLECTED INVESTING in CLEAN ENERGY – Hydro Power, Nuclear Power, Rooftop Solar, Energy Efficiency etc – When Developed countries are Lowering Their GHG Emissions – Indian Emissions are rising.
Only 15 of the top 50 Fortune 500 India companies paid dividend, was 23 last year.
4 of 50 Loan GUZZLERS Pay Dividend – Top 10 Com Pay 0.5% Dividend of Rev
| | | | | | |
| --- | --- | --- | --- | --- | --- |
| Companies | 2018 Rev | Dividend | Companies | 2017 Rev | Dividend |
| 1. Indian Oil | 4,24,321 | 9,004 | 1. Indian Oil | 3,74,915 | 8,531 |
| 2. RIL | 4,10,295 | 00 | 2. RIL | 3,19,935 | 00 |
| 3. ONGC | 3,31,143 | 00 | 3. SBI | 2,98,640 | 2,109 |
| 4. SBI | 3,06,527 | 00 | 4. Tata Motor | 2,79,029 | 00 |
| 5. Tata Motors | 3,01,174 | 00 | 5. Rajesh Exp | 2,42,179 | 00 |
| 6. Bharat P. | 2,38,638 | 3,037 | 6. Bharat P. | 2,10,074 | 4,838 |
| 7. Hindustan P. | 2,21,693 | 00 | 7. Hindustan P. | 1,95,558 | 00 |
| 8. Rajesh E. | 1,87,748 | 00 | 8. ONGC | 1,36,822 | 00 |
| 9. Tata Steel | 1,47,192 | 00 | 9. Coal India | 1,26,214 | 12,353 |
| 10. Coal India | 1,32,897 | 10,242 | 10. TCS | 1,22,187 | 9,162 |
| Total | 27,01,628 | 14,183 | Total | 23,05,553 | 36,993 |
INVENTING INDIA THINK TANK – INNOVATIVE TECHNOLOGIES & PROJECTS
Innovative Energy, Power, Transport, Water, Smart Cities, Manufacturing, IT, Agro Projects & Technologies 
Y-77, Hauz Khas, New, Delhi-110016, India. Ph: 8826415770, 9871056471, 9871711430