Prime Minister Narendra Modi on Monday congratulated his Bangladeshi counterpart Sheikh Hasina on registering a landslide win in the general elections and assured her of India's continued support to the country's developmental strides.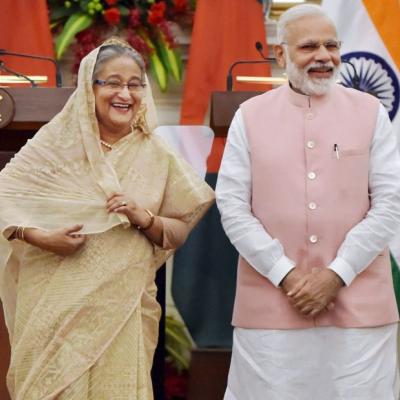 Hasina's ruling Awami League-led alliance has won over 267 seats in the 300-member Parliament, according to the latest report released by the Election Commission.
Prime Minister Modi had a telephonic conversation with his Bangladeshi counterpart Hasina following the results, said press secretary of Bangladesh Prime Minister Ihsanul Karim.
During the talks, Modi said that "Hasina's victory was the reflection of Bangladesh's stunning development under her dynamic leadership", according to Karim.
"Prime Minister Modi assured her of India's continued support to Bangladesh's developmental strides," the press secretary added.
According to the EC, Hasina's alliance has won the parliamentary vote with a
thumping majority.
Awami League-led coalition won more than 260 seats in the 300-member House. DBC TV aired results of 299 seats out of 300.
The ruling Awami League-led grand alliance bagged 266 seats and its ally Jatiya Party secured 21. The opposition National Unity Front (UNF) with BNP being its key partner got only seven seats. Independent candidates won in two seats. The election was postponed in one seat due to the death of a candidate.
Election Commission has declared result of Gopalganj constituency from where Sheikh Hasina bagged more than 2.29 lakh votes, while her BNP opponent got only 123 votes.
Opposition NUF alliance has rejected the outcome of the general election and demanded fresh polls under a neutral caretaker government.
The main opposition has rejected the "farcical" elections which claimed 18 lives and left over 200 injured, making it one of the deadliest polls in the country.