Thousands of homes and businesses have been left without power in eastern Sydney, Australia, electricity company Ausgrid reported on Thursday.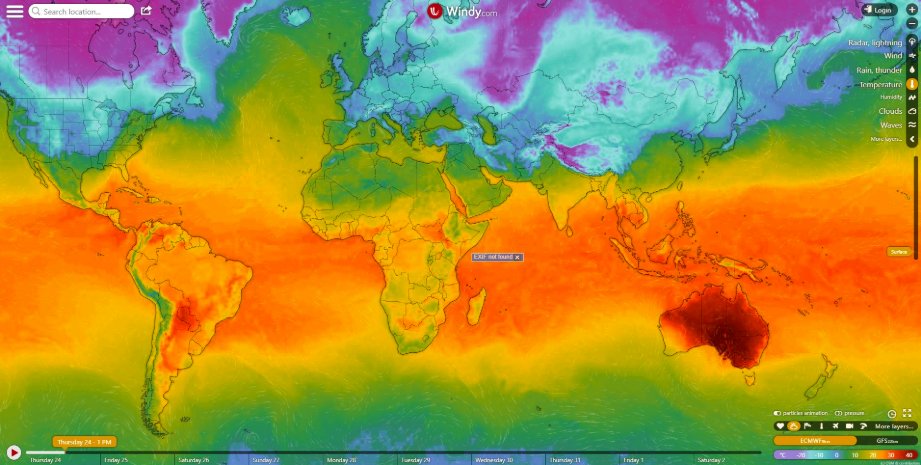 Australia's Blistering heat is shattering records with heat records are dissolving over large parts of Australia in what could end up as the nation's hottest summer on record. An especially fierce heat spike swept across the nation's south and east late this week, pushing wildfire risk to extreme levels.
At least 28 locations hit all-time highs on Thursday. In Adelaide, the capital of South Australia, the official West Terrace station rocketed to 46.6°C (115.9°F)—the highest temperature ever recorded at the designated reporting sites for any of Australia's state or territorial capitals. About 200 miles away, the city of Port Augusta hit its all-time high on Thursday with a blistering 49.5°C (121.1°F). That's unnervingly close to the nation's all-time high of 50.7°C (123.3°F), notched at Oodnadatta, South Australia, on January 2, 1960.
The incident also left several people trapped in elevators and disrupted traffic, after 23 traffic lights in the area were shut down, police said. The cause of the outage that was reported in Randwick, Bondi Junction, Bondi, Kensington, Waverley, Double Bay and Woollahra areas is still to be determined.
Power was restored to some 10,000 out of the 45,000 affected homes on Thursday afternoon. Sydney is currently battling a heatwave with temperature rising above 35 degrees °C (95 °F).
The furnace blast of hot air was being pushed eastward across southern Australia by a strong upper-level trough in the Southern Ocean and a surface front pulling hot air toward coastal regions from the torrid Outback. On Friday, the heat was predicted to spike in Victoria, where Melbourne—the state capital and the nation's second largest city—was expecting a high of 44°C (111.2°F). The city hit 35°C (95°F) at 7:36 am Friday, which appears to be the earliest hour in the day such heat has ever been observed in Melbourne, according to Trewin.
Melbourne's average high in January is only 26°C (79°F), but most days are cooler than that, chilled by the proximity of the Southern Ocean, while a smaller number of days dominated by offshore flow are much warmer. The city's all-time high of 46.4°C (115.5°F) is probably safe at least through Friday.
Another capital city—Hobart, Tasmania—is predicted to hit 37°C (98.6°F) on Friday. Hobart's all-time high is 41.8°C (107.2°F).
Extreme heat engulfed much of Australia earlier this month. As reported by weather.com, the four days from January 12 to 15 were among the ten hottest days on record for the nation as a whole. All-time highs during that period included Tarcoola in South Australia, which hit 49°C (120.2°F) on January 15, its highest temperature in 116 years of recordkeeping. Even that high was broken with 49.1°C (120.4°F) on Thursday, January 24.
Noona recorded a daily minimum temperature of 35.9C (96.6°F) on January 18. According to Herrera, this is the highest minimum temperature ever recorded in the Southern Hemisphere, and the highest recorded anywhere on Earth during any January.
Among other all-time highs in recent weeks:
Cairns hit 43.6°C (110.5°F), on 26 November, beating 43.2°C (109.8°F) from 1923.
Alice Springs hit 45.6°C (114.1°F), on December 29, beating 45.2°C (113.4°F) from January 3, 1960.
This summer's brutal heat is having major impacts on thousands of feral horses, donkeys, and cattle, among other creatures.