Nancy invited young gen, Ensuring a bright future for our children & grandchildren must be at the heart of all we do as a Congress. #ForThePeople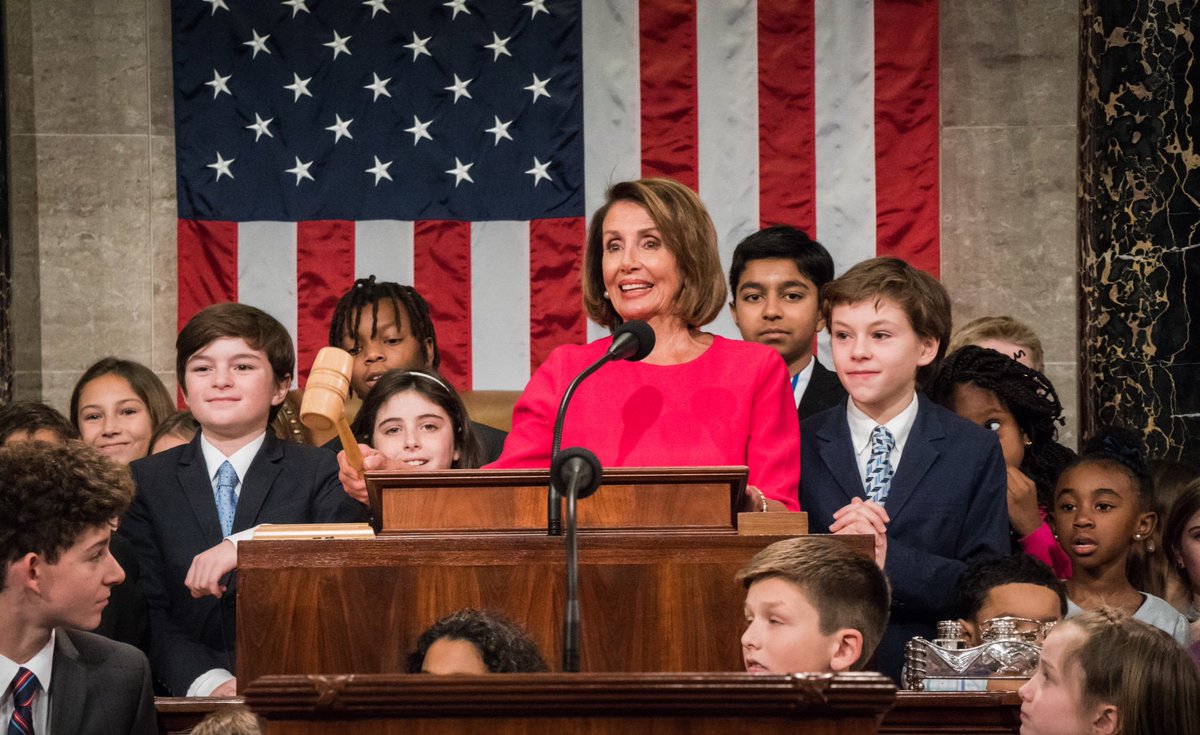 Democratic leader Nancy Pelosi, considered an ardent supporter of India-United States ties, has been elected as Speaker of the House of Representatives for the second time, becoming the most powerful elected woman in the US.
Democratic lawmaker Nancy Pelosi was elected speaker of the House Thursday for the second time, calling for unity but acknowledging she had "no illusions" that working with Republicans will be easy in the era of Donald Trump.
How it happens results are here, with 235 seats, Democrats now enjoy majority in the US House of Representatives. Republicans now have 199 seats in the 435-member House after the November elections.
Nancy  replaces Republican leader Paul Ryan, 48, in the new Congress. She won the speakership by 220-192 vote over the Republican leader Congress Kevin McCarthy, who is now the House Minority Leader.
Speaker is second in the US presidential line of succession, after the vice president and ahead of the president pro tempore of the Senate.
She said she wants to end the shutdown but will not support the wall.
"We enter this new Congress with a sense of great hope and confidence for the future, and deep humility and prayerfulness in the face of the challenges ahead," she said accepting the gavel as Speaker of the House.
Pelosi also makes history as she reclaims a title she previously held when she served as the first and so far only female House speaker from 2007 to 2011.
Democrats have regained control of the House of Representatives in the new Congress, marking a dramatic power shift on Capitol Hill less than two years before the Republican president's re-election bid.
The start of the new legislative session once again ushered in an era of divided government in Washington, with Democrats intent on checking Trump's turbulent White House.
Several lawmakers cheered and applauded at length when Pelosi reclaimed the gavel — a striking comeback for the only woman ever to hold the post.
In her opening speech, Pelosi vowed the new Congress would be "bipartisan and unifying" but acknowledged the reality of Washington's bitter divisions.
"We have no illusions that our work will be easy, that all of us in this chamber will always agree," she said.
"But let each of us pledge that when we disagree, we will respect each other and we will respect the truth," she added, in a likely dig at the president's aggressive style and his propensity to embellish facts.
While the "blue wave" swept dozens of House Republicans out of Congress last November, Trump's Republicans managed to modestly expand its majority in the Senate, meaning Washington gridlock is almost certain to deepen.