Ruckus continued in the Rajya Sabha on the last day of Winter Session as opposition parties objected to extension of the session by a day.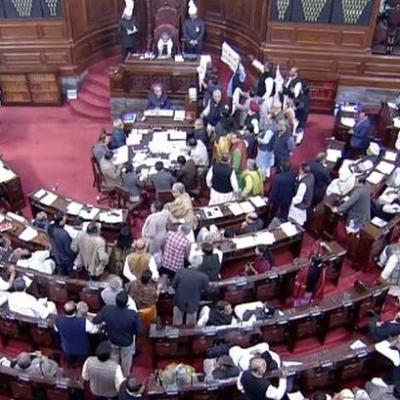 As the House commenced, Minister of State for Parliamentary Affairs Vijay Goel said that the government 'wants to extend the functioning of the House by a day as there are important bills to be passed'.
The RS was supposed to take up the bill supporting introduction of the 10 per cent quota for economically backward sections of upper castes and Citizenship (Amendment) Bill 2019, both of which were passed by the Lok Sabha on Tuesday.
Opposing the extension of the session, Congress's Anand Sharma said, "The way the House proceedings were extended without the consent of the opposition parties was not right.'
"The situation now is such that there is no dialogue between the Opposition and the government. The government is foremost responsible if the House doesn't function," Sharma said.
Union Finance Minister Arun Jaitley said, "The country expects the House to function. As per normal working days, we should have been working, on most of them the House stood adjourned. There is one extra day to consider legislations."
However, opposition members continued protesting and some members trooped into the Well, shouting slogans.
Amid continued ruckus, the deputy chairman adjourned the House till 12 noon.   — with ANI inputs