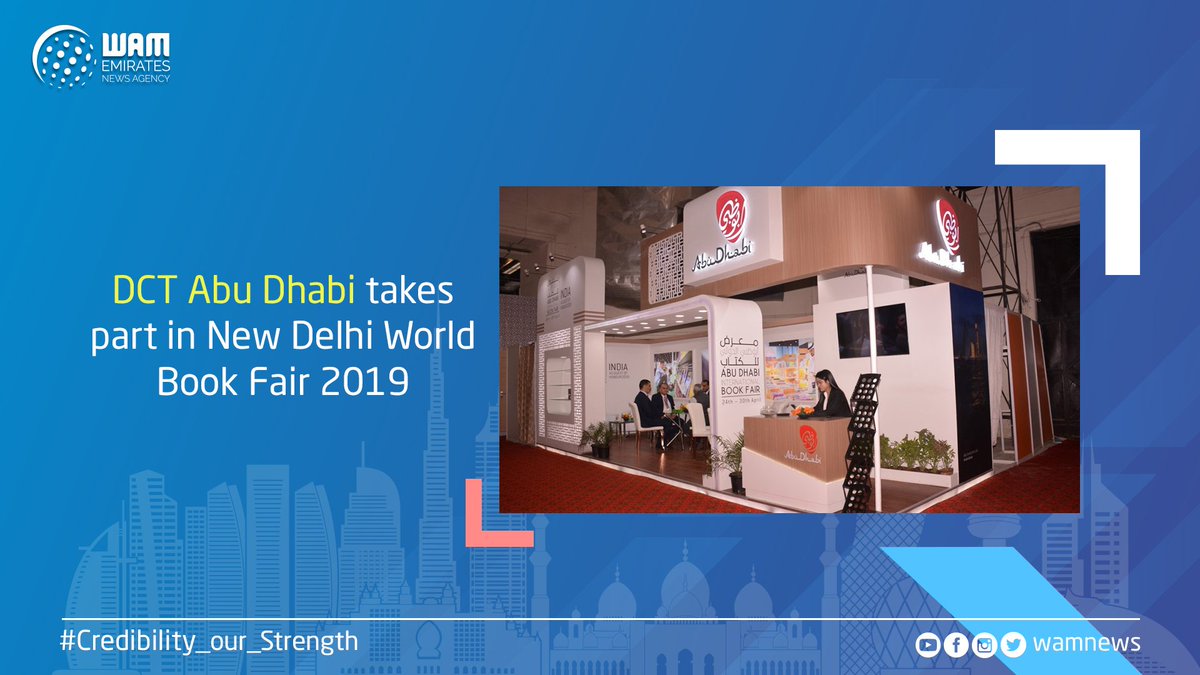 Meetings held to discuss India's upcoming Guest of Honour participation at
Abu Dhabi International Book Fair
All India, 10th January 2019: The Department of Culture and Tourism – Abu Dhabi (DCT Abu Dhabi) is participating in the 47th edition of the New Delhi World Book Fair, held from 5th – 13th January in India.
DCT Abu Dhabi's pavilion at the largest book fair in South Asia seeks to promote the features and services provided by the Abu Dhabi International Book Fair (ADIBF). Set to run from 24th – 30th April later this year, ADIBF 2019 will bring together publishers from around the world as well as avid readers from the GCC region. It will also promote the 'Spotlight on Rights' programme, which provides grant to publishers aiming to translate content from and to Arabic, in an effort to promote Arabic-language literary content and build relationships between Arabic and international publishers.
On the sidelines of the New Delhi World Book Fair, the DCT Abu Dhabi delegation, led by Abdulla Majed Al Ali, Acting Executive Director, National Library Sector at DCT Abu Dhabi, held meetings with HE Baldeo Bhai Sharma, Chairman of the National Book Trust, host of the Guest of Honour programme, and HE Rameesh Mittal, CAPIXEL Chairman, responsible for supporting Indian publishers' participation in international book fairs. The meetings discussed India's participation as Guest of Honour at the upcoming Abu Dhabi International Book Fair.
Abdulla Majed Al Ali said, "The New Delhi World Book Fair is one of the most prominent book fairs in Asia, allowing us to build important relationships in the industry and reach diverse audiences in the Indian subcontinent and beyond. It serves as a gateway to publishers in Asia, a valuable platform for forging new connections, and our participation here will enrich the experience of this year's edition of the Abu Dhabi International Book Fair – particularly with India as Guest of Honour."
The New Delhi World Book Fair is being held under the theme 'Readers with Special Needs', emphasising inclusive learning and featuring a selection of Braille, audio and silent books to address the needs of people of determination. The fair is running for nine days, and has attracted participation from over 1,000 Indian exhibitors and more than 30 foreign exhibitors.