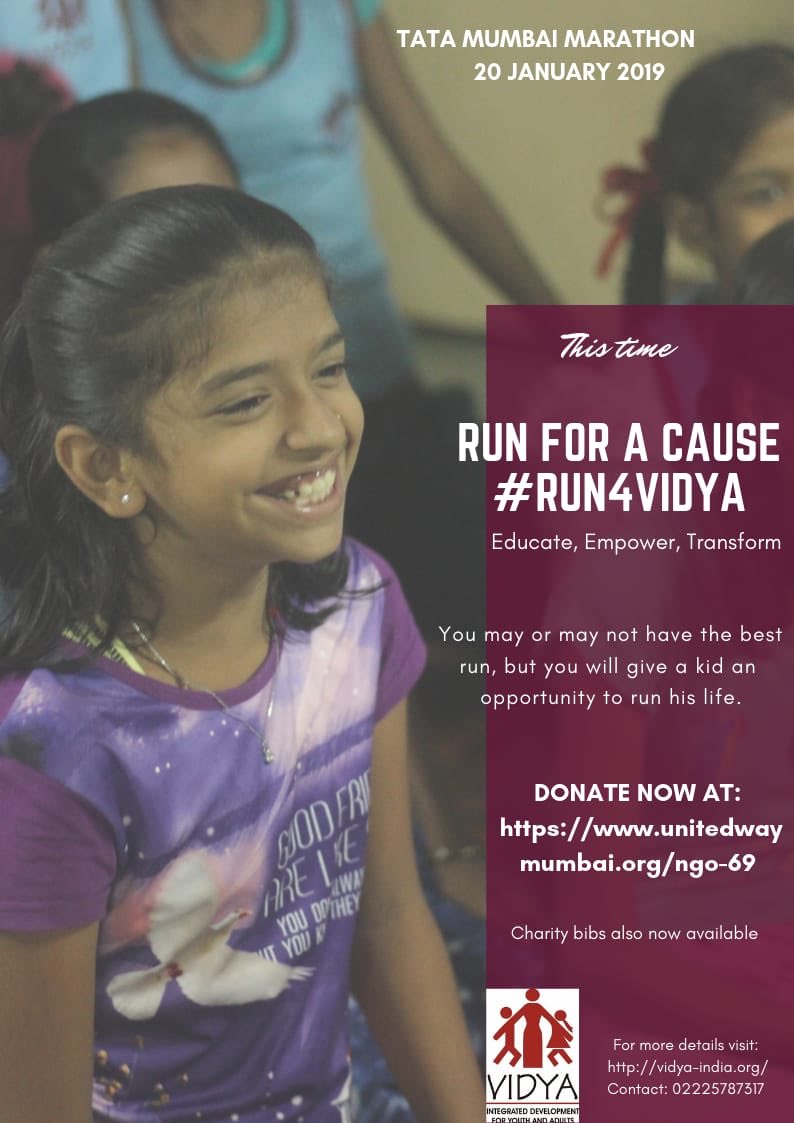 Raises more than ₹32 Crores for 270 NGOs, pre-race day
Over 1100 Individuals raise ₹11.73 Crores through the Individual Fundraising Category
MUMBAI, 15th 2019: The philanthropy pillar of the Tata Mumbai Marathon, promoted by Procam International, is the biggest philanthropic sporting platform in the country. The event has gone beyond running to bring people together – over and above politics, religion, race, colour, and gender. This includes not only runners but also spectators, volunteers, state and civic authorities, sponsors, fundraisers and all who experience and touch the event in different ways. The Tata Mumbai Marathon inspires people to 'Be Better' and the philanthropic pillar is a befitting example of this ethos.
United Way of Mumbai (UWM), the Philanthropy partner to the event, with the perseverance of 270 participating charities shattered all records in their philanthropic efforts raising an astounding ₹ 32 crores, pre-race day. These funds generated would help educate children, improve healthcare, provide livelihood opportunities, and safeguard the environment in communities across the country. The event has successfully forged a bond with civil society; empowering runners to power their runs by supporting various causes as well as enabling those who are not running, to participate via fundraising.
The Charity Platform
As the philanthropy partner of the Tata Mumbai Marathon, United Way Mumbai enables NGOs to raise funds for their projects through the event. United Way Mumbai maintains a cause neutral, level-playing field for all participating NGOs and provides a functional platform to various corporates and individual fundraisers to support these NGOs.
This year over 176 corporates have fielded 293 teams comprising of over 7,800 runners and have helped raise Rs 16.54 crore for 91 NGOs.
From a cumulative total of Rs 1.4 crores through 12 NGOs in the inaugural edition of the event, philanthropy at the event has made great strides. In this journey, there have been some extraordinary individuals who have raised phenomenal amounts; in the 2017 and 2018 editions two individuals, Mihir Doshi and Sankara Raman had raised Rs 1.3 crores and Rs 1.32 crores respectively, both shattering records in the individual fundraising category. This year, two fundraisers, Sankara Raman and Sanjeev Shah have already raised Rs 1.01 crores and Rs 1 crores respectively.
Jayanti Shukla, CEO, United Way Mumbai said: "With individuals breaking the 1-crore mark, we introduced the Change Legend title this year. Along with some distinct privileges, these remarkable individuals who raise over a crore, will always be recognized as Change Legends and will forever be a part of the Mumbai Marathon."
She added: "Since 2009, when United Way Mumbai took over as the philanthropy partner, the scale and the number of people and corporations supporting it has grown each year and is a heartening testament of the power of sport to mobilise social good."
On this occasion, Vivek Singh, Joint MD, Procam International said, "One of the most important aspects of the Tata Mumbai Marathon has been the immense positive response from all sections of society to the event's unique charity platform. The amount raised and the fundraisers have created new records every year, and the 2019 edition is no exception. We are extremely proud of our incredible journey with our philanthropy partners, United Way Mumbai, who have enabled the event to contribute in multiple ways to help society #BeBetter. We would like to express our heartfelt thanks to every individual who has worked towards this betterment and celebrate their commitment!"
Panelists for the press meet
Sankara Raman: Sankara Raman is a 56-year-old chartered account by profession and a philanthropist who has been participating in the Champions with Disability run for the past 12 years consecutively at the Mumbai Marathon and has cumulatively raised over Rs 6.68 crore. He raised Rs 1.3 Crore in the 2018 edition of TMM, receiving the highest fundraiser award. He has dedicated his life for the cause of disability and to the service of Amar Seva Sangam. Affected by Muscular Dystrophy himself, he aims to make Amar Seva Sangam a forerunner in disability management.