Sagar media inc:
Buddhist division in two parts central Asia to South Asia with Tibet as it's focal point.
Keynote Address: Dasho Karma Ura,about confluence of Bhutan religious and social popular with Royal King.Buddhist spiritual mid eight century talk of peace between two great nation. Buddhist spread Mongolia, China Cent South Asia,Kathmandu forms tantric, Tibetan.
Keynote Address: Dasho Karma Ura further adds Guru reveals the truth of literature explains interesting the meditating forms without any image or words but with control breathing is at heart of Buddhists philosophy.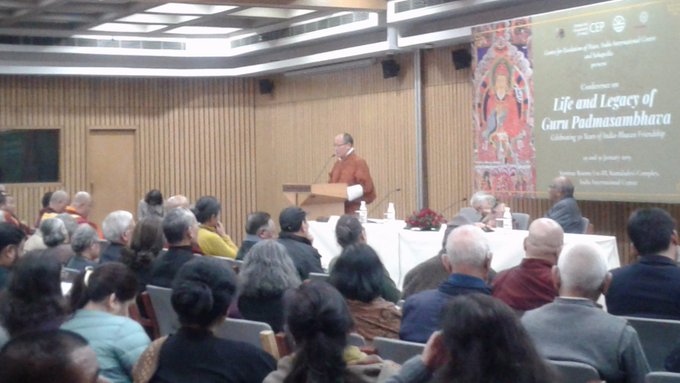 Naresh Kumar Saga
@Nksagar
Keynote Address: Dasho Karma Ura historical concept of Buddhists texts are impact, Tibetan – China and India architecture with Gautam Buddha teaching forms central theme and further parallel ideology run through Gurus which enrich Buddhism tantric, philosophy.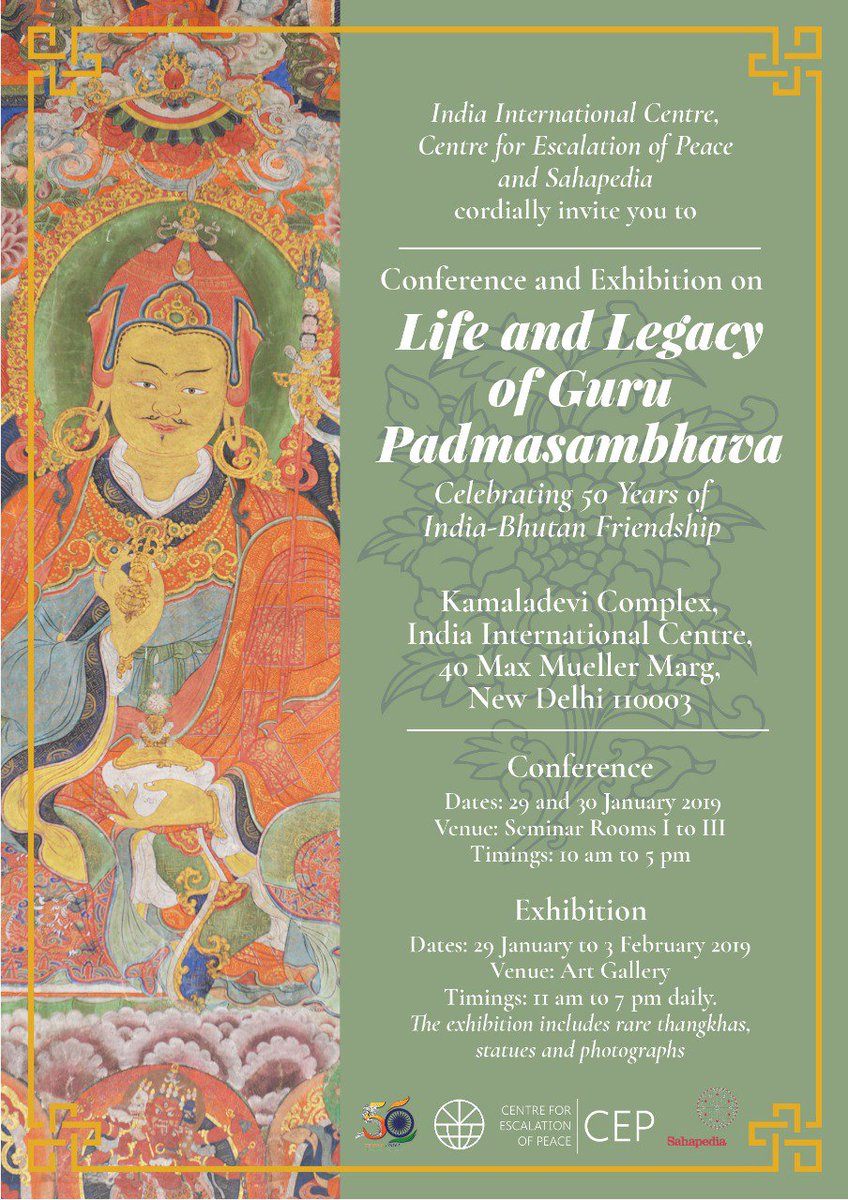 International conference on Guru Padmasambhava to explore life and legacy of
'Second Buddha'
New Delhi, Jan 28:
Centre for Escalation of Peace (CEP)

,

India International Centre (IIC)
and Sahapedia are organising a two-day conference on the rich tradition and legacy
associated with Guru Padmasambhava, one of the most revered and iconic figure for
Buddhists today.
The conference, titled 'Life and Legacy of Guru Padmasambhava', will be held on January 29
-30 at IIC in New Delhi. The event will bring together some of the most distinguished
scholars from India, Nepal and Bhutan, who will retrace aspects of the Guru's life and will high light the contemporary relevance of the Guru's teachings as well as the rich, divers
e
tradition associated with the 8 th century Rinpoche. The conference is slated to be one of the events celebrating the 50 years of diplomatic relations between India and Bhutan.
Amb. Shyam Saran, Life Trustee of the IIC, said "Guru Padmasambhava is known
as the
Second Buddha because he played a seminal role in spreading Buddhism and Buddhist
teachings across the Himalayan region, including Northeast India, Nepal, Bhutan and,
Tibet." Shri N.N. Vohra, President of the IIC, will inaugurate the event. The keyn
ote
address will be delivered by Dasho Karma Ura, President of Centre for Bhutan Studies
and credited with developing the Himalayan country's Gross National Happiness concept.
Other speakers include accomplished Buddhist practitioners such as Mingyur Rinpoche,
Neten Chockling Rinpoche and distinguished scholars such as Wangchuk Dorjee Negi,
Karma Phuntsho and Ian Baker.
The conference is open to the public and will be documented
—
presentations will
eventually be available on
w
w
w
.
cep
ea
ce.
or
g
and
w
w
w
.
sahap
ed
ia
.
or
g
.
Mr. Arun Kapur,
Director of Centre for Escalation of Peace, said, "Guru Padmasambhava undertook many
travels across India, Bhutan, Tibet and Nepal. A study into his travels demonstrates his
ability to contextualize and localize his message, taking into account the particularities of
place and sensibilities of the people. Guru Rinpoche found a way to celebrate our
individual differences in our shared commonalities. That is why, in addition to bringing
into focus the contemporary relevance of his teachings and the rich and diverse tradition
associated with him, this conference is dedicated to the 50 years of diplomatic relations
between India and Bhutan. Centre for Escalation of Peace organized the first
Padmasambhava Conference in 2016 in Bhutan in collaboration with Centre for Bhutan
S
tud
ie
s,
Th
imp
hu
as
a
j
oint
event
to
com
memo
r
at
e
th
e Birth Anniversary of Guru
Pa
d
masambhava
in
Pa
r
o,
Bhu
ta
n on 14
& 15
Ju
ne
2
0
1
6
.
"