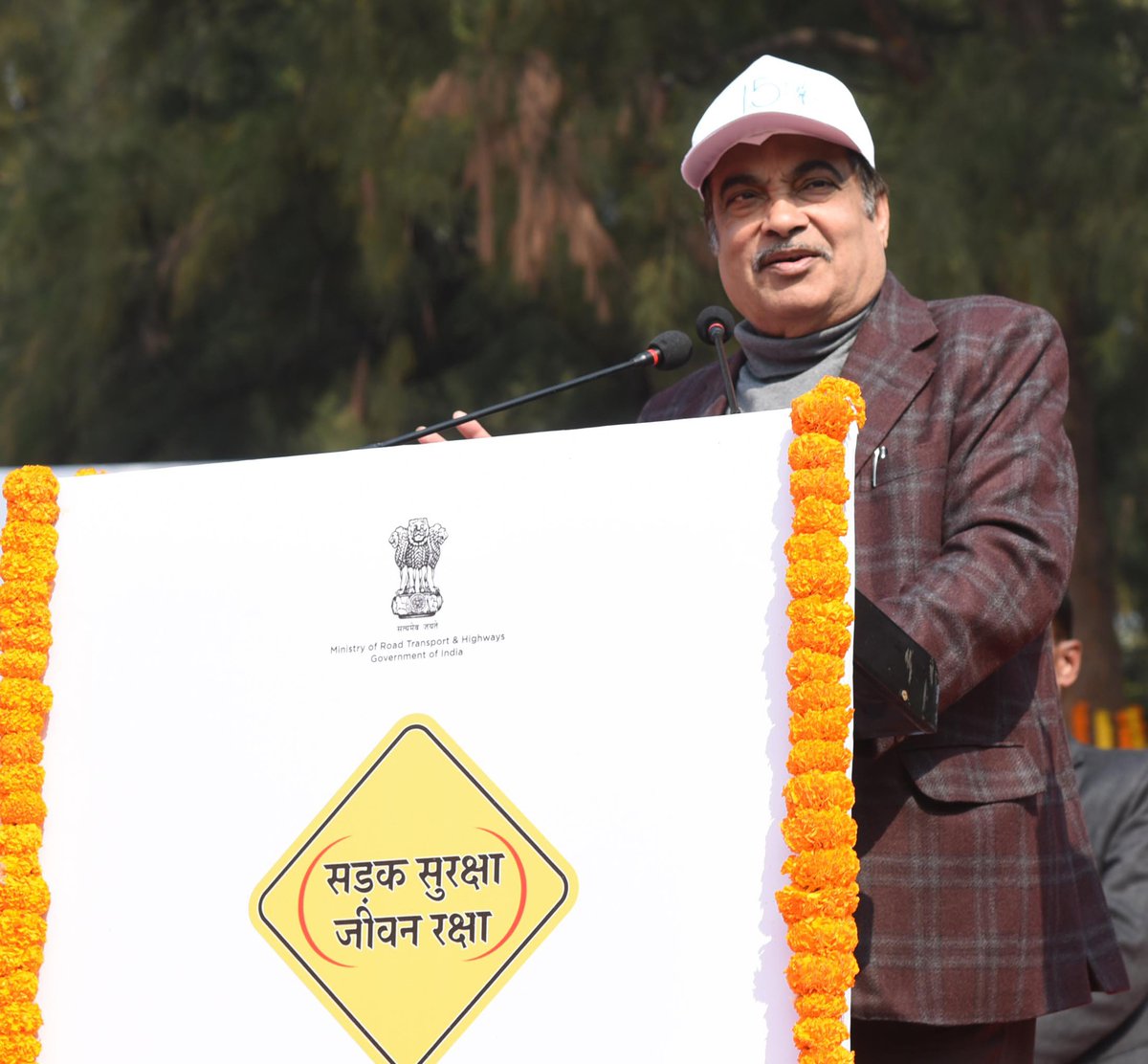 Rajnath Singh, Sushma Swaraj and Nitin Gadkari launch the Third edition of  iSAFE'19 students championship on road safety during the 30th National Road Safety Week
New Delhi February 4, 2019 With a vision to make Indian roads safer, Shri Rajnath Singh(Hon'ble Home Minister), Shri Nitin Gadkari (Hon'ble Minister of Road Transport and Highways, Shipping and Water Resources, River Development and Ganga Rejuvenation), Smt. Sushma Swaraj (Hon'ble minister of external affairs), Shri ML Mandaviya (Minister of State, Ministry of Road Transport and Highways) and Shri V. Kalyanam (Personal Secretary, Shri Mahatma Gandhi) launched the 3rd edition of iSAFE (9-Month long championship for 5000 schools and colleges across India)along with Motor Vehicle Driving Regulation Videos 2017 on the inaugural ceremony of 30th National Road Safety Week here today.
The Inauguration ceremony took place on 4th February 2019 at Gandhi Darshan Smriti Rajghat. The event started with the welcome speech by the Secretary of Road Transport and Highways followed by launch of various Road Safety Initiatives.
Launch of iSAFE'19 : The Safer India Challenge
With more than 50% of the 1.5 lakh road-crashes fatalities in India every year being of youth in the age groups 15-34, it is very important that youth realize the importance of being safe on roads. Hence, Ministry of Road Transport and Highways in collaboration with Indian Road Safety Campaign (a body by students and alumni of IIT Delhi), started an annual championship called as iSAFE: Safer India Challenge where the youth across the country from any background can join the government in solving road issues and Making Indian roads safer while doing what they like to do! Today, the 3rd edition of the championship was launched by Shri Nitin Gadkari, Shri Rajnath Singh and Smt. Sushma Swaraj during the launch of the 30th National Road Safety Week! With more than 1500 colleges participating till date, the expected participation this year is of 5000 colleges with help of state govts too.
The best colleges across the nation who will impact their community will be awarded prizes worth 25 lakhs as part of the championship.
Interested students can register by visiting iSAFE's official Website.
With a high benchmark set by the previous editions of iSAFE, this time the championship plans to reach greater heights of achievements by engaging students from every field. The projects initiated under this championship will significantly contribute towards a safer India. It also provides ample opportunities for students to organize and engage themselves in various innovative activities under its different domains.
As stated by Mr. Amar Srivastava, Founder and President of Indian Road Safety Campaign, "Youth is the strongest pillar of our country. They forge the future leaders who possess the power of bringing the change. Currently, India needs this power of youth to fight against the alarming issue of road safety".
Launch of Motor Vehicle Driving Regulation Videos 2017 
The govt came ahead with 37 rules and regulations as notifications to Motor Vehicle Act in 2017 to make Indian roads safer! To make the common man aware of these, Ministry of Road Transport and Highways and Indian Road Safety Campaign (a body by students and alumni of IIT Delhi), , have come up with an interesting and creative videos to explain these rules and to aware the masses about the same. The same videos are planned to be put up at each RTO and driving license center, each state ministry to aware the people about the rules. Once everyone knows about the rules we can expect them to follow these rules and regulations properly! if these videos become a part of the driving license procedure, then it can increase the awareness about road rules and regulations among the masses and improve road-safety in a massive scale! The videos were launched by the Ministers today at the inaugural ceremony of the 30th  National Road Safety Week and we must agree the ministry too is now using creative ways to spread awareness towards road safety!
With an aim to aware the maximum number of people about the good road practices and the importance of mindfulness while on road, Indian Road Safety Campaign will be organizing various events and sessions in 50+ cities on the occasion of 30th National Road Safety Week. Our target is to bring behavioral change towards road safety among the citizens of our country and invoke a sense of prioritization towards the same.
Indian Road Safety Campaign (IRSC), is one of the largest youth-led organization in India with a presence in over 50+ cities, 500+ colleges and working with the help of 2500+ youth working on spreading awareness, technical innovation, law, policy, and medical sectors. IRSC is presently working with organizations like the United Nations Institute of Training and Research (UNITAR), World Health Organisation (WHO), Ministry of Road Transport and Highways (MoRTH), India, Niti Aayog and OLA to change the scenario of road safety in India.
With a unified approach and a strong will, a sharp decline in the trend line of the number of fatalities due to road crashes can be observed in the upcoming years.
At this moment in India, we need more and more youth to don the hat of being a road-safety crusader and to solve one of the most pressing issues facing mankind today!
One person, one act can start something that can change the world!
Let's make Indian road safer together!