Well known Journalist, Film Critic Pradeep Sardana enters the India Book of Records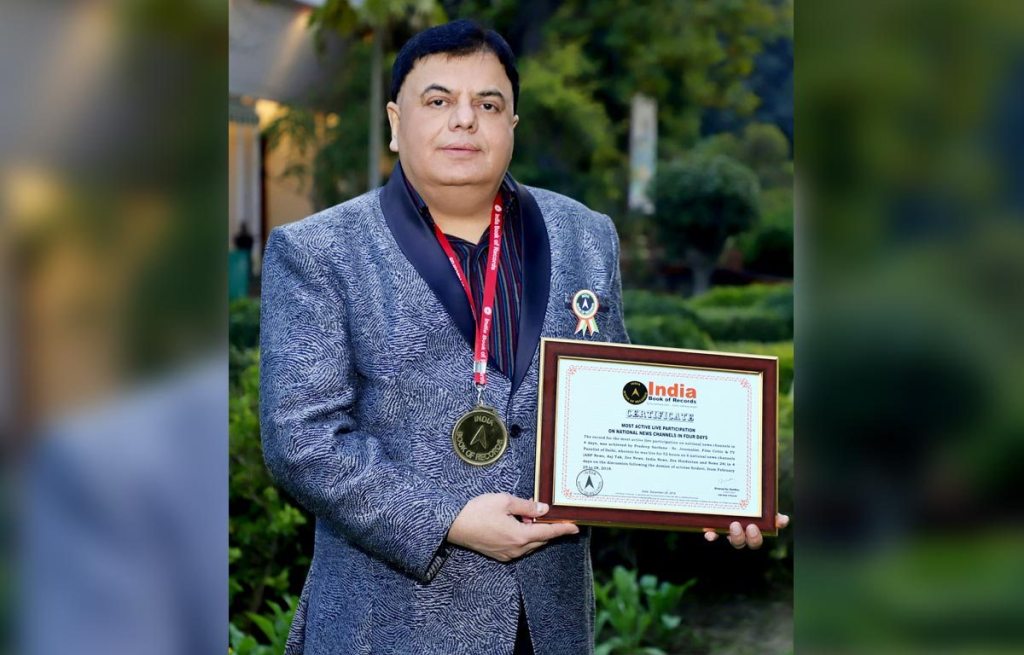 By creating a unique record of most live presence on National News Channels
New Delhi, February 7, 2019, Senior Journalist, Film Critic & TV Panelist Mr. Pradeep Sardana has entered the India Book of Records, by creating a unique record of 'Most Active Live Participation on National News Channels in Four Days.'
This record was created during his live presence of 52 hours on 6 National News Channels- ABP News, Aaj Tak, Zee News, India News, Zee Hindustan and News 24, in 4 days 25th – 28th February, 2018 discussing about the sudden demise of actress Sridevi. His record as Sr. Journalist, Film Critic and TV Panelist has been recognized and published in prestigious India Book of Records 2019 edition.
Apart from these channels, he was also present live on channels like Zee Business and India TV, discussing about the death of the legendary actress Sridevi. In this way, he was live from almost 7 am to 12 midnight continuously in these 4 days, on an average stretch of 13 hours per day.
During these days, he has not only expressed his views & analysis about Sridevi- being an actress and as a person, but has also shared his many memories with the legendary actress & 'The Moonlit' of Indian Cinema. His shows were not just highly viewed but also liked & appreciated by the viewers.
Delhi based Journalist Mr. Pradeep Sardana has been in Journalism from last  44 years, by starting his journalism career at the age of just 13. During this period, he has worked with top publishing media houses, such as Times of India Group, Hindustan Times Group, India Today Group etc. Has also worked for Dainik Jagran, Rajasthan Patrika, Dainik Bhaskar and Amar Ujala etc. He has started the first innings publication of Punarvas at the age of just 17. With this, he also became the youngest editor in country. He has been Pioneer in Journalism on Television as well.
Currently he is associated with Print, Electronic and Online Media, writing for leading newspapers like Navbharat Times, Hindustan, Dainik Tribune, Lokmat Samachar, Hari Bhoomi & Panchjanya.  He is also writing for Information & Broadcasting Ministry, (GOI) magazines – AajKal, Yojana and Baal Bharti and for Press Information Bureau (PIB) as well. He is writing for Web Portals of ABP News and BBC News regularly.  Apart from associating with all major National Hindi TV News Channels as Debate Panelist and Cinema expert, he is also doing shows as Film Expert with All India Radio- External Services Division, FM Rainbow & FM Gold. Well known Columnist Mr. Sardana is also the Chief Editor of Punarvas weekly, from last 26 years.