Congress workers trying to catch the glimpse of their leaders from all corners.
Congress president Rahul Gandhi, Priyanka Gandhi Vadra,  and Jyotiraditya Scindia have begun their roadshow in Lucknow. This is the first public rally of Priyanka Gandhi after taking charge as Congress's general secretary for Uttar Pradesh (East). Other Congress leaders like Raj Babbar also accompanied the three.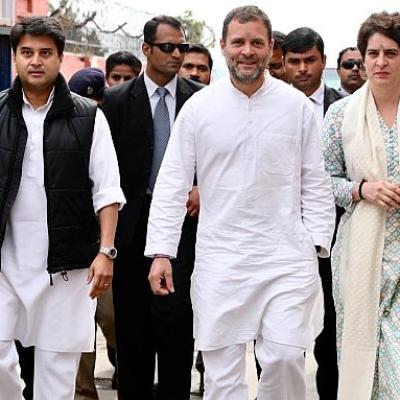 The roadshow will cover a stretch of 12 km from the airport to Nehru Bhawan. Priyanka's rally in Lucknow holds significance because Uttar Pradesh sends 80 MPs to the Lok Sabha. Priyanka Gandhi's road show in Lucknow will also be the Congress's first mega show of strength in Uttar Pradesh ahead of the 2019 Lok Sabha elections.
Reviving Congress fortunes in the eastern part of Uttar Pradesh will be a symbolic victory for the party as Allahabad has been home to the Nehru family and was also former Prime Minister Lal Bahadur Sastri's Lok Sabha seat. Neighbouring Phulpur used to be India's first Prime Minister Jawaharlal Nehru's Lok Sabha seat. Eastern Uttar Pradesh currently has strongholds of both Uttar Pradesh Chief Minister Yogi Adityanath and Prime Minister Narendra Modi.