Ambassador P. S. Raghavan
Chairman, National Security Advisory Board &
former Indian Ambassador to Russia (2014-16)>JANUARY 2019 | VOL 04 ISSUE 01 MONTHLY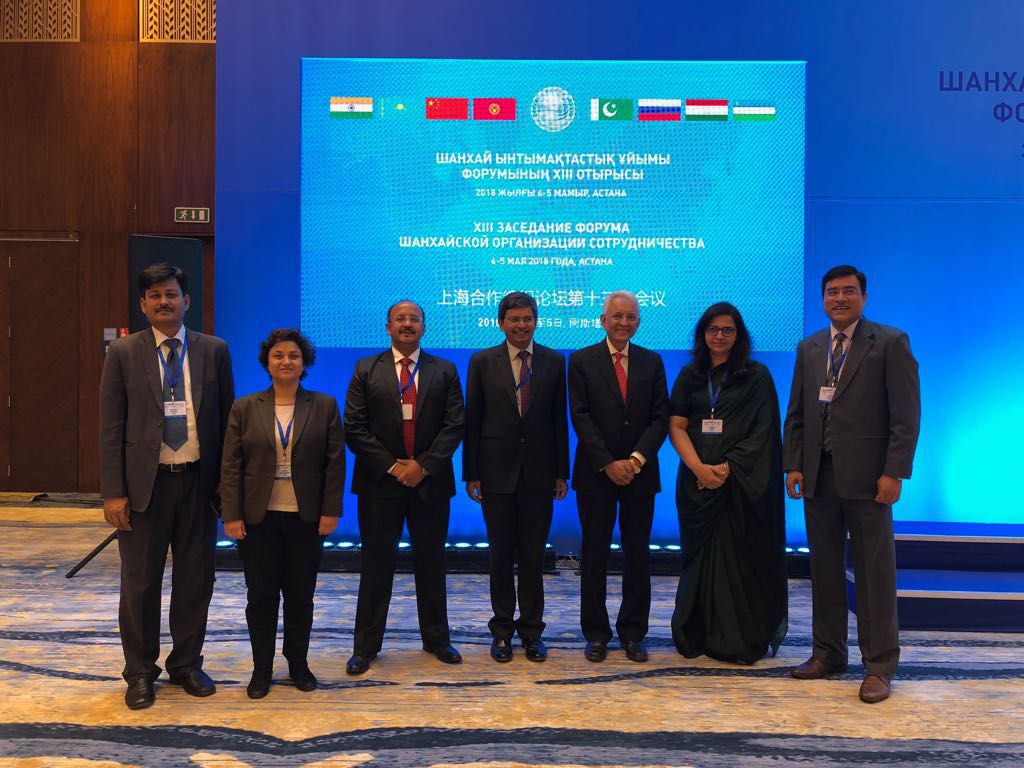 • Russia-Belarus disputes boil over
• INF Treaty revocation advanced further
• Multiple challenges from US withdrawal from Syria
• Russia vies with the US in Afghanistan
Russia-Belarus squabble
Recent months have seen a progressive public airing of differences between Russia and Belarus, including at the level of their Presidents. Sovereignty and economic benefit have been the bones of contention.
The sovereignty theme surfaced shortly after President Trump announced US' intention to withdraw from the Intermediate-range Nuclear Forces (INF) Treaty. A Russian Deputy Foreign Minister said Russia and Belarus had the military-technical capacity to counter an American military base in Poland (across the border from Belarus). The Russian Ambassador to Belarus went further and hinted at the possibility of a Russian base in Belarus. These statements were received with both apprehension and indignation in Belarus political circles. President Lukashenko took the opportunity of a call on him by a delegation of US think tanks to declare that Belarus does not require a foreign military base (including a Russian one) and is strong enough to defend itself.
The sovereignty theme recurred in the course of a bitter argument about Russian-Belarus economic relations. There have long been niggling economic grievances, typical for a smaller neighbour with an economically, politically and militarily stronger neighbour. In recent years, when Russia banned European agricultural and food imports (in retaliation for the post-Crimea western sanctions), Belarus exploited its customs union with Russia to become a conduit for European products into Russia. Russian customs' actions to choke off this lucrative business caused resentment. There have been other issues on loans and subsidies. However, the major new Belarus concern was the so-called Russian oil "tax manoeuvre". From 2019 through to 2024, Russia will gradually cut its oil export tax from the present 30% to zero, imposing instead a mineral extraction tax and further extending excise duty incentives to boost domestic oil refining. Belarus has benefited from importing duty-free Russian oil and exporting refined petrochemical products. It stands to lose, both from the reduced (reaching zero) differential in its oil procurement prices and the competition from the incentivized Russian refineries. Estimates put the consequent shortfall in Belarus revenues as US$ 8-12 billion over the next five years, with a huge impact on the country's budgetary situation. The Belarus demand for compensation from Russia became increasingly more strident, with harsh public words from both sides, including an angry outburst by President Lukashenko at a joint press conference of the Eurasian Economic Union (EaEU) Summit in St Petersburg (December 6), accusing Russia of selling gas on better terms to Germany than to its ally Belarus. President Putin's response was measured, but menacing to Belarus' ears: he said differential treatment should be merited by closer integration.
This put back on the agenda a 1999 Union State Treaty, by which Russia and Belarus agreed to form a supranational political and economic union. The treaty remained almost entirely unimplemented, as Belarus strengthened its national identity; eventually, the creation of a customs union within EaEU shelved further progress. Russian statements – from the initial hint of President Putin to more explicit statements by Prime Minister Medvedev and Finance Minister Siluanov – have made a direct connection between preferential economic treatment and progress towards the common currency, executive and judiciary that a union requires. Belarus' reactions have been strong, including that of President Lukashenko, who was reported to have accused Russia of trying to take over Belarus by hook or by crook.
President Putin has increasingly been devoting personal attention to repairing relations and reassuring President Lukashenko. In the last six months or so, the two have had six telephone conversations (the latest on January 31) and five summit meetings. The Belarus President has retraced his steps from open criticism of Russia and has reverted to effusive public exchanges with President Putin. He has, however, not retracted from his position that progress should be made on the EaEU agreement to create single markets of natural gas, oil and petroleum products by 2025. Negotiations continue at other levels, seeking mutually acceptable political and economic terms of a settlement – a trade-off between sovereignty and money.
The US and its allies spotted the political opportunity in this Russia-Belarus bickering, and some overtures were made to the country's leadership. US Assistant Secretary of State A. Weiss Mitchell visited Belarus in end-October 2018 (the highest-level official US visitor to Belarus in living memory) and was accorded a call on President Lukashenko, who was reported (by the official Belarus agency) to have told him that Belarus could be a reliable, honest, and sincere partner" [of the USA] and that Belarus-US relations are still far short of potential. A delegation of US think tanks with right-wing credentials visited Belarus in November, as also a group of Europeans from the Munich Security Conference – both were received by President Lukashenko, who repeated the message that Belarus was independent, open to the world and ready for equal and mutually respectful relations with US and Europe. In a speech to the Atlantic Council in October (even before he went to Minsk), Assistant Secretary Mitchell commented, "it is the national sovereignty and territorial integrity of frontier states like Ukraine, Georgia, and even Belarus (emphasis added) that offer the surest bulwark against Russian neo-imperialism".
President Putin's personal attention to Belarus issues may stem from the recollection that high-level Russian inattention accelerated the alienation of Georgia and Ukraine from Russia. Besides Belarus, the US is also engaging more closely with Kazakhstan, Uzbekistan and Turkmenistan; in turn, these countries welcome the room for manoeuvre it gives them vis a vis Russia and China. President Putin may be conscious of the strategic reality that for Russia to achieve his ambition of a truly global footprint, it needs to first secure its hold on its near-abroad.
Russia follows the US in suspending INF Treaty
In December 2018, the US (following up on President Trump's decision in October) announced suspension of its obligations under the Intermediate-Range Nuclear Forces (INF) Treaty in 60 days, unless Russia returns to "full and verifiable compliance."
Russia-US discussions in Geneva (January 15) to salvage the treaty were unsuccessful, with each side claiming compliance with the treaty and alleging violations by the other. Russia said it had offered to the US an inspection of the offending Russian missiles, if the latter permitted Russian inspection of its missiles in Poland and Romania. The US apparently rejected the Russian offer as falling short of INF compliance requirements and, in turn, demanded a verified destruction of the Russian systems, which the Russians rejected as an "unacceptable ultimatum".
Eventually, on February 2, when the US deadline ended, President Putin announced a "symmetrical" response: Russian suspension of participation in the INF Treaty and commencement of research, development and design work on intermediate-range systems. In a televised discussion with the Russian Foreign and Defence Ministers, he said that, even if Russia develops such systems, it will not deploy them either in Europe or anywhere else in the world, except in response to US deployment of such weapons. He asserted that Russia would not let itself be drawn into an expensive arms race and hence directed that research and development of new systems should be within the existing defence budget.
The other policy decision announced during the discussion was that Russia would no longer put forward arms control initiatives, since all its initiatives are routinely rebuffed. All existing proposals would remain on the table, but would be taken up only if interlocutors wish to commence discussion on them.
The EU High Representative for Foreign Affairs, Federica Mogherini was quoted as saying that Europe benefits from the INF Treaty and expressing the hope that it could still be preserved. When asked about this, the Russian MFA spokeswoman said derisively that it is a "wonderful statement", but "nobody listens to Europe in the US". She pointed to the fact that European countries' votes in the UN General Assembly on the Russian resolution for preservation of the INF Treaty did not reflect this position. In this context, it is also pertinent to recall the NATO statement in December 2018, endorsing US withdrawal from the INF Treaty (Review, 12/18), though some of NATO's European members had expressed different views earlier (Review, 10/18).
Syrian Challenges
As the ramifications of President Trump's announcement of US troop withdrawal from Syria unfolded, Russian efforts were focussed on protecting the framework it had painstakingly built to further its interests in and around Syria. At its core was the Astana process, balancing the divergent interests of Russia, Iran and Turkey, while keeping the Syrian government's interests adequately protected. It also included the combination of political, economic and military levers with Saudi Arabia, UAE, Egypt, Qatar, Jordan and Israel to ensure that, even while working at cross-purposes in pursuit of their interests, they did not rock the boat beyond a point.
President Trump's senior advisors persuaded him that the 30-day deadline he had first announced was not sufficient for an orderly withdrawal of American troops and equipment and securing American interests in Syria. Senior Administration representatives thereafter spelt out various conditions for withdrawal, including protection of Kurdish gains and elimination of Iranian influence. President Trump himself said the US would continue fighting ISIS in Syria and "keep a watch on Iran" with forces stationed in Iraq. His tweet on President Erdogan's assurance that Turkey would eliminate the remnants of ISIS from Syria drew the reaction from President Erdogan that Turkey would militarily intervene in Northern Syria to ensure that terrorists – both ISIS and the Kurdish militia unit YPG -did not occupy the vacuum created by American withdrawal. President Trump responded with a warning that the US would "devastate Turkey economically", if it attacked the Kurds. He suggested (echoing an Erdogan proposal of 2013) a "safe zone" along the Turkish-Syrian border, extending up to 32 km, to meet Turkey's security concerns. Turkey's desire to establish and militarily police this safe zone did not find endorsement from other actors in the region.
Multiple Turkish-American interactions at high political and military levels indicated that the US may be seeking a solution that meets Turkey's concerns and furthers the US agenda of destroying ISIS and keeping Iranian influence at bay. American strategic analysts supported the idea of Turkey militarily securing the safe zone, with American air cover. This would effectively dismantle the Astana process and bring Turkey firmly back into the NATO camp.
Russia moved to prevent this drastic transformation of the ground situation. As already reported (Review, 12/18), it brokered an agreement between the Syrian government and the Kurds, who chose the lesser evil of inviting the Syrian Army to the border areas surrounding Manbij, even before western troops had moved out. It stated that territory vacated by the western forces should legitimately be occupied by Syrian government forces and that Turkey's security interests would be fully protected by an accommodation between the Kurdish groups and the Syrian government for an autonomous Kurdish region in a united Syria. It also urged Turkey that its priority should be ridding the Syrian province of Idlib of extremist groups, as agreed between President Putin and President Erdogan in September 2018 (Review, 09/18). Russian Foreign Minister Lavrov said in a media interaction that 70% of the province was now under the control of Hay'at Tahrir al-Sham (HTS), the successor of Jabhat al Nusra.
A summit meeting in Moscow between President Putin and President Erdogan on January 23 sought to clear the air of any potential misunderstanding of their respective perspectives. The two Presidents expressed unanimity of views on the Syrian political process, supporting the Astana process and calling for early establishment of a Syrian Constitutional Committee on the basis of the Astana trio's recommendations (President Putin complimented President Erdogan on his valuable contribution in this). They agreed on joint measures, worked out by their Defence Ministries, to eliminate the terrorist threat from Idlib. They agreed that the Syrian government should negotiate with Kurdish representatives to "consolidate" Syrian society, in the interest of Syria and its neighbouring countries. President Erdogan specifically endorsed the Russian approach to the safe zone.
Simultaneously with these efforts, Russian FM Lavrov was in touch with the new UN Special Envoy for Syria and President Putin worked the telephone lines with Chancellor Merkel and President Macron to seek their cooperation in furthering the Syrian political process by early convening of the Constitutional Committee. It was reported that the French and German leaders supported this and also that the French Foreign Minister told FM Lavrov that the "small group" on Syria (US, UK, France, Saudi Arabia and Jordan) and the Astana process should find "common denominators". This is déjà vu. The same countries had earlier pushed the Astana three to finalize an agreed list for the Constitutional Committee, challenging them to do so by end-2018, but when did deliver the list, the UK, French and German representatives requested the then UN Special Envoy not to proceed on it (as per President Putin's disclosure at his press conference with President Erdogan). As for coordination between the "small group" and the Astana process, President Macron had suggested this to President Putin as far back as in May 2018, but the US had firmly squashed the idea (see Review 5/18 & 8/18).
There may therefore be many more twists in the Syrian scenario. Turkey's course will be pivotal. For Russia, as it faces increasing pressure from an advancing NATO on its western flank (including in the Black Sea), keeping Turkey onside is a priority, for more than its interests in Syria. The economic stakes have also now become significant for both countries in the present state of their economies: bilateral trade of US$ 26 billion and growing, Turkey's first nuclear power plant being built by the Russians, the Turkstream project (twin gas pipelines under the Black Sea to carry 15.75 bcm of natural gas each) and 6 million annual Russian tourists in Turkey. The US may continue to look for a withdrawal scenario in which encouragement of Turkey's regional ambitions can persuade it to return to the NATO fold, work to counter Iranian influence and thwart Russia's game plan. Meanwhile, Turkey has to weigh its political ambitions, whetted by the Khashoggi murder fallout and US withdrawal from Syria, against the unpredictability of President Trump's policies and the possible economic and military consequences of acting against Russian interests in the region.
Russia stirs Afghanistan Pot
Russia's Presidential Envoy on Afghanistan, Zamir Kabulov met the Pakistani Foreign Minister and Foreign Secretary on January 29 to discuss the Afghan peace process. The Pakistani FM proudly told him (as per a Pakistani press release) that Pakistan is facilitating the ongoing talks between the US and the Taliban, which he hoped will lead to an intra-Afghan dialogue for peace. Kabulov, in turn, is reported to have appreciated Pakistan's role as a facilitator in the Afghan peace process.
Meanwhile, there are media reports that Russia will host a meeting of the Taliban with leading Afghan political figures from the opposition (including former President Karzai and Presidential hopeful Haneef Atmar) on February 5. The Taliban is reported to have confirmed its attendance. A Russian official is reported to have explained that at this sensitive stage, it was best to not have Afghan government officials at the table. Another official was quoted to have clarified that this is an initiative of the Afghan community in Russia and not that of the government. If the meeting actually takes place with the advertised attendance, there is no question that the Russian government would be fully involved in it.