Yellow Vest protests continued demonstrations across France on Saturday, for the 14th straight weekend and protests are also expected to continue on Sunday.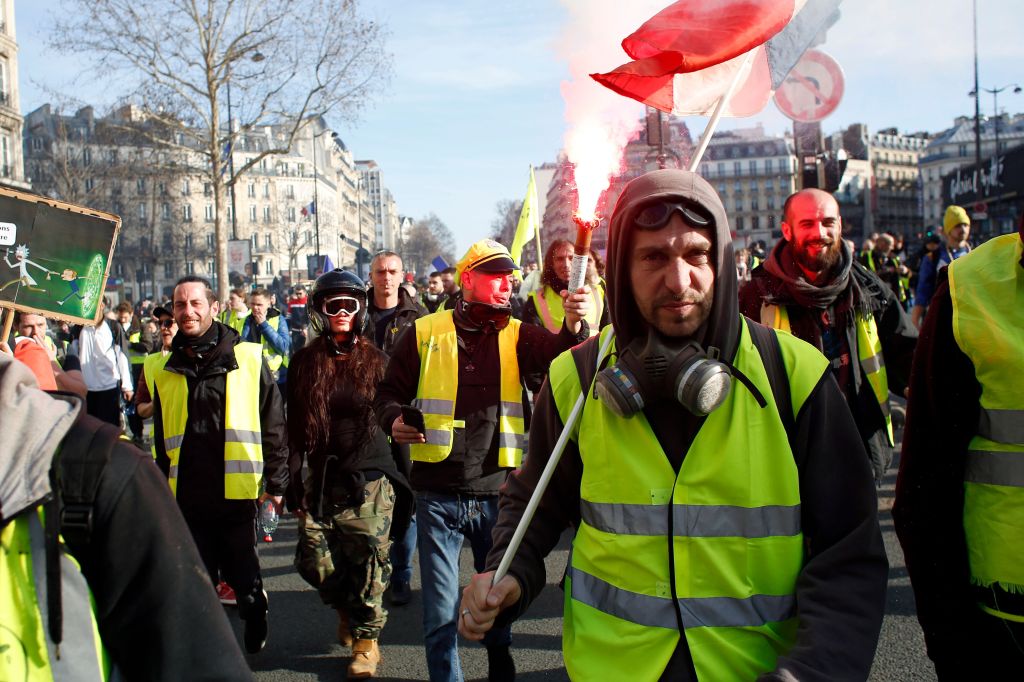 Sixteen people were arrested in Paris, according to the Police.
Protestors threw stones and bottles at the police. The police fired tear gas to repel Yellow Vest demonstrators.
In the city of Rouen, a driver injured three people while he was trying to escape from the protestors who attacked his car.
Thousands of protesters also turned out in the southern cities of Marseille, Montpellier, Bordeaux and Toulouse strongholds of the movement as well as several cities in the north and west of France.
The "yellow vest" movement started as a protest against rising fuel taxes, but it has become one of the opposition to President Emmanuel Macron's policies.
Protest ignited from Nov. 17, thousands of protesters wearing bright yellow vests — dubbed the Yellow Vests  have gathered in major French cities, including Paris, to protest President Emmanuel Macron's controversial fuel tax hikes and deteriorating economic situation.
Demonstrators held protests blocking roads as well as entrances and exits to gas stations and factories across the country.
Under pressure, Macron announced a rise in the minimum wage and scuttled the tax hikes.
Since then, however, the protests have grown into a broader movement aimed at tackling income inequality and are calling for giving citizens a stronger voice in government decision-making.
>At least 11 people died, around 8,400 others were detained, over 2,000 were injured in the protests and 1796 people received prison sentence.
The protests started in France but spilled over to other European countries, including Sweden and the Netherlands.
A total of 10,000 people took part in the protests across France on Saturday, according to the French Interior Ministry.