PM Modi tweets : Had the good fortune of taking a holy dip at the #Kumbh. Prayed for the well being of 130 Crore Indians.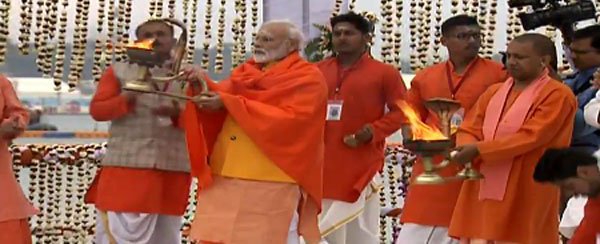 Prime Minister Narendra Modi offers prayers at the Kumbh Mela where he is to participate in the Swachh Kumbh Swachh Aabhaar event, organised by the ministry of drinking water and sanitation.
PM Modi takes holy dip at Kumbh Mela, performs Ganga aarti right after
He will also distribute the Swachh Kumbh Swachh Aabhaar awards to Safai Karmacharis, Swachhagrahis, police personnel and naviks, another statement said.
The Kumbh mela draws tens of millions of pilgrims over the course of approximately 48 days to bathe at the sacred confluence of the Ganga, the Yamuna, and the mythical Saraswati river.