Jammu and Kashmir, three CRPF and two state police jawans have been martyred, and two terrorists killed in a nearly three-day long encounter in Kupwara district.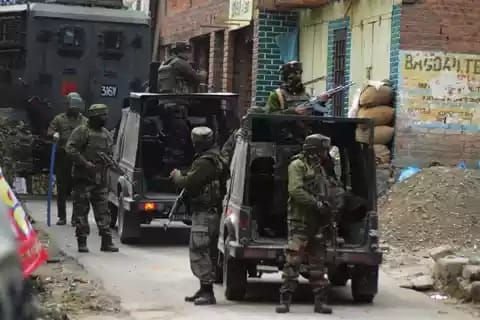 At least nine security personnel were injured. A protester has also been killed in the clashes. A defence spokesman said, the bodies of the killed terrorists have been retrieved along with arms and ammunition and their identity is being ascertained.
The gunfight between terrorists and security forces, which continued for almost 56 hours in Handwara of Jammu and Kashmir's Kupwara district, ended on Sunday. Two terrorists have been gunned down in the encounter even as it claimed the lives of three CRPF men and two Jammu and Kashmir Police personnel.
The gunfight raging since Friday has also left a civilian dead, police said.
The encounter broke out on Thursday -Friday night after the joint team of security forces launched a cordon-and-search operation at Babagund Langate area of Handwara following information about the presence of terrorists there.
Para commandos joined the forces comprising Army, CRPF and Special Operations Group of Police yesterday morning in view of stand off.
The gunbattle ended today, but the search and sanitization operation is still on in the area.