Verdict votes 23 rd May.
Sagar media inc
No state elections in J&K:EC
#LokSabhaElections2019
: Polling to be conducted in 7 Parliamentary Constituencies of National Capital Territory of Delhi in single phase on 12th May.
The assembly elections in Andhra Pradesh, Sikkim, Odisha and Arunachal Pradesh will be held simulatenously along with the Lok Sabha polls.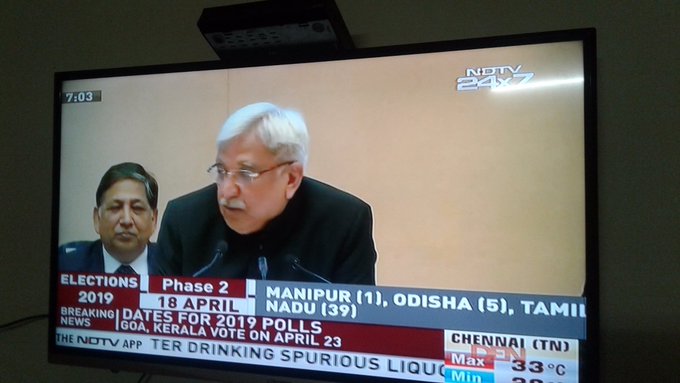 General Elections 2019 will be held in seven phases beginning from 11 April to 19 May.
The first phase of elections will be held on the 11th of next month,
The second phase on 18th of April, and third on the 23rd of April.
The fourth phase of Lok Sabha elections will be held on the 29th of April,
The fifth on the 6th of May,
The sixth phase on the 12th of May. 19th May is the date for the last phase of Lok Sabha polls.
The counting will be held on 23rd of May.
Chief Election Commissioner
Sunil Arora announced the poll schedule in New Delhi on Sunday evening.
Karnataka, Manipur, Rajasthan, Tripura will go to polls in two phases.
The States undergoing three phases are Assam and Chhattisgarh, and
The four phases are Jharkhand, Madhya Pradesh, Maharashtra and Odisha.
The Jammu and Kashmir will have five phases and
Elections to eight Lok Sabha constituencies in Bengal will be held in the
sixth
phase
i.e May 12, 2019.
And West Bengal, Bihar and Uttar Pradesh will have seven phases.
The model code of conduct has come into force in the entire country with the announcement of the poll schedule.