A crisis meeting of national security agencies is underway at the Wellington headquarters of the New Zealand national police.
Officers cleared buildings near the mosques, while Christchurch schools have been placed on lockdown. Another witness said he saw "a man in handcuffs being led away by police."
Cricket test to be called off after Bangladesh team escape Christchurch shooting at mosque

Jacinda Ardern
@jacindaardern
What has happened in Christchurch is an extraordinary act of unprecedented violence. It has no place in New Zealand. Many of those affected will be members of our migrant communities – New Zealand is their home – they are us.

Jacinda Ardern
@jacindaardern
The person who has committed this violent act has no place here. To those in Christchurch; I encourage you to stay inside and follow the instructions of
The Police Commissioner will be making a public statement at 5pm. I will update everyone again later this evening.
In response to a serious ongoing firearms incident in Christchurch all Christchurch schools have been placed into lockdown. Police urge anyone in central Christchurch to stay off the streets and report any suspicious behaviour immediately to 111.
Christchurch mass shooting: Up to 27 people dead, one shooter in custody.
Two mosque are scene at least two gunmen on the run after shootings at 2 central mosques chiristchurch.
Mosques across chiristchurch closed and people asked to stay indoor: PM Jacinda.
The Masjid al Noor was filled with worshipers, including members of the Bangladesh cricket team.
A team spokesman said none of the players were hurt.
Mass shootings at Christchurch mosques – Death toll over 27 – 4 perpetrators in custody, 3 men and 1 woman – IEDs attached to vehicles have been defused – Attack was live streamed – Schools and CBD in lock-down
"They are safe. But they are mentally shocked. We have asked the team to stay confined in the hotel," he told AFP.
He said the attack happened as some of Bangladesh players disembarked from a team bus and was about to enter the mosque.
Bangladeshi cricketer Tamim Iqbal Khan said on Twitter: "Entire team got saved from active shooters!!!"
The Masjid al Noor was filled with 300 worshippers offering Prayers   including members of the Bangladesh cricket team when incident took place early morning.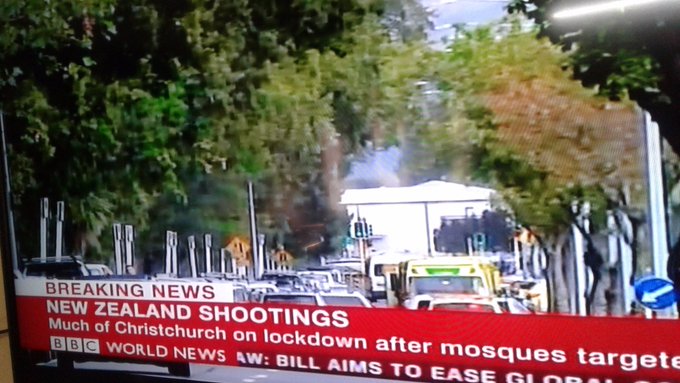 One witness told stuff.co.nz he was praying in the Deans Ave mosque when he heard shooting and saw his wife lying dead on the footpath outside when he fled. Another man said he saw children being shot.
"There were bodies all over me," he said.
An eyewitness told Radio New Zealand he heard shots fired and four people were lying on the ground, with "blood everywhere".
Police commissioner Mike Bush said all schools in the city had been placed in lockdown in response to "a serious ongoing firearms incident".
"Police urge anyone in central Christchurch to stay off the streets and report any suspicious behaviour," he said in a statement.
Central city buildings, including the Civic Offices and Central Library, were also locked down.
The city council offered a helpline for parents looking for kids attending a mass climate change rally nearby.
"Please do not try and come and collect your children until police say it is safe for people to come into the central city," they said.
Buildings surrounding the Al Noor mosque in Christchurch were evacuated by authorities and the schools in the neighbourhood were placed on lockdown, according to police commissioner Mike Bush.
New Zealand police have defused several improvised explosive devices found attached to vehicles in Christchurch following mass shootings at two mosques that sources say left up to 30 people dead.
The shooter entered the Masjid Al Noor mosque 10 minutes after prayers began and let off "dozens, if not hundreds of rounds," witness Ahmad al-Mahmoud told New Zealand outlet Stuff. He described the man as white-skinned, blond, short, and wearing a helmet and bulletproof vest.
A second shooting took place at Linwood Masjid, where a witness says they saw a man leave the mosque wearing camouflage gear and a motorcycle helmet, while unconfirmed reports indicate a bomb was found on nearby Strickland Ave.
A Muslim local reportedly chased the gunmen off from the Linwood mosque, firing two shots at them as they drove off.
Four suspects are currently in custody, including one woman, and public facilities remain on lockdown while police are urging mosques elsewhere in New Zealand to close their doors for the remainder of the day.
"I want to ask anyone who was thinking of going to a mosque anywhere in New Zealand today, not to go," commissioner Mike Bush said.