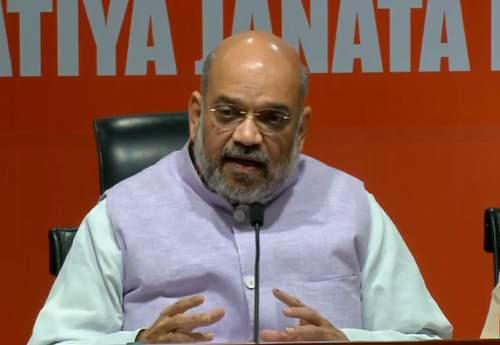 BJP President Amit Shah on violence at his roadshow in Kolkata yesterday:
Had CRPF not been there, it would have been really difficult for me to escape, BJP workers were beaten up, TMC can go to any extent, it's with luck that I made it out. #WestBengal.
BJP president Amit Shah's press conference in Kolkata, blaming the TMC for the violence during his road show yesterday.
"Mamata Banerjee claims that BJP is doing it, I want to tell her, we are fighting in every state in the nation,unlike you on 42 seats in West Bengal.
"Violence didn't take place in 6 phases of elections anywhere but Bengal which proves that TMC is responsible for it.
Violence only in West Bengal in all six phases of polls, no incident reported anywhere else.
"The Trinamool Congress is behind the violence in West Bengal not the BJP. I was saved by the CRPF.  The Kolkata police stood as mute spectators," Shah said.
He also warned Mamata Banerjee not to think she was God.
Meanwhile, the TMC has sought a meeting with the Election Commission over the destruction of a statue of Bengali writer and philosopher Ishwar Chandra Vidyasagar during clashes between workers of the ruling party and the BJP.
Supporters of the BJP and the TMC fought pitched battles on the streets of Kolkata during a massive road show by former's president Amit Shah, who escaped unhurt but was forced to cut short the jamboree and had to be escorted to safety by the police.
Parts of the city plunged into a welter of violence as his convoy was attacked with stones by alleged TMC supporters from inside the hostel of Vidyasagar College, triggering a clash between supporters of the two parties, officials said.
Protest at Jantar Mantar against the cowardly attack on BJP National President Shri@AmitShah 's roadshow in Kolkata.   The BJP holds a protest against the violence during BJP President Amit Shah's roadshow in Kolkata, West Bengal yesterday. Union Ministers Harsh Vardhan, Jitendra Singh and Vijay Goel also present.