Kashmir Valley on RED alert for 17th day of Ramzan, May 23. Alert of intelligence agencies reports of possible terror attack will be on Srinagar and Avantipora airbase
Two airbases in Kashmir have been placed on high alert in response to a warning of planned terrorist attacks, reports say. One of the sites houses jets that participated in aerial combat with Pakistan in February.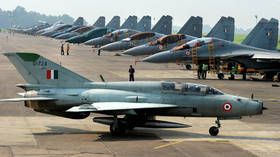 Fresh intelligence data shows that terrorists plan to target two military sites on the Indian-controlled part of Kashmir, New Delhi-based ANI reports on Friday, citing government sources.
The installations mentioned are Srinagar and Awantipora airbases, both in western Jammu and Kashmir State, bordering Pakistan. Security forces in and around the bases have been reportedly put on high alert.
The report did not specify the type of anticipated attacks or the terrorist groups involved.