Italian Prime Minister Giuseppe Conte held talks with Libyan strongman Khalifa Haftar during a surprise visit to Rome on Thursday, calling for an end to his month-long assault on Tripoli. "We want a ceasefire and we feel that the political path is the only solution," Conte told reporters.
A joint statement, Italy and France stressed the importance of an immediate ceasefire in Libya and called for "the resumption of dialogue within the framework of the United Nations command to allow Libyan citizens to decide their future through democratic elections."
"Improving the situation of the civilian population is a priority and requires a humanitarian truce. The political process must be based on the principles and rules agreed at the Paris, Palermo and Abu Dhabi conferences, and we assume that all parties are unequivocally distancing themselves from terrorist groups," the statement said.
The sources said that Libyan Army Commander General Khalifa Haftar is expected to leave Rome for Paris to meet with French President Emmanuel Maaron, according to the Italian news agency AKI.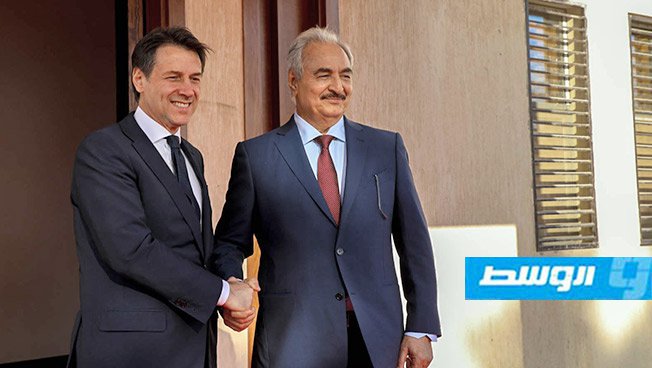 Haftar's bid to unseat UN-backed premier Fayez al-Serraj and take control of the Libyan capital has reached a military and political impasse after a month of fighting, AFP said.
French President Emmanuel Macron will meet Haftar in the middle of next week to discuss how to resume peace talks in the country, Reuters quoted a French presidential source as saying on Thursday.
Macron last week called for a ceasefire in the month-long battle for Libya's capital Tripoli after meeting Serraj.