More than 20,000 protesters at Minsk Independence Square flood on 14 August with family to show world demonstrating against President and voice it rigged.
Belarus Braces For 'National March Of Freedom' As Lukashenka faces growing Pressure to quit.
Cities across Belarus have been swept by a wave of protests, occasionally escalating into violence and scuffles between demonstrators and law enforcement,
#Sagarmediainc Belarus protesters Leaders of 3 Baltic call for re-election. Belarus moves force to borders. EU draft sanction. Sevanksha want release protesters. President Lukashenko sought comprehensive assistance from Putin.
Lukashenko sent his family to Turkey, then he is slightly losing control over the situation.
Central Election Commission says Mr Lukashenko, who has been in power since 1994, won 80.1% of the vote and the main opposition candidate Svetlana Tikhanovskaya 10.12%.
But Ms Tikhanovskaya insists that where votes were properly counted, she won support ranging from 60% to 70%.
Lukashenko says that Russia has agreed to offer security assistance in the case of external military threats.
Lukashenko voiced concerns over Nato military exercises taking place in neighbouring Poland and Lithuania.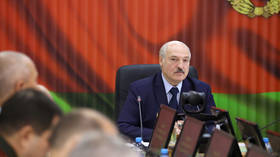 Belarusian President Alexander Lukashenko has said an air assault brigade will be moved to the country's border, amid massive anti-government protests that the leader has dubbed a "color revolution" directed by foreign agents.
Speaking to state media on Saturday, Lukashenko said he was "worried"that NATO was carrying out military exercises in Poland and Lithuania, regarding it as an arms build-up on Belarus' borders.
The president said that Belarus"cannot calmly observe this" and do nothing, adding that he has ordered the transfer of an airborne brigade from Vitebsk to Grodno.
Growing mass protest across Belarus against the embattled president over the disputed 9 August election.
Thousands gathered outside state television on Saturday, demanding full coverage of the demonstrations.
The unrest erupted after President Alexander Lukashenko claimed a landslide victory in last week's election, the result of which has been condemned amid widespread allegations of vote-rigging.