Kyrgyz Parliamentary Elections
September 14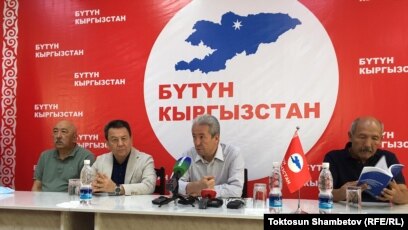 Amid campaigning for the wide-open and unpredictable parliamentary elections in Kyrgyzstan, the sudden inclusion of a previously banned opposition party has raised questions and made the vote's outcome even harder to forecast.

But the reinstatement of the Butun Kyrgyzstan (United Kyrgyzstan) party in the race for seats in the country's parliament has restored a balance and ensured that a premier opposition party will take part in the elections.

The October 4 vote for a new parliament had looked as if it would have a dark cloud over it as the parties were registering.

When the Central Elections Commission (CEC) rejected Butun Kyrgyzstan's registration on September 3 — the day before official campaigning started — it appeared that the campaign would be conducted amid court battles and accusations of government interference.

But if that still occurs it will not be because Butun Kyrgyzstan is not participating.

On September 9, an administrative court in the capital, Bishkek, overturned the CEC decision barring the party from taking part, much to the approval of many of its supporters who gathered outside the courtroom.

The commission could have appealed to the Supreme Court — as it just had in the case of another political party that the CEC initially excluded — but instead Butun Kyrgyzstan was registered within a couple of hours of the court verdict and a random drawing of parties gave it the number eight spot on the ballot among 16 parties.