Lukashenka Meeting Putin In Sochi After Weeks Of Mass Protests
September 14, 2020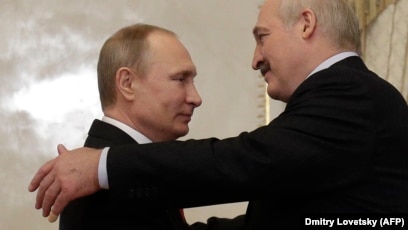 Belarusian President Alyaksandr Lukashenka will meet on September 14 with Russian President Vladimir Putin in the first face-to-face talks between the two leaders.
The wave of demonstrations demanding Lukashenka's resignation erupted following his disputed reelection last month poll results rebuked by opposition.

Lukashenka to sit down for the crucial talks with the man he calls his "older brother" in the Russian Black Sea resort of Sochi as the Belarusian leader faces protests that show no sign of abating.

Belarus has witnessed daily demonstrations since Lukashenka, in power since 1994, was declared the winner of the August 9 poll. Thousands have been detained and hundreds beaten by police in a brutal crackdown that has been condemned by the United States and European Union.

The meeting follows the fifth consecutive weekend of large protests in Minsk and other cities in the former Soviet republic. Protests on September 13 drew tens of thousands of Belarusians into the streets, with chants of, "You're a rat!" and, "Sasha, you're fired!"
The Interior Ministry reported more than 400 arrests.