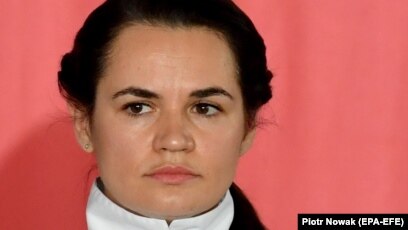 Svyatlana Tsikhanouskaya, the self-exiled former presidential candidate who has become an unlikely leader of the Belarusian opposition, says the intimidation tactics of authoritarian leader Alyaksandr Lukashenka are only hardening the resolve of the tens of thousands protesting against the contentious results from last month's election that the West has called falsified.

Speaking in an interview with Current Time on September 14 as the Belarusian president met with Russian President Vladimir Putin in the Black Sea resort of Sochi, Tsikhanouskaya called Lukashenka an "illegitimate" leader who has no authority to make agreements on behalf of the country.
Current Time is a Russian-language network led by RFE/RL in cooperation with VOA.

Lukashenka faces the biggest challenge to his 26-year rule amid unprecedented nationwide protests against the results of the August 9 presidential election that handed him a sixth five-year term.
The Belarusian people have called on Lukashenka to step down and hold free and fair elections, claiming the vote was rigged in his favor. On September 13, almost 800 demonstrators were detained in Belarus during rallies denouncing the election results.