With most ballots counted, the populist, corruption-prone and fiscally reckless Social Democrat Party (PSD) had around 30% of the vote, with Mr Orban's reformist centre-right National Liberal Party behind by about 5%. The progressive USR-Plus alliance, which has pledged not to be part of any Social Democrat-led government, won about 15% of the vote.
Ludovic Orban, the Romanian prime minister and leader of the National Liberal Party (PNL), casts his vote in parliamentary elections on December 6.
Romania's pro-Western Prime Minister Ludovic Orban has resigned after his National Liberal Party (PNL) came second in parliamentary elections at the weekend, despite the party appearing well-placed to stay in power.

Orban's announcement late on December 7 came after a stronger-than-expected showing by the leftist opposition in elections marred by absenteeism prompted in part by the coronavirus pandemic.

With some 95 percent of the vote counted as of December 7, the populist and corruption-prone Social Democrats (PSD), who have dominated Romanian politics since the collapse of communism, have some 30 percent of the vote, with the reformist center-right PNL trailing by about 5 percent.
In his live statement on television, Orban, whose government came under criticism from the PSD for its handling of the coronavirus pandemic, said he was leaving knowing that he has fulfilled his duty.

President Klaus Iohannis is set to hold consultations with the parties that gain access to parliament on the appointment of a new prime minister.
However, the PSD will lack allies in the new parliament and President Klaus Iohannis — a former PNL leader and a staunch foe of the PSD — said on December 7 that PSD will be kept "outside of the political decision-making process" and Romania will have a new center-right government.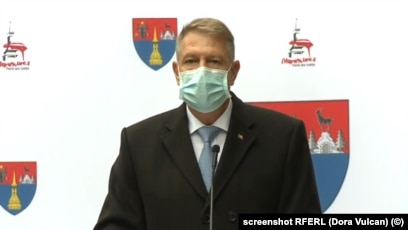 Iohannis had previously said he would not want PSD to return to government during his current term, which ends in 2024.
Romania with voters turn out 33% has 465 seats in both house with population of 4 million Romanians who live abroad, mostly in Western Europe, have traditionally voted for reform-oriented parties that seek to align the county with the European Union mainstream, but the pandemic has apparently upended traditional allegiances.
Coronavirus continues to spread in Romania, with almost two-thirds of over half a million cases and nearly half of the country's more than 12,300 virus-related deaths registered in the past two months alone.